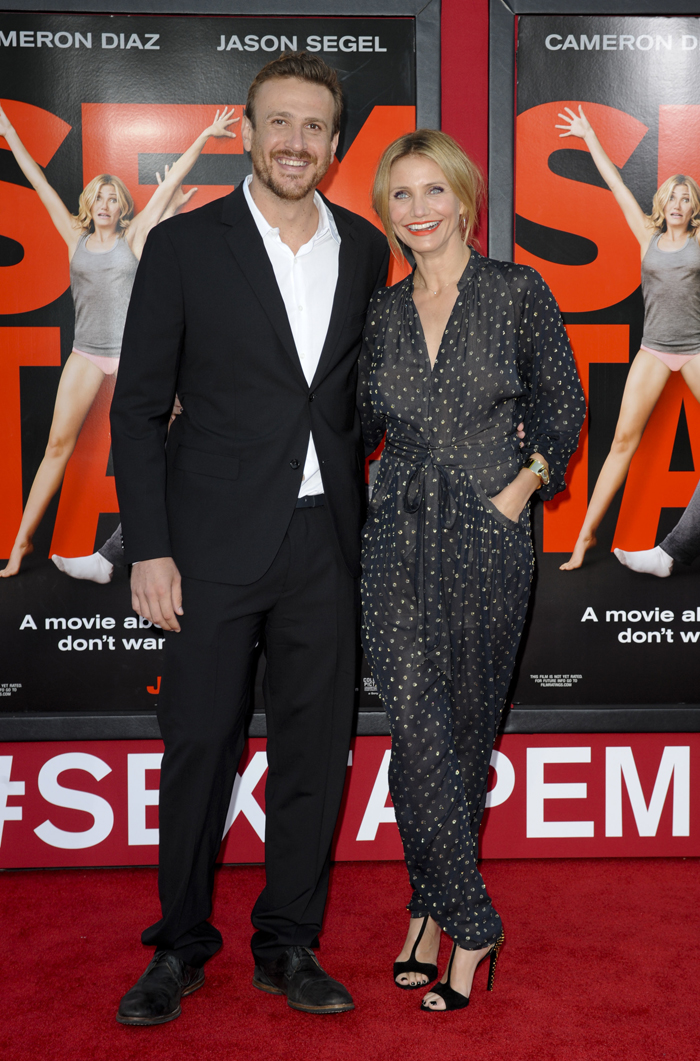 These photos are replays of Cameron Diaz and Jason Segel in LA last week for the S*x Tape premiere where Cameron wore a surprisingly cool Stella McCartney jumpsuit. This story is all about the NYC premiere where Cameron wore a frumpy Vionnet dress. Cameron and Jason both whipped out their bitches for the fans in NYC. Cameron is no stranger to snubbing the masses. She's known as one of the worst celebrity autograph signers, and she'll refuse and lecture any fan about how "dumb" autographs are. Cami hasn't changed a bit. She upset some fans in NYC, and Segel joined her in bad attitude solidarity:
Cameron Diaz and Jason Segel dazzled on the red carpet at the New York City premiere of their flick S*x Tape, but off the carpet the pair was a flop with fans, RadarOnline.com is exclusively reporting.

According to several eyewitnesses, fans were shocked at how "awful" Diaz, 41, and Segel, 34, were to their admirers at the Regal Union Square Theater on Monday when approached for photos and autographs.

"It's not like the fans were following them at a hotel or restaurant, it was a film premiere with fans," one eyewitness told Radar. "Both of their attitudes were disgusting."

After waiting hours for a chance at meeting the movie stars, the fans were ignored — and even "lectured" by Diaz, as one fan put it.

"When a 20-something fan asked Jason for a photo as he left the premiere he said, 'No' and literally slammed the car door right in the fan's face. People gasped, that's how bad it was," the source said.

"And when Cameron was spotted, she also refused the fans telling them, 'If I did it for you I'd have have to do it for everyone' before storming off."

Although Segel attended the after-party, fans spotted both he and Diaz jetting from the theater before the movie even started.

"Cameron was as unfriendly as can be and it was really disappointing. And Jason was downright nasty to his fans," another insider told Radar.

"There were literally only four of five fans waiting and asking for them when they left. It was not a huge crowd and would have taken less time for them to sign an autograph or take a picture rather than giving a lecture about not doing it."
[From Radar Online]
I do expect this behavior from Cameron since she has a reputation for telling off fans. That's not an excuse, by the way. Her attitude towards the people who watch her movies is completely rude. The least a movie star can do is work the red carpet. Take a few selfies and sign some photos. The autographs might end up on eBay (witness John Malkovich asking, "Anybody here not a professional collector?" in this video), but that's beside the point. Actors should be gracious on the red carpet. Cami and Jason weren't being pursued by paps and legions of unsolicited fans. They were doing their job at a premiere.
Cameron visited Jimmy Fallon last night. She was his first guest when he took over Late Night for Conan O'Brien many years ago. Cam and Jimmy raced around on inflatabled rafts. You can read more about her appearance here.
Cameron also spoke to People about how her nude scene in this film is "not just something that's gratuitous." This will be Cami's first official booty shot on camera. Are you interested?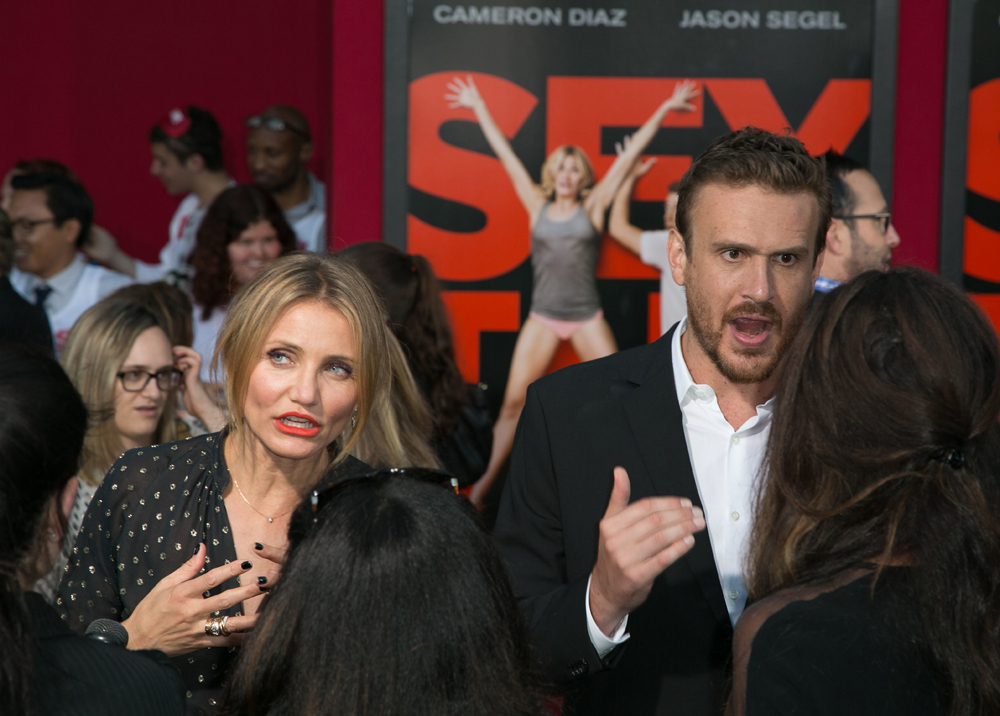 Photos courtesy of WENN