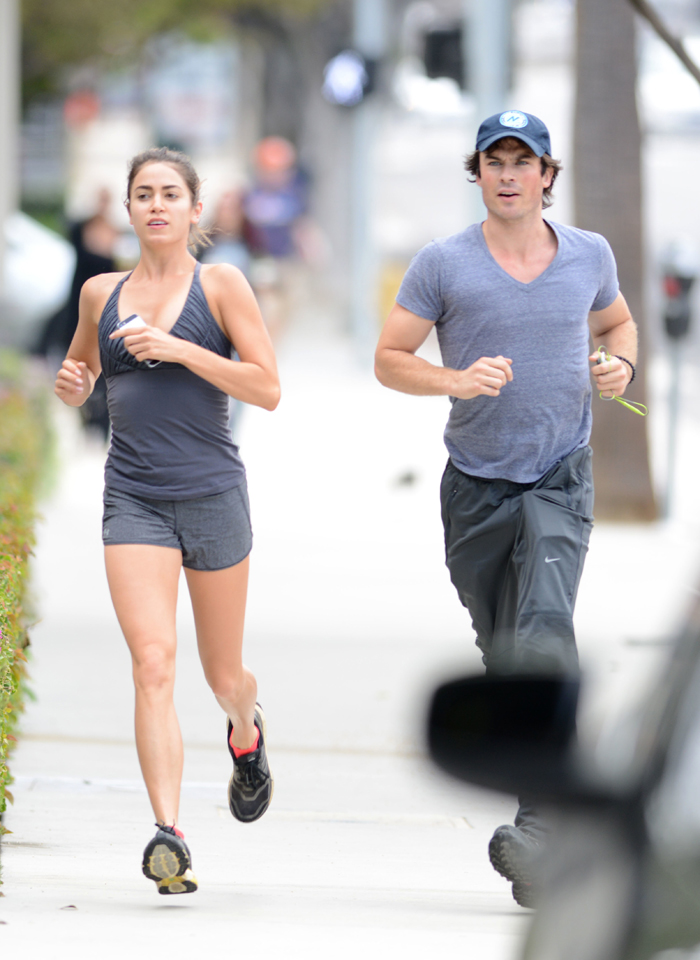 When I first saw these photos of Nikki Reed and Ian Somerhalder out for a run on Saturday, I thought, "They're friends. Ian's a heel striker. Big deal?" Then I wondered what was up with Ian's dating situation. He and Nina Dobrev broke up 14 months ago. He debuted an ex-Idol girlfriend in late April, and I'm not sure what happened to her. Nikki has been mostly single since she and Paul McDonald announced their divorce in March. She may have hooked up with Derek Hough as a rebound.
Then I found more photos of Ian and Nikki. They not only ran together on Saturday, but they also took an early Sunday morning jaunt to the Farmer's Market together. If they are only friends, they're pretty good friends who are comfy spending a huge chunk of the weekend together.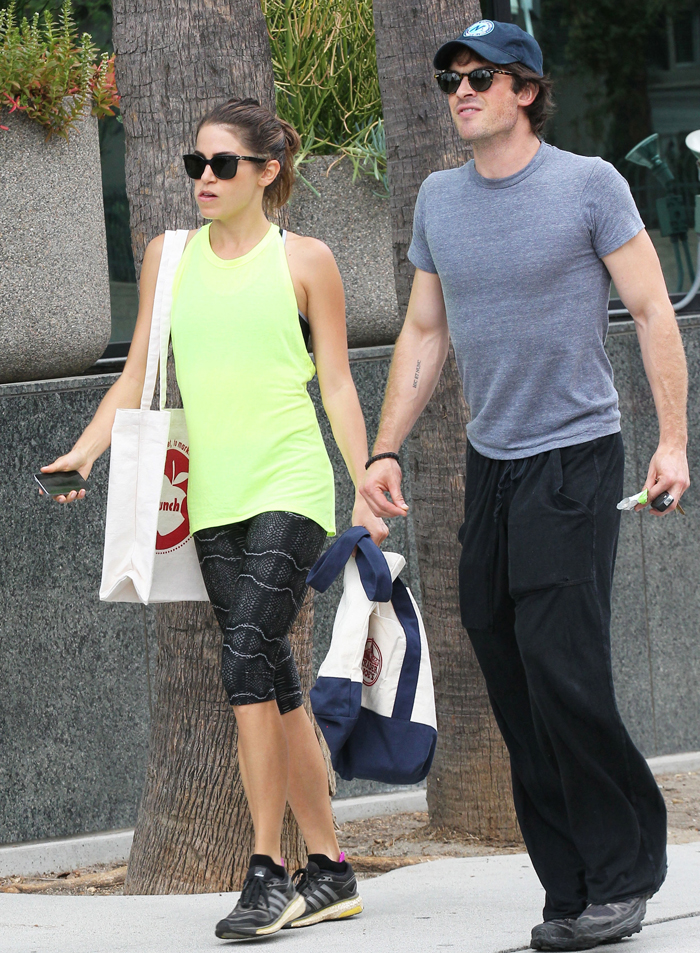 They really could be good pals. Nikki and Nina are friends, so Nikki knows Ian through Nina. But I decided to ship this new couple for one big reason (other than these photos of Ian nuzzling Nikki's neck). As far as I know, Ian is not a self-professed runner. I googled for more pics and couldn't find any evidence. Nikki is a pretty devoted runner. She started doing half marathons in 2012, and she's often papped running with her gorgeous dogs. (There's a picture in the gallery of those puppies. I want them.)
Look at the way they are running. Nikki seems very comfortable. She's an old pro at this and has the form to prove it. Whereas Ian looks like he's only running to impress Nikki. Look at what the dude is wearing. Ian threw on a non-wicking shirt, pseudo-parachute pants, and what look like trail shoes. All wrong. He also looks winded compared to Nikki, who is faring just fine. Yep. Ian is that guy who signed up for a 10-mile race to impress a chick (without ever running that far beforehand). What I'm saying is this — Nikki may not be into Ian, but Ian is definitely into Nikki. Man, I bet he was so sore on Sunday morning.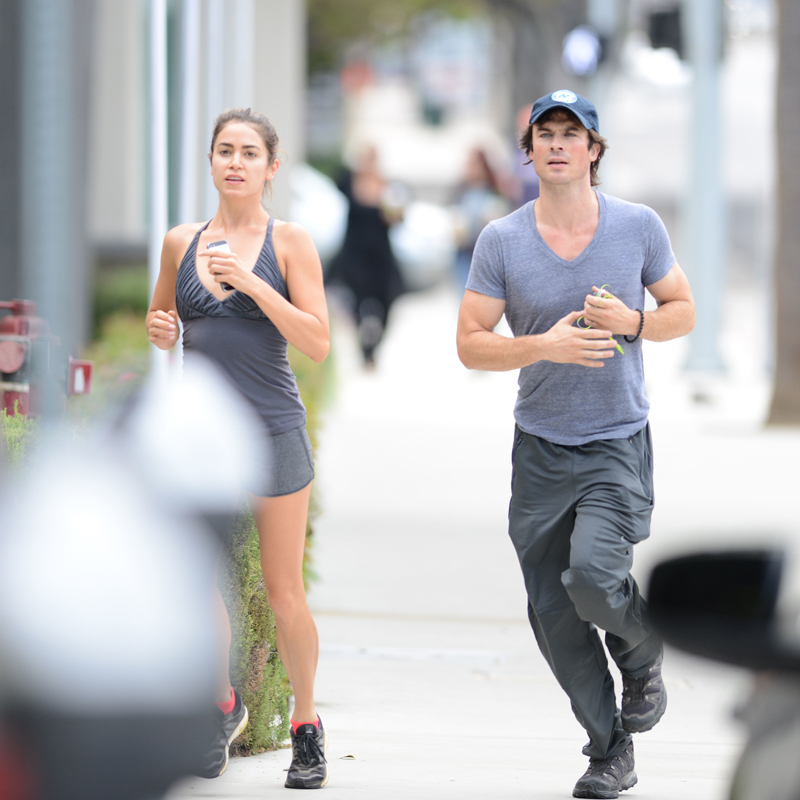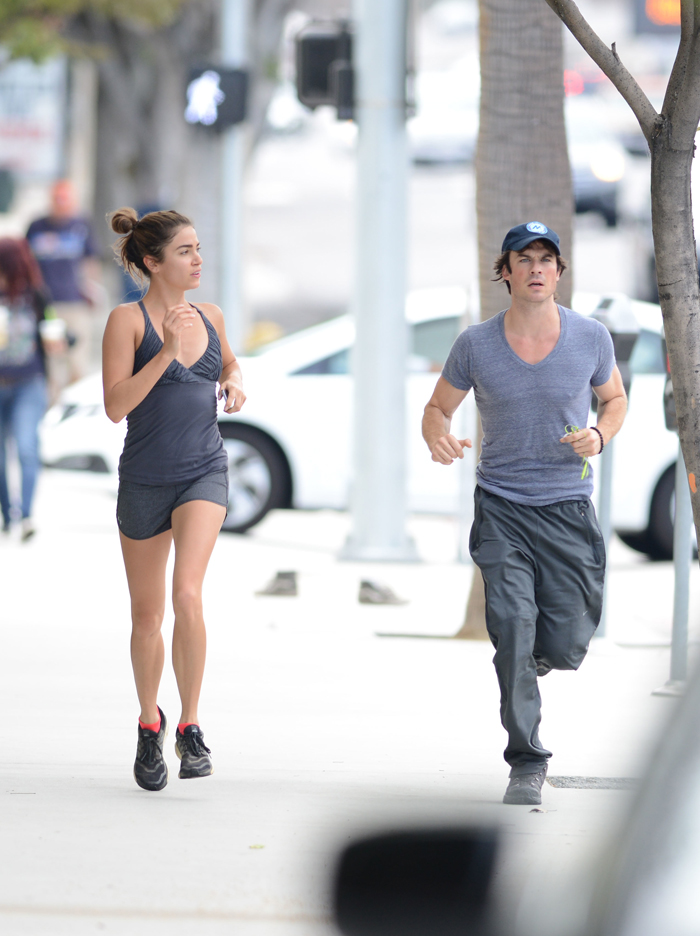 Photos courtesy of Fame/Flynet & WENN