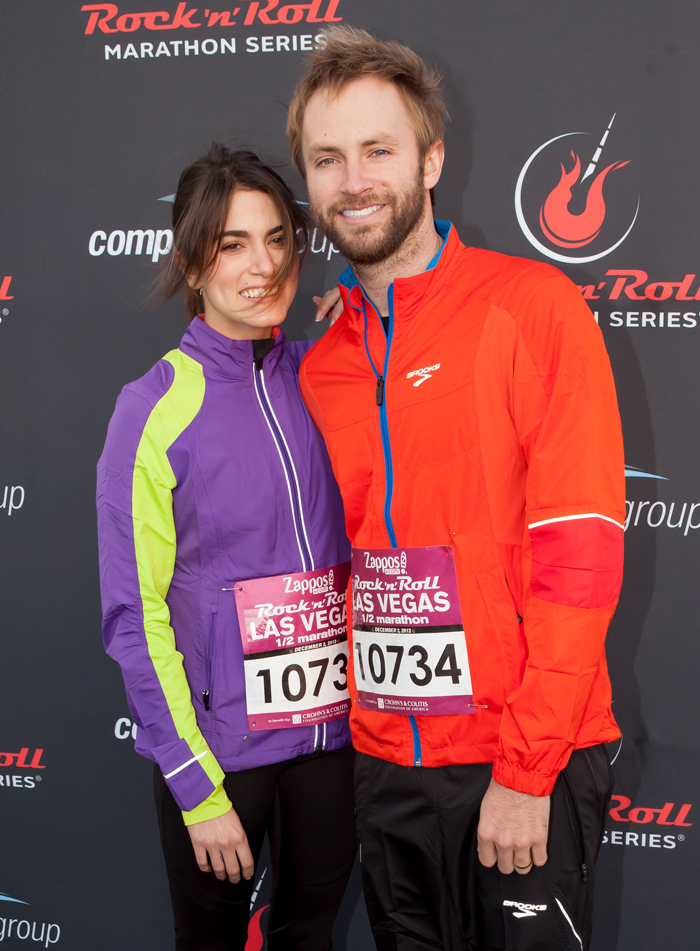 Here are some photos of Nikki Reed with her husband, Paul McDonald, at the starting line of the Las Vegas Rock 'n' Roll 1/2 marathon earlier this month. We don't have much of an opportunity to talk about Nikki except to comment on her unfortunate fate of having to pose next to Kellan Lurzy and discuss her love of dry shampoo. That last article went over much better than I expected, but it's a hair thing, you know? People love to talk about hair.
Unfortunately, this story is not about hair but about Nikki's interview in Parade magazine to promote her participation with CIROC for their "Safe Rides" campaign that provides free taxi cab rides on New Year's Eve so that partygoers won't be tempted to drink and drive. This is certainly a worthy cause because people can get really stupid after knocking several back, and Nikki details her reasons for signing onto the project in this interview. She also talks about the end of Twilight and running too. Here are some excerpts: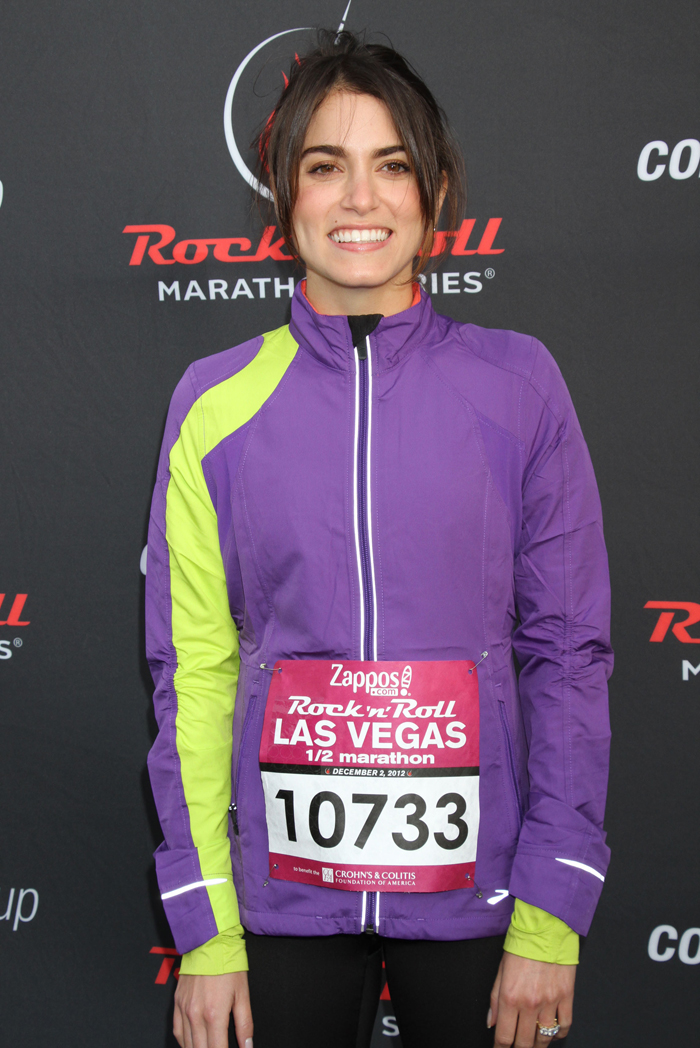 On the "Safe Rides" campaign: "This campaign is such a great way to help keep people safe. Its a wonderful resource for people during the holidays. It is always better to be safe than sorry. The holidays are such a busy time for everyone, that it's important to not only take responsibility for yourself but those around you, as well."

On life after Twilight: "I shot four really cool movies this year and I am so excited to see what comes of them. I am also excited to expand my music and my jewelry line with Pascal Mouawad because those are two projects that are very close to my heart."

Her New Year's resolution: "I want to become a better runner. We chose to run our first half marathon in December and now we have lined up five for 2013."

Is she sad to leave the franchise? "Twilight, as well as all of the other projects that I have been working on this year, have kept me so busy that I haven't even had time to process that Twilight is over. I'm sure that once things die down, it will sink in."

On getting involved in animal rescue: "It all started with my mother. She loves animals and every week there was a new addition to our family when I was growing up. I now work with Bark n' Bitches to help spread awareness on how many homeless doggies there are. I love volunteering and giving my time to all of those animals, because they give so much back to me."

She wants to be a writer too: "I am constantly writing. I write monthly on my blog, and have several screenplay ideas in my head. Hopefully I can execute one once I can focus and give all of my attention to my writing. I also love the idea of someday writing a book!"
[From Parade]
I totally understand why Nikki has caught the 1/2 marathon bug after running just one of them. The post-race rush is pretty amazing — I just ran my first 1/2 in November, and just a few days later, I signed up for the same race (Route 66) next year. Nikki did fairly well too with an official time of 2:25:18, and she went out with a very casual attitude about the race, so that's a pretty good first time considering. I did slightly better (2:00:19), but that time was disappointing to me considering that I'd done 5 minutes better during practice runs. Also, I was a complete mess at water stations, forgot to eat my electrolyte jelly beans, and ended up with a shoe full of gatorade. There's always next year, right? I don't think I'm as committed as Nikki is to sign up for 5 1/2 marathons next year though. Good for her!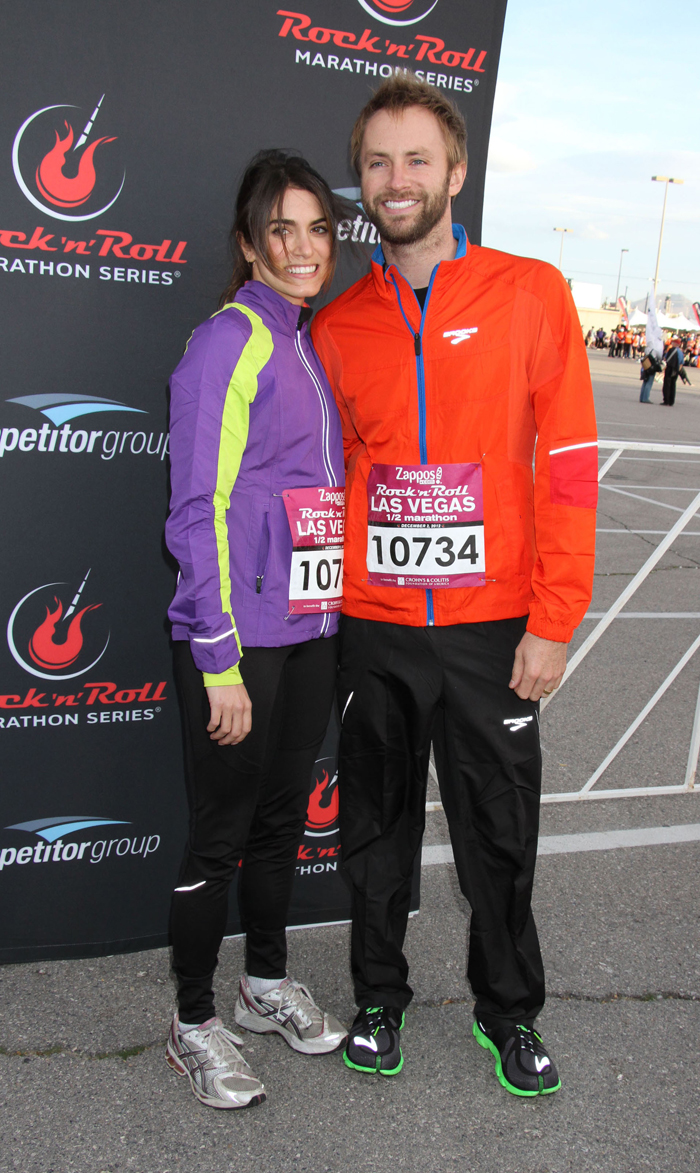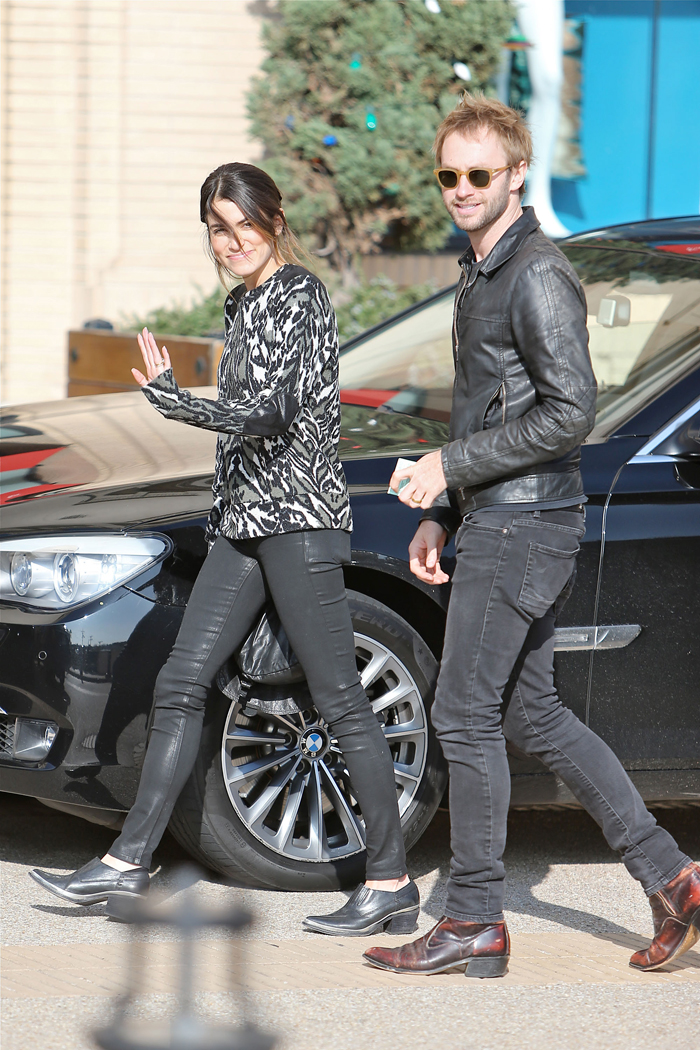 Photos courtesy of WENN