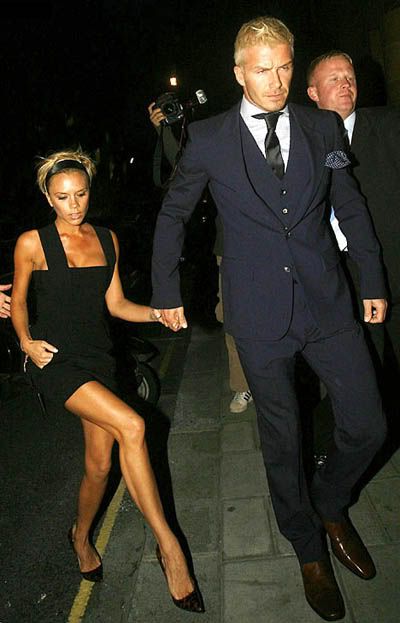 It was almost a Spice Girls reunion for David Beckham's 32nd birthday at London restaurant Cipriani last night. New moms Melanie B (Scary Spice) and Gerri Halliwell (Ginger Spice) were there along with a pregnant Emma Bunton (Baby Spice.) Melanie C (Sporty) was not at the party, but she attended an earlier reunion of sorts at the christening for Gerri's daughter, Bluebell. There were four of the five Spice Girls present at the April event, with Scary not being able to attend due to the recent birth of her daughter.
Beckham enjoyed his special day with rampant consumerism. He bought a $9k suit and $30k watch during the day before stepping out with the Spice Girls. Victoria's birthday last month was celebrated with similar excess. She spent over six figures shopping in Paris on a surprise trip to France for the day, arranged by David.
Mel B was said to be crying at the end of the night, and was comforted by David's sister Joanne. She gave birth to a baby girl, Angel Iris Murphy Brown, at the beginning of April. She has always insisted her ex-boyfriend Eddie Murphy is the father, while Murphy denied paternity and dumped a then-pregnant Melanie by proxy. He said in an interview with Dutch television that they weren't together and it was presumptuous to assume the baby was his. Melanie is taking Murphy to court to try to force him to take a DNA test.
Thanks to The Daily Mail for the birthday pictures and story. Beckham is also shown practicing with Real Madrid on his birthday earlier that day. [via]