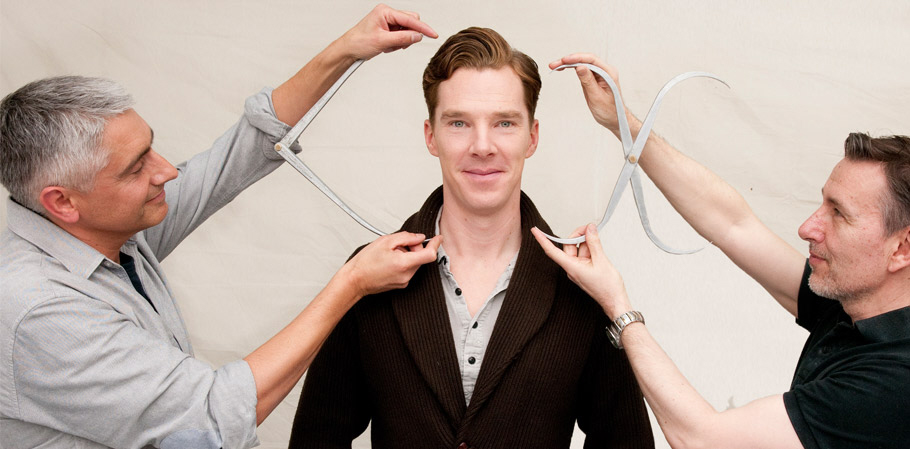 Yay! The London branch of Madame Tussauds is finally doing a wax figure of somebody we actually want to see! Benedict Cumberbatch!! YAY! And what's even better is that Benedict actually agreed to it and he sat down with Madame Tussauds' band of wax-figure-makers so that they could do all of the measurements and such – you can see the photos here.
Benedict Cumberbatch is to be immortalised in wax after Madame Tussauds revealed that the Sherlock actor has already posed for two sittings for its sculptors. The museum said the waxwork will show the actor looking impeccably groomed in a stylish dark suit.

Madame Tussauds said his "immaculate red carpet style will be paired with a warm and relaxed expression, and his famous tousled hairstyle".

Work on the figure is already well underway, and the Cumberbatch has been heavily involved with the creation process. Cumberbatch has given two sittings for Madame Tussauds studios team, during which hundreds of precise measurements and numerous photographs were captured to be used by the sculptors and artists.

"Finally I can photobomb myself!" joked Cumberbatch. "What a weird and wonderful compliment to be included in the ranks of talent already committed to wax. I've been accused of being wooden in my work but never waxy! The main privilege for me was the process and seeing the amount of exacting work and skill brought to every detail of this art form. It is a wonderful combination of old and new, hi-tech and lo-fi skills. Measurements, hand inserted individual hairs and sculpted features. As a subject, you stand still surrounded by sculptors, painters, photographers, measurers and a whole army of people who bring together your likeness… it's an extraordinary experience. Also my agents will be thrilled, they've wanted a clone of me for some time!" added Cumberbatch.

Cumberbatch's figure will be the latest British star to join the attraction's A-list line up, and will take up residence in October, alongside fellow Brits Judi Dench and Kate Winslet, as well as a host of Hollywood names from Brad Pitt and Angelina Jolie, to Julia Roberts and Johnny Depp.
I can only imagine how weird Benedict's facial proportions are. He has a very long face, or at least that's how it seems to me. Wax figures are such a curious thing and while I think a lot depends on the figure-makers getting the measurements right, I also think that some people just don't have the kind of faces that "translate" well into wax. Angelina Jolie's wax figures always look weird, you know? Her last one looked like Jennifer Aniston. But I have high hopes for Benedict's wax figure. Will he be "auburn"? Will the auburn dong muff match the drapes? So many questions.
Update: Here's the newly released trailer for The Imitation Game. It makes me want to cry!!!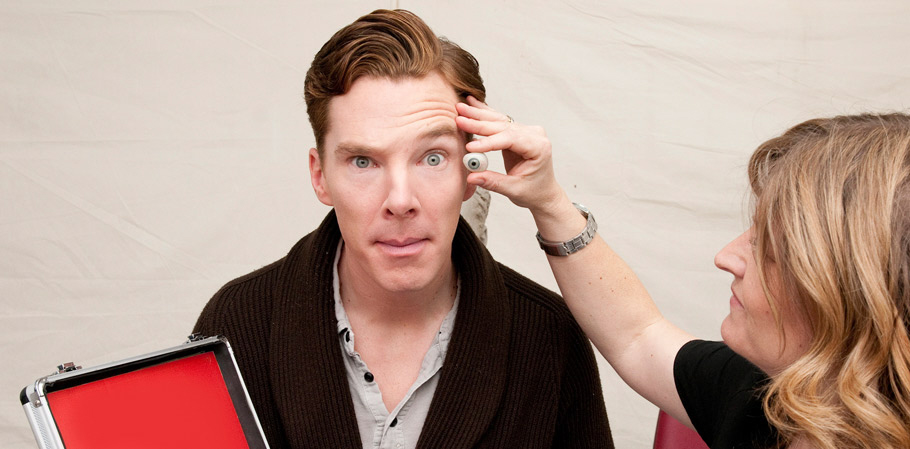 Photos courtesy of Madame Tussauds.