I think this is one of the best Chris Pratt photos in history. Forget the adorable raccoon. Spare me the cheesecake poses. Just give me the Pratt guns, and imagination will fill in the blanks. This is a weekend photo of Pratt at the Brickyard 400, by the way. He's swiftly moving into the last phases of Guardians promotion. This film will be Marvel's biggest gamble to date. The studio must be somewhat confident because they already announced a 2017 sequel at Comic Con.
I've cobbled together some bits and pieces from three different Pratt interviews. People are still asking him about his 60 pound weight loss. Chris handles it well. In fact, he gets a little too honest with some of these answers from a Marvel perspective. Chris reveals that the studio basically sent a fat-inspector to his house every week to see if he was losing enough weight to play Star-Lord. Chris also reveals some massive food issues but decorates his words with a touch of Pratt humor:
The interview food: "I would love to eat it," Mr. Pratt said mournfully. "I personally can't allow myself to eat it. I know what it translates to. I would see a plate of food, and, if I spin my eyes, I see a treadmill. And a clock. The draft beer he had ordered (though not before saying: "I hope you don't mind? I don't work tomorrow") sat before him, untouched. "I don't know why I ordered this. Turns out I don't like beer anymore."

The studio pressure to lose weight: "They would send someone over to my house to measure me every week. It was like I was on The Biggest Loser but there was no camera crew. They would send me prop guns… I would take a picture with it, pose with the gun so they could see how it looked in my hand. Meanwhile, what they're secretly doing is, 'How fat is Chris, still?' And that's what the photo was. They're like, 'Oh, we also need you to try on these gloves. Make sure it's a full body shot with the glove on.' Oh, yeah, thanks."

On relating to Hollywood females with body issues: Are you saying that I might be responsible for giving men body image issues? That's the nicest thing anyone's ever said to me! No, I'm sure I can't relate to what females go through in Hollywood, but I do know what it feels like to eat emotionally. To be sad and make yourself happy with food, and then be almost immediately sad again, and then ashamed. Then, you to try to hide those feelings with more food. I know what that's like. It's a vicious cycle, and it's a very real thing. So, I know what it's like to have body image issues. I also know that, if you just work hard and you enlist the help of good coaches, and you are coach-able and willing to work hard, you can actually change that. I offer a course. It's $4,500. Anyone who has these issues, just get a hold of my people, and we'll set it up. I'll walk you through it. I don't really offer a course."

He's very grateful for his career: "I used to be a door-to-door salesman. I lived in a van. I'm a f—— Hollywood movie star now. I'm going to be happy every day that I walk onto set because I've got nothing to complain about."

He doesn't want megafame: "What I want is to not have to do a different job. I want this to be my job forever. A regular job where you work it till the job is done, and then you retire, and you live the good life until the good Lord comes and takes you. That's what I want."
That was kinda uncomfortable to read, right? It's more fun when Chris french braids an interns hair during an interview, yet I appreciate his real talk about body image. Many of the men in these superhero movies are under just as much pressure as females to look hot and perfect.
Here's a cute video of Pratt at a press conference a few days ago. He's throwing out ideas for a Marvel Guardians/Avengers crossover. He wants to kill Iron Man. It sounds so dumb, but Pratt is so enthusiastically adorable.
Here's a photo of Chris Pratt at last week's UK premiere. He's almost arrived.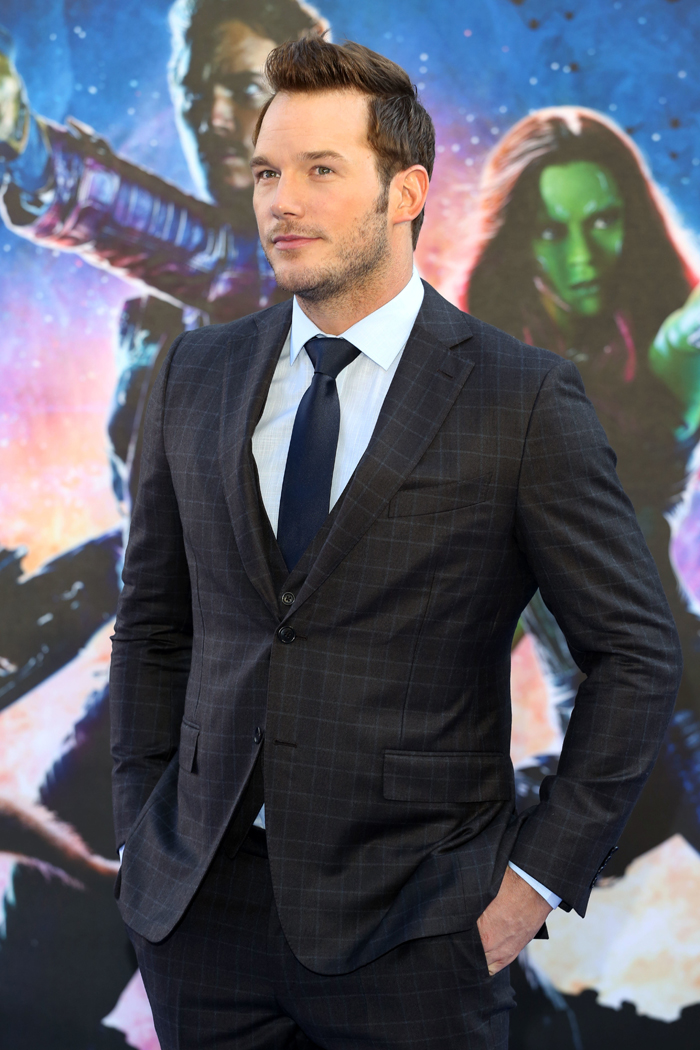 Photos courtesy of WENN