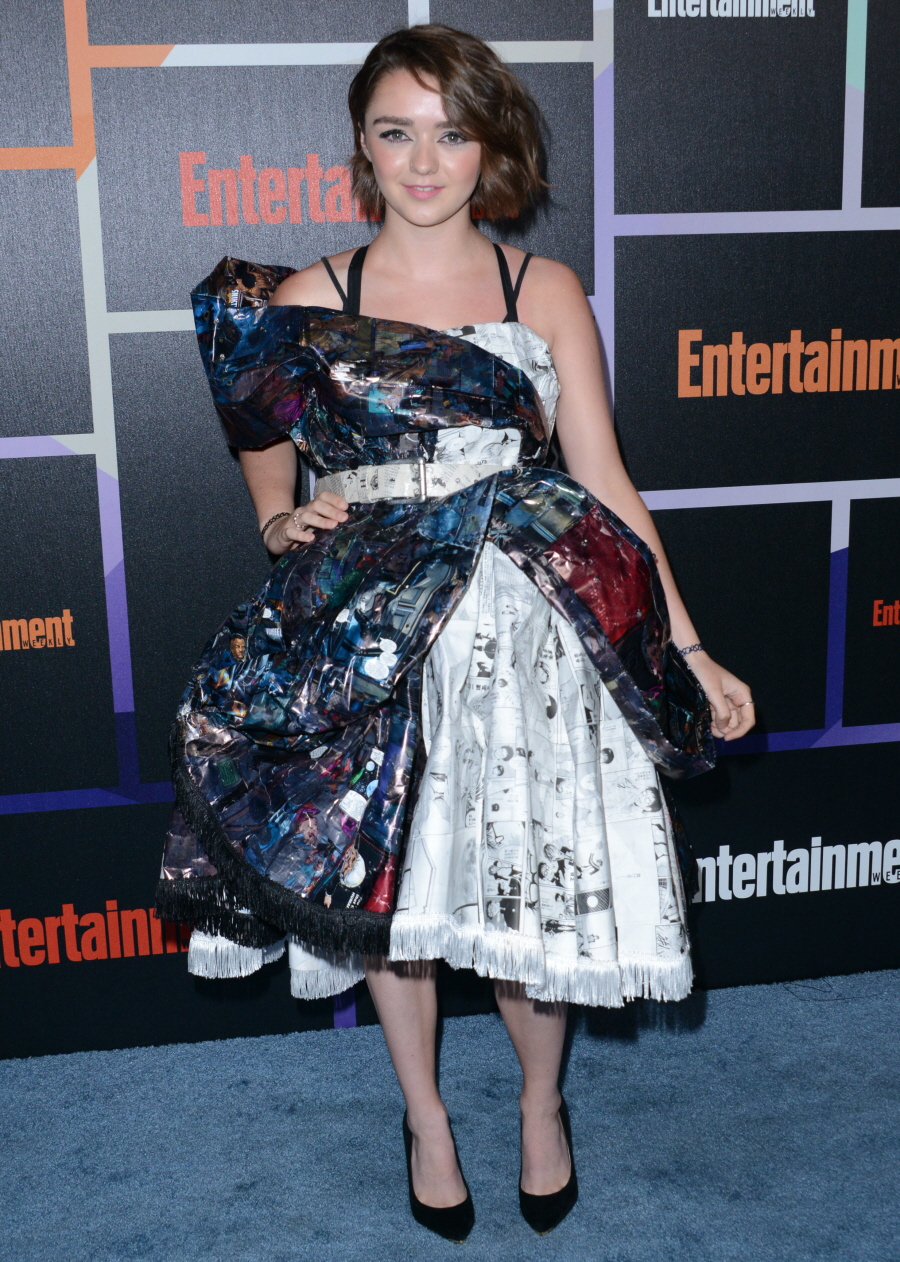 Here are some photos of Maisie Williams, also known as GoT's Arya Stark, at Entertainment Weekly's Comic-Con party over the weekend. Yes, she wore that dress. She's 16! And she's fabulous. I'm a huge fan of Arya and of Maisie. I think she's adorable, sassy and a very talented young woman. I even took her side in the British Airways-Twitter thing! To me, that wasn't Maisie pulling a diva act, she was just a weary traveler issuing a complaint. Anyway, Maisie has a new interview with TV Line and it is laugh-out-loud funny. You can read the full piece here and here are some highlights:
Why she takes whatever script she's offered: "I think people think stuff gets thrown at us all the time, but that's not the case; there aren't many roles out there for people my age."

Working with animals: "The horses are the easiest, they don't get too grumpy. The dogs would probably be second. The hyenas were also good, but there's always the possibility that they're going to freak out, because they can't really be tamed. … Oh, the cat I worked with on Game of Thrones was so badly behaved! It would never do anything it was supposed to do. I was like, 'Get your game together, cat. You're so bad.'"

Arya in GoT Season 5: "I haven't gotten the scripts yet, so I still don't know what's happening. I have a rough outline of what happens in the books, but you never know what they're going to put into this season versus next season, or what they're going to scrap altogether. I know a couple of really cool things happen in the books with Arya, and I just had a meeting about about a certain thing that happens to Arya, but I still don't know how it happens… People think the cast members know all the ins and outs, but we really don't."

She doesn't like Game of Thrones book-snobs: "[The Lady Stoneheart controversy] was a massive deal, but honestly, I really like it. I'm so sick of going on the internet and seeing all the book readers being snobby, spoiling it for other people, then saying, 'Well, it's not a spoiler. The books have been out for years.' Like, couldn't you just stop being mad for a second and let other people enjoy the show? They feel they have a claim on the series because they read the books first, and I understand that, but they don't need to be mean about it. That's why I liked moments like this, because book readers think they know what's coming, then we change it and it's really funny to watch their reactions. They're always like, 'That's not what happened in the books, so the show's really bad now.' But really, they just feel insecure because they're used to knowing what's coming next."

Arya being on her own next season: "I think she's going to be fine. And I think, for the first time ever, she actually believes she's going to be fine. It's refreshing to me; this girl's been pulled left and right by people who've been telling her what she's going to do with her life, and she's sick of it. She knows this world, she knows who to trust and she's ready to go off on her own."
I love her. "Get your game together, cat. You're so bad." That's so Arya. As for her future… well, Rory McCann (The Hound) said in an interview several months ago that he thinks Maisie is amazingly talented but he would never, ever tell her that because he doesn't want to disrupt her whole vibe. That's how I feel about her too – just "shh!" and let her do her thing. As for her shade on the GoT book readers and how they're spoiling it for the TV-only watchers… I think she's got a point. The writers are being faithful to the books as best they can, but of course it's not going to be a word-for-word adaptation. Stop being so snobby about it!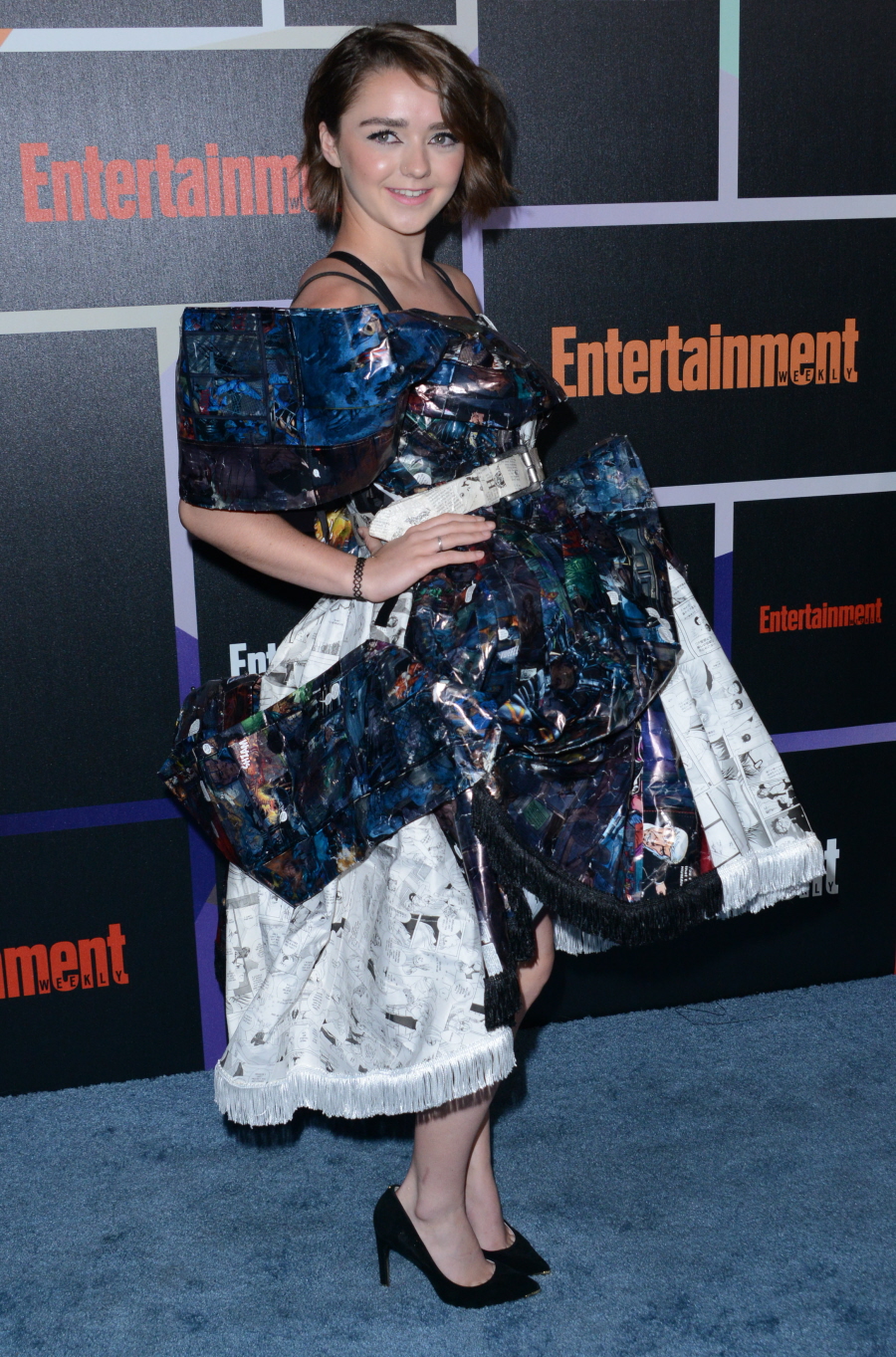 Photos courtesy of WENN.