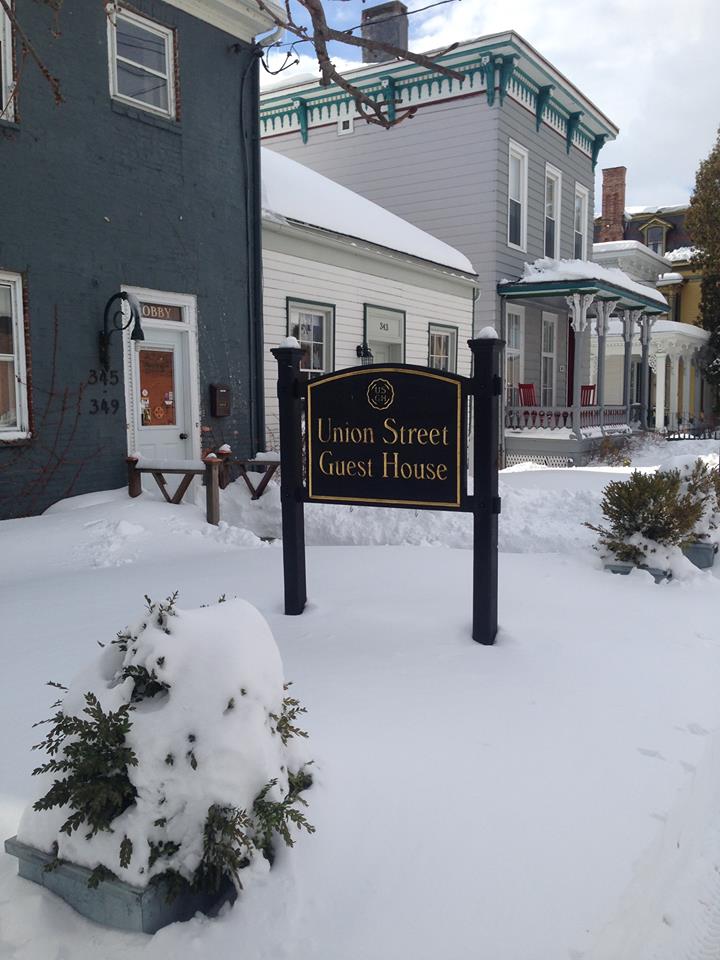 Do you guys ever watch Hotel Hell with Gordon Ramsey? I've only seen one episode of it, but it reminds me of Kitchen Nightmares and Restaurant Impossible in that the business owners seem so incompetent that I don't think they deserve all the help they're getting. (I have that issue with a lot of those kind of reality shows.) You just know they're going to run those businesses into the ground again, and that's what usually happens. I bring up Ramsey because this story reminds me of the worst restaurant, with the most arrogant owners, that he's ever tried to help, Amy's Baking Company. Amy and her husband openly argued with customers and they would regularly post nasty attacking comments in response to negative reviews online.
Now there's news that a New York boutique hotel, The Union Street Guest House in Hudson NY, has tried to shut down negative comments online by threatening to fine all guests $500 for each negative review posted by anyone in their party. It's part of their written policy. They've also tried to sue people who post negative reviews in an attempt to get them removed. (Retailers have done this too, here's a link to the most egregious example I've heard of.) This has of course blown up in the hotel owners' faces, with countless negative reviews being posted on Yelp in response to their ridiculous policy. Here's the story, thanks to the NY Post.
The owner of an upstate inn who threatened to impose a $500 fine for each negative online review saw the plan blow up in his face Monday when Page Six exposed the outrageous tactic.
Hundreds of scathing comments drove the rating of Hudson-based Union Street Guest House on review site Yelp down to a measly 1 star — with more than a thousand others removed for violating rules against "harassment," "lewdness" and "defamatory" postings.

Some of the reviews were clearly attempts at humor, such as the 5-star rave from "Zane E."

"The concierge has all the best escort services on speed dial. They had an amazing selection of videos. My favorite were the she-male and cuckold ones," he wrote.

But most attacked the inn's since-revoked written policy that warned anyone who booked the place for a wedding or other event that "there will be a $500 fine that will be deducted from your deposit for every negative review . . . placed on any Internet site by anyone in your party."

"Rob S." of San Luis Obispo, Calif., decried the inn's "unethical business practices." "My guess is that they claim that we owe them about $150,000 by now," he wrote.

"Alex V." of Los Angeles called the policy "the most despicable practice I have ever read about in the history of modern business."

"Do we live in a Stalinist autocratic regime?" he added.

And "Nathan S." of Seattle said of the backlash: "This is what happens when you think you are more intelligent than the Internet.

"Let this be a lesson to those of you who feel that prioritizing customer service is no longer a requirement. If you receive negative feedback, learn from it and move on," he wrote.

A source at the Union Street Guest House insisted that the policy "was meant to be tongue-in-cheek," but admitted that the attempt at humor had fallen flat.
"We like to have fun," the source said. "We're not trying to screw people over. We have five rooms. It was never meant to be some horrible rule."

But one Yelp member contacted by The Post said he actually received two e-mails from the inn's management threatening to impose the fine if he didn't take down the 1-star review he posted last year.

Rabih Zahnan, 38, of Alexandria, Va., said he stayed at the inn for a friend's wedding and was stuck in a room that was "musty and had a a bit of mold smell."

"The reaction that they sent just reinforced my 1-star review," said Zahnan, who works in private equity.
When I have a problem with a restaurant or service and it seems pretty bad, I will attempt to tell the business owner in person so that they can fix it. It's not like I complain that much, and I like to think that I'm nice about it. Usually nothing is done and they're like "oh well." I still won't write a negative review at that point unless it's glaringly bad or unless the owner is super rude to me. It's hard and can be embarrassing to complain in person, but I think it's a fairer way to do it, as negative reviews can ruin a small business. Sometimes they deserve it, but some reviews reflect one bad staff member or someone having an off day. However, the business owners can usually respond to a negative review on most sites and apologize or offer to fix it. If I read a nice apology I'm more likely to think favorably about a business with bad reviews. At what point do business owners decide that instead of changing their business and providing better customer service they're just going to try to control the entire internet? That's ridiculous, look at how that worked out for Scientology.
This also reminds me about how Yelp is squeezing small businesses to "advertise" with them in exchange for a higher "weighting" for positive reviews. If you haven't heard about this, it's very enlightening to read up on. I no longer trust Yelp and use Trip Adviser to look up reviews.
Union Street Guest House's Facebook page is full of negative comments. My favorite is about their outdoor photo, below. A guy named Ed Z commented "Shoulda charge $800 for bad review so you could have got a decent patio set…or at least a matching set"