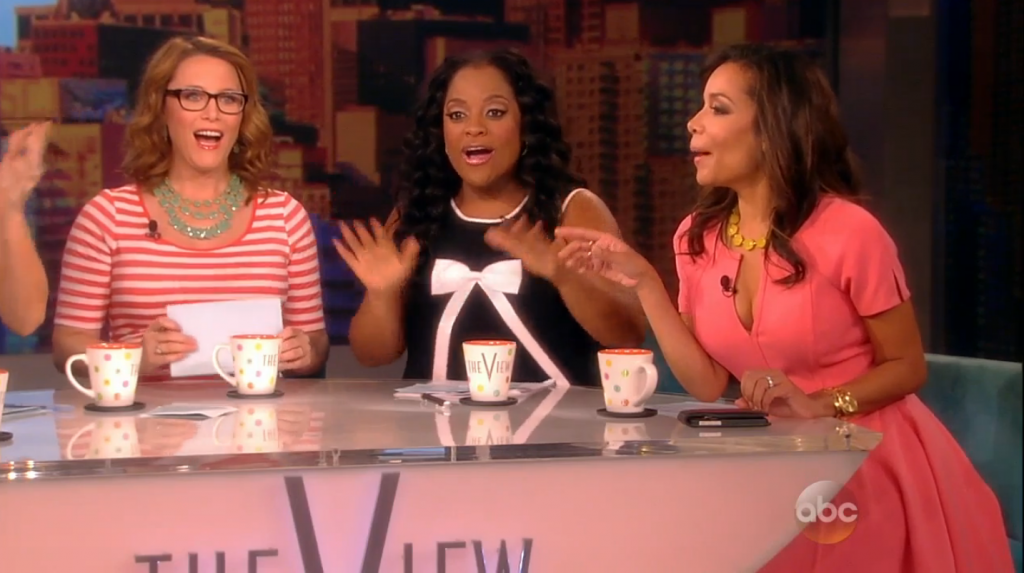 From left to right: S.E. Cupp, Sherri Shepherd and Sunny Hostin this week
The View is switching things up following long term producer Barbara Walters' departure. We've heard that onetime controversial co-host, Rosie O'Donnell, is coming back. This fact did not please Rosie's former co-host, Fox News' talking head Elisabeth Hasselbeck. Since Hasselbeck is no longer be on the panel, producers are looking for another conservative woman to pit against Rosie. Conservative panelist S.E. Cupp (from CNN's Crossfire) has been guest hosting this week. Cupp did a test discussion in front of the studio audience in which Rosie participated. They all got into a heated argument over abortion (they were talking about this story) and even mellow Whoopi got mad and called Cupp out. It sounds like a mess.
The View held mock tapings of the popular morning show on a nearby set Thursday as the final chemistry tests for all the lucky ladies, a source tells Radar.

And the panel included comeback host O'Donnell and current host Goldberg as the veteran View talking heads alongside Cupp and CNN legal expert Sunny Hostin.

"They did 15-minute 'Hot Topic' segments," a source told Radar. "These were all top secret tests, but there was a live audience and everything was being taped."

When the subject-matter turned to the international controversy involving the Australian couple who wanted their surrogate to abort one of their twins who was diagnosed with Down Syndrome, things went awry – and fast.

"They were talking about the difficult decision families have to make. And S.E. said she thought it was ridiculous that abortion has become so easy. And Rosie and Whoopi pounced!" noted the source of what turned into a verbal melee.

"Rosie and Whoopi ganged up S.E. and just went after her. Rosie told her, 'You're just rattling off Republican talking points. That's not what we need,'" recalled the source…

"Rosie told S.E., 'I will not let this turn into another Elisabeth Hasselbeck situation.

"'I will not work with another Elisabeth Hasselbeck,'" continued the source, adding that Cupp looked "stunned" and Hostin looked like a "deer caught in headlights."

"Whoopi said, 'This isn't about abortion.'"

Cupp, who kept her cool, responded, "I'm just giving my opinion."

O'Donnell retorted during the back and forth, "How old are you?" added the source.

Cupp responded, "What does that have to do with anything? That's irrelevant."

But the comedienne pressed on with, "'Why aren't you answering the question?'" said the source.

"It got so nasty that Whoopi said in front of the live audience, 'Have you ever had to make that decision?'

"The audience gasped, the executives started freaking out, they had to cut. It was so uncomfortable. It was a massive train wreck," continued the insider…

Our source said the stormy segment is all caught on tape, but won't make it to air – and it's very possible neither will the popular political commentator.

"This killed her chances at this job. S.E. knows she's out," said the insider.

But Goldberg wasn't done with her tongue-lashing – only this time Cupp wasn't the one in her sights.

According to the source, a short time later while backstage Goldberg told the room of female contenders what she really thinks about the legendary journalist who created the Emmy Award-winning show: "'I've been working with a cranky 85-year-old woman who's mad about everything and I need a break!'" the insider told Radar of her rant. "Now she's trashing Barbara Walters in front of the girls!"

Drama aside, the ladies at the head of the panel pack on the verge of taking over for Jenny McCarthy and Sherri Shepherd are former George W. Bush communications chief Nicole Wallace, veteran news anchor Lauren Sanchez, former assistant U.S. attorney Sunny Hostin and October Gonzalez, added the source.
There have also been rumors that Sarah Palin is in consideration for a spot on The View but you know that Rosie would NEVER let that happen happen.
I remember seeing Whoopi's HBO comedy special in the early 90s. She told a story about performing an abortion on herself using a coat hanger when she was just a teenager. (She used an alternate persona to tell the story, but it was personal. A biography of Whoopi states that she had four more abortions in her teens until she got sober.) So this topic must be highly personal to Whoopi.
If Rosie is so adverse to having another Elisabeth Hasselbeck on the panel, maybe they should find someone who will never question her. That would be detrimental to ratings, so they're probably looking for a co-host on the other side of the political fence who will challenge Rosie without pissing her off so much that the mood on the show sours. That's a fine line and good luck with that.
The View is also changing showrunners. CNN reports that Bill Wolff, the executive producer of MNBC's The Rachel Maddow Show, is coming on to replace the current showrunner, Bill Geddie. Geddie has run The View since it started in 1997. The show comes back in September, so we'll have to see which other two women they pick to fill out the panel. It's not going to be easy to strike a balance between harmonious and interesting, and they certainly didn't have that with Jenny McCarthy and Sherri Shepherd.
Update: There's news that The View has hired Nicole Wallace, a political commenter and former White House Director of Communications for George W. Bush, and October Gonzalez, the wife of football player Tony Gonzales. Kaiser knows Wallace from Morning Joe and said she's decent on that show. She also let me know that Sarah Paulson played Wallace's character on the HBO movie about Sarah Palin, Game Change. This report comes from Radar Online, and it's unclear where it originated so I'm not sure it's official yet. I'll update when we know for sure.