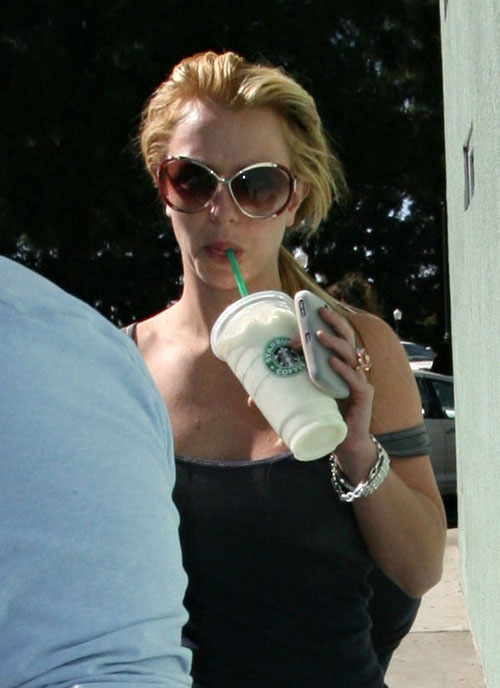 Yesterday, we told you how the entire Spears clan is making a very nice living off of their eldest daughter Britney. Probably the only family member who is actually earning his paycheck is daddy Jamie Spears, who stepped in as his daughter's conservator and got rid of the insidious Sam Lutfi just when it appeared that he was poised to take over Britney's life and cause her serious harm. Jamie appeared at a court hearing yesterday in Los Angeles with testimony that Lutfi had violated the terms of a restraining order filed against him last year. Papa Spears believes that either Lutfi or skeezy photograher/ex-boytoy Adnan Ghalib slipped Britney a pre-paid cell phone on which both men were contacting her.
There's a hearing underway in the Britney Spears restraining order case against Sam Lutfi and Adnan Ghalib.

Daddy Jamie Spears is on the stand right now, explaining that Britney somehow got her hands on a pre-paid cell phone which caused him fits because they have been strictly monitoring the phones she's able to use.

The nanny heard Britney talking to Sam and Adnan on the pre-paid phone in the wee hours of the morning one day. It appears Jamie believes Sam and Adnan got her the phone in an attempt to poison her against Jamie and torpedo the conservatorship.

If Sam did have any contact with Britney, he would have violated a court order to stay the hell away from her.

Jamie is trying to make the temporary restraining order against the dynamic duo permanent.
If Britney is still actively in contact with either one of these douches, you really have to wonder how stable she actually is. Both Sam and Adnan are shady guys who were clearly looking to exploit Britney for their own benefit. As much as I question Britney's family in this whole endeavor, they are a lot less harmful than either one of those guys. If Britney's parents had not intervened when they did, I believe Britney would probably be dead right now. Hopefully the judge in this case will be sensible and extend the order permanently.
Britney Spears is shown on 10/11/08. Credit: Fame