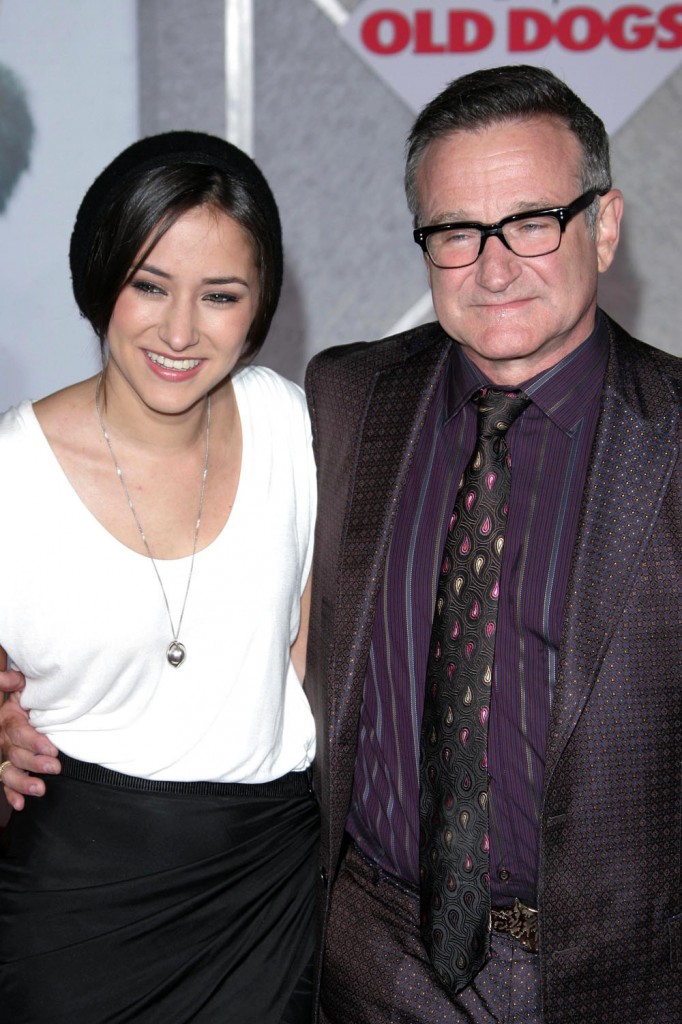 It's been over a day since I heard that Robin Williams passed and I'm still processing it. When I look at photos of him, read his quotes or watch clips from his movies, it hurts like I knew him. He was a part of my childhood and his personality was so unique and infectious. I don't know what to compare this to, it's like hearing that your favorite college professor died.
There are so many stories about Williams that I don't know what to include or where to start. It seems like everyone he met has a wonderful, touching tribute for him and genuine sentiment for what he meant to them. He was one of a kind.
Robin left behind three children: Zak, 31, from his first marriage and Zelda, 25, and Cody, 22, from his second marriage. He also leaves a wife, Susan Schneider, whom he married in 2011. Susan previously issued a statement following her husband's death asking for privacy and asking the public to focus on the joy and laughter that her husband brought the world. His children have now issued statements and they are full of humor and gratitude for their father. These really touched me. There is also a quote here from Marsha Garces Williams, Robin's second wife whom he was married to from 1989 to 2008.
Zak Williams, 31
Yesterday, I lost my father and a best friend and the world got a little grayer. I will carry his heart with me every day. I would ask those that loved him to remember him by being as gentle, kind, and generous as he would be. Seek to bring joy to the world as he sought.

Zelda Williams, 25
My family has always been private about our time spent together. It was our way of keeping one thing that was ours, with a man we shared with an entire world. But now that's gone, and I feel stripped bare. My last day with him was his birthday, and I will be forever grateful that my brothers and I got to spend that time alone with him, sharing gifts and laughter. He was always warm, even in his darkest moments. While I'll never, ever understand how he could be loved so deeply and not find it in his heart to stay, there's minor comfort in knowing our grief and loss, in some small way, is shared with millions. It doesn't help the pain, but at least it's a burden countless others now know we carry, and so many have offered to help lighten the load. Thank you for that.

To those he touched who are sending kind words, know that one of his favorite things in the world was to make you all laugh. As for those who are sending negativity, know that some small, giggling part of him is sending a flock of pigeons to your house to poop on your car. Right after you've had it washed. After all, he loved to laugh too…

Dad was, is and always will be one of the kindest, most generous, gentlest souls I've ever known, and while there are few things I know for certain right now, one of them is that not just my world, but the entire world is forever a little darker, less colorful and less full of laughter in his absence. We'll just have to work twice as hard to fill it back up again.

Cody Williams, 22
There are no words strong enough to describe the love and respect I have for my father. The world will never be the same without him. I will miss him and take him with me everywhere I go for the rest of my life, and will look forward, forever, to the moment when I get to see him again

Marsha Garces Williams
My heart is split wide open and scattered over the planet with all of you. Please remember the gentle, loving, generous — and yes, brilliant and funny — man that was Robin Williams. My arms are wrapped around our children as we attempt to grapple with celebrating the man we love, while dealing with this immeasurable loss.
Those statements were so powerful and sad. I can't remember ever being as affected by a celebrity death as I have been by Williams' passing.
As I mentioned, I don't know where to start when it comes to covering the many stories that are coming out about Williams and how he touched almost everyone he met. He had a joy for life, an authenticity and a vulnerable side that came through. As we know now, he was also profoundly depressed. The fact that one of the most beloved actors of the last few decades has taken his life has opened up a dialogue about depression and helping our family and friends suffering from it. It's not about being sad or learning to "snap out of" it, it's a darkness that's hard to understand, even for people who have gone through it.
I want to share links to just a few of my favorite recent stories about Williams, but please know that these are in no way complete. It would take hours to recap the stories that have come out in just the last 24 hours about this man who touched so many. (Most links are via Reddit.)
– Robin did so many USO tours entertaining the troops that they consider him the Bob Hope of his generation.
– Robin improvised many of his lines in film, including the "fart" scene from Good Will Hunting and most all of his lines as the genie in Aladdin.
– Robin was a such a supporter of the San Francisco Zoo that they named a monkey after him.
– He met the famous gorilla Coco, who knows ASL, and had a tickle fight with her. There's video.
– Tributes have sprung up for Robin on his Hollywood Star, on the stoop of the home where Mrs. Doubtfire was filmed, at The Mork & Mindy house, at his own home and on the bench in Boston used for his film Good Will Hunting. There are surely more I've missed.
– Robin was a lifelong friend of Christopher Reeve, he met him while they were roommates at Julliard in the 70s.
– When James Lipton asked Robin what he wanted to hear from God when he arrived in Heaven, Robin said "There's seating at the front. The concert begins at five. It'll be Mozart, Elvis and one of your choosing.
"If heaven exists, to know that there's laughter, that would be a great thing… Just to hear God go, 'Two Jews walk into a bar.'"
Robin Williams' family is asking for donations to be made to these charities that were dear to him:
St. Jude's Research Hospital, Challenged Athletes, USO, the Mohammed Ali Parkinson Center, the Christopher and Dana Reeve Foundation and Glide Memorial Church in San Francisco.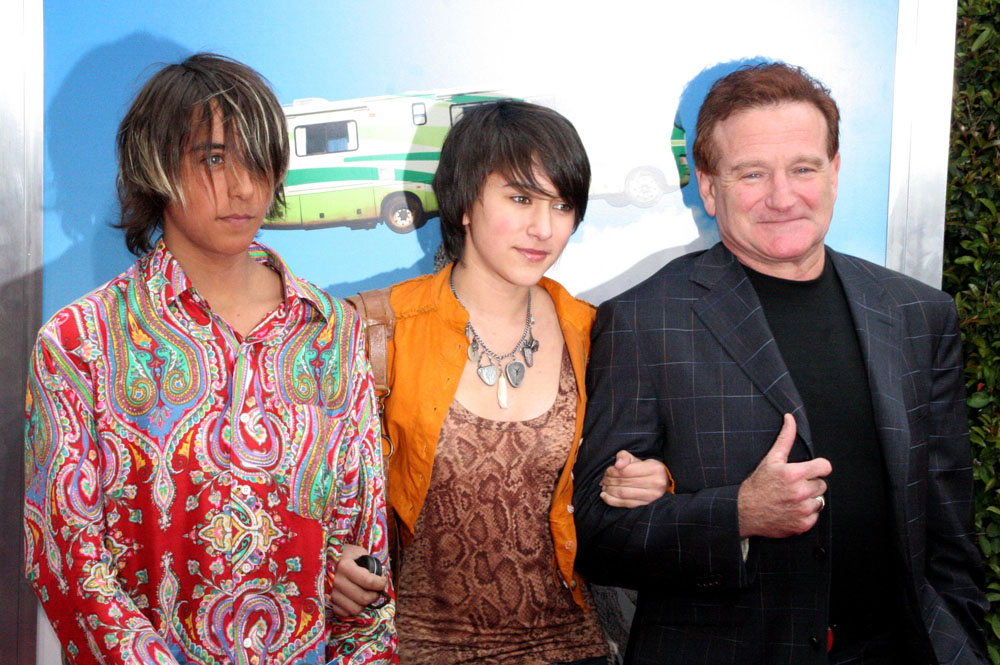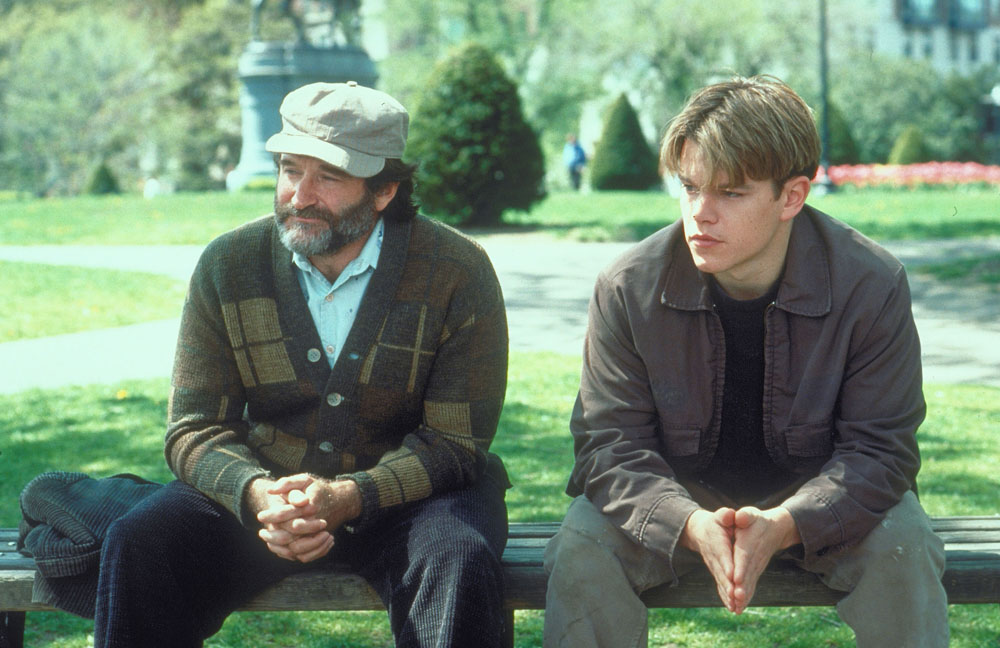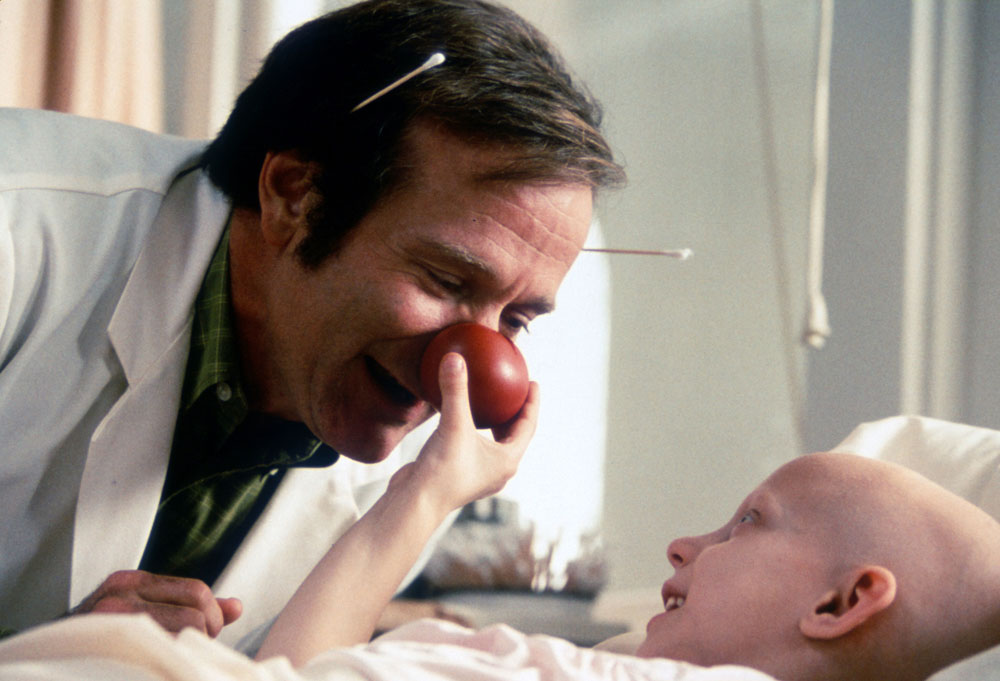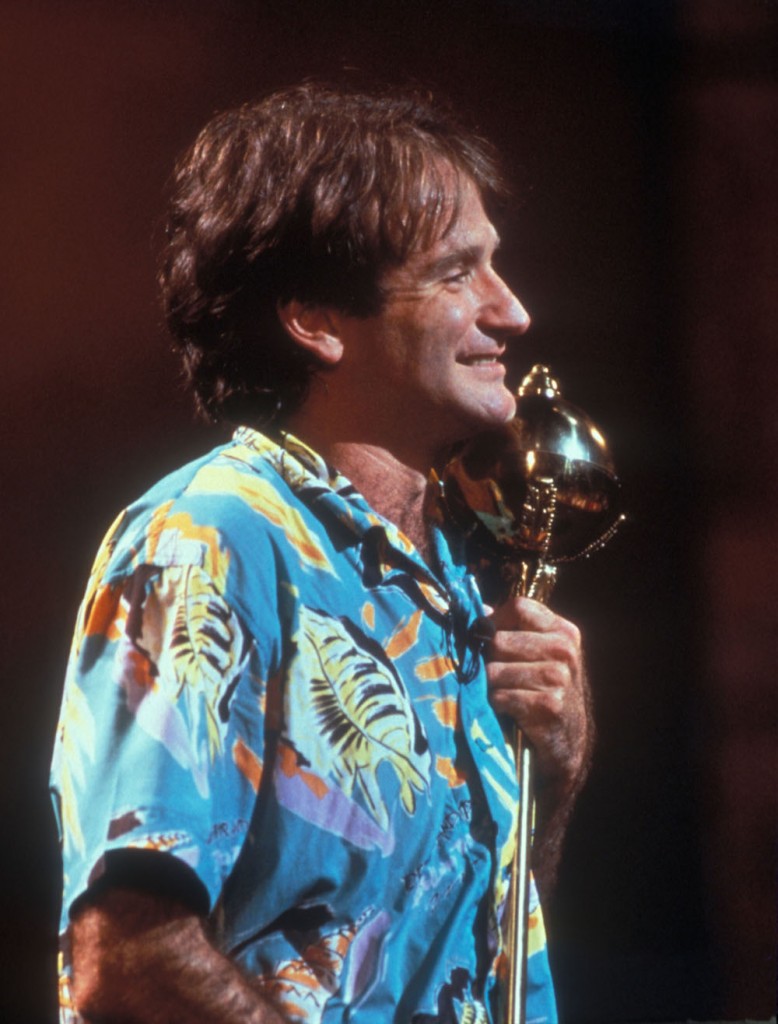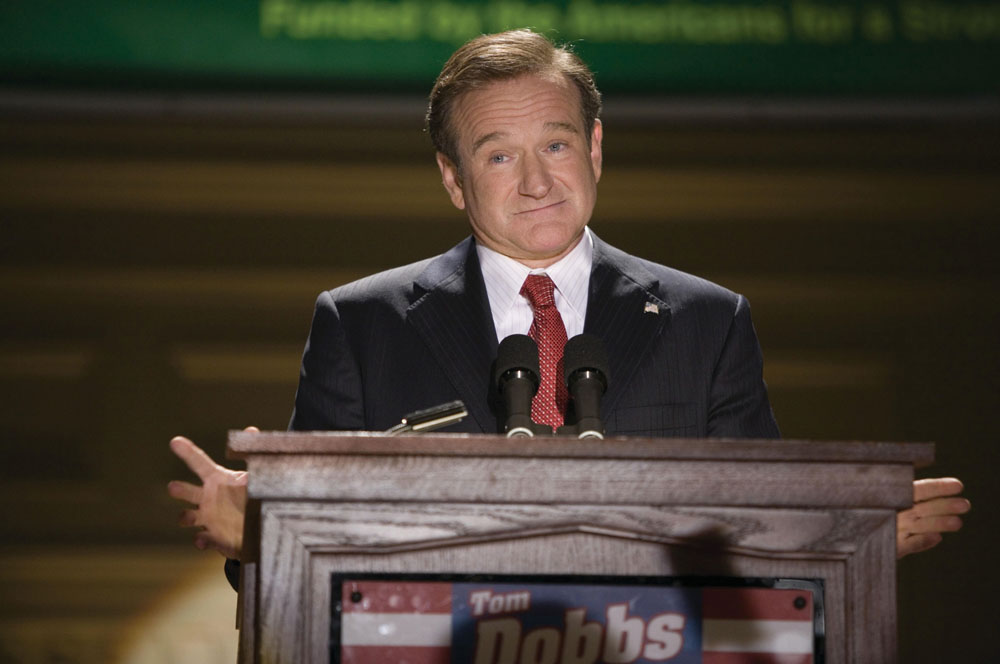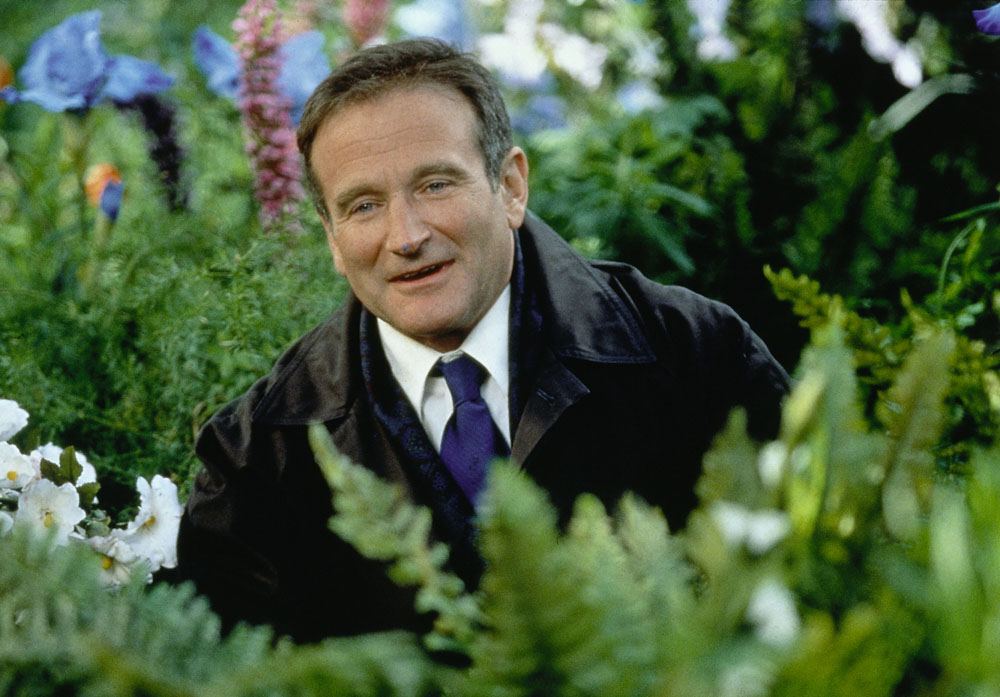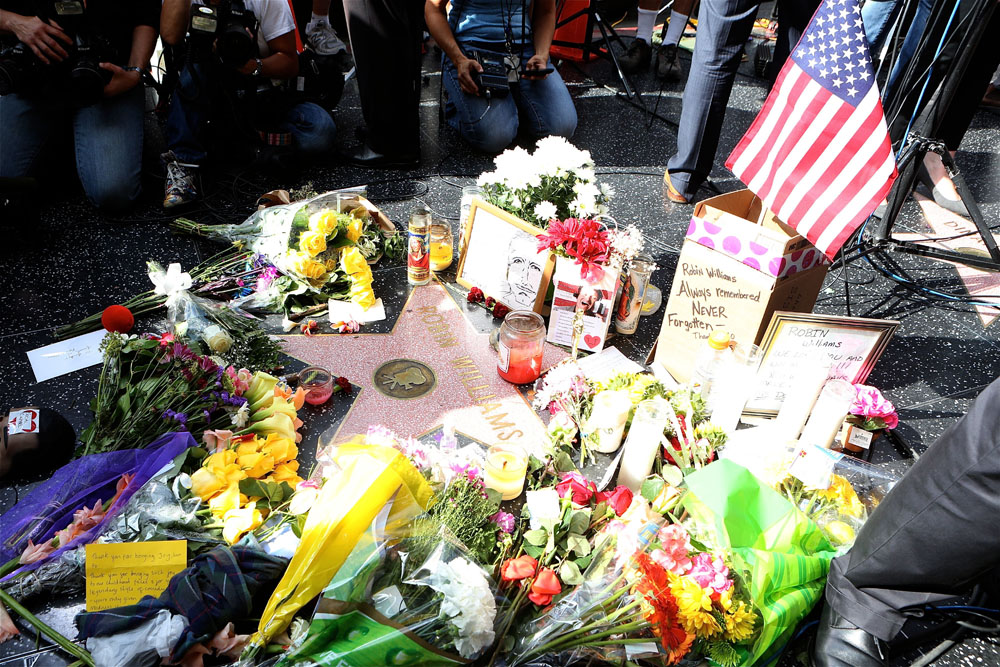 Photo credit: WENN.com