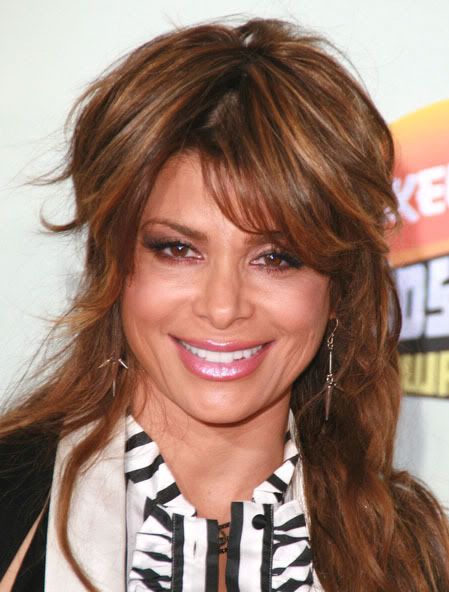 Paula Abdul pissed off cosmetics executives by rudely taking a call on her cell phone and shooing them when they tried to get her attention during an important meeting. She was set to get her own fragrance and cosmetics line, but her unbusinesslike behavior blew the multimillion dollar deal, and the company decided not to work with her.
Abdul is so upset over how her career is going that she's hired a "life coach" to help her focus, but it seems like what she really needs is a drug counselor.
Paula Abdul can't seem to get her life on track, so she's hired… a "personal life coach" to get her through the downward spiral that began when she lost a multimillion-dollar deal for her own fragrance and cosmetics line, according to sources…

And Paula could have used a coach in the room when she blew the deal by taking a personal call on her cell phone during the middle of a business meeting with the company's chief execs!

Having her own fragrance and cosmetics line would have allowed Paula to never worry about money again, said a former business associate.

"But her rude and thoughtless behavior irked executives so much thaey decided to take a pass on Paula."

According to an insider, Abdul was in the midst of a crucial meeting with the company's honchos when she started gabbing on her cell phone. The CEO tried getting her attention, but Paula "cut him off, wagging a finger at him and continued to jabber away while everyone waited for her to finish the call."

The meeting went downhill from there, and the deal fell apart soon after.
[From The National Enquirer print edition, May 17, 2007]
The article goes on to say that she's gone through a whopping seven personal assistants this past year, and lost a reality show due to her erratic behavior. You know she's got to be out of hand when even reality show producers won't deal with her.
I bet Paula wasn't too coherent either, as she was even visibly messed up on a recent QVC appearance to hawk her jewelry.
In March of last year, Abdul signed a three year contract renewal with American Idol. She will reportedly be paid between $5 and $8 million a year. It doesn't seem like she has much to worry about career-wise, and can just do what she does best and slur words of encouragement for the next two years.