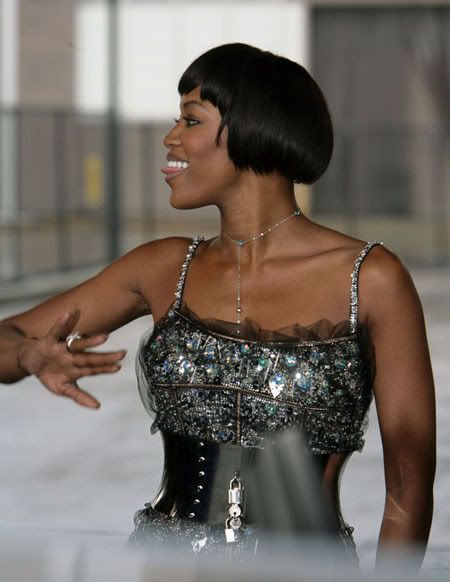 Not only did Naomi Campbell use the perp walk to sanitation duty community service as her own personal catwalk, sauntering out on the last day in a silver sequined couture, she also took a diary of her experiences mopping up. The July issue of W Magazine will feature candids of Naomi ouside her her community service gig as well as excerpts from her personal diary where she journaled her five days of experiences as a cleaning person. Rage-a-holic Naomi will grace us with inspiring personal missives taken straight out of an AA meeting and rehashed to make her sound deep:
The supermodel, forced to scrub a New York Sanitation Department garage after hitting a maid with a mobile, wrote: "I find solace in sweeping."

She went on: "I have no other responsibility. I have no phone. I have the time to think. Just have, you know, peace."

Mixing with co-workers gave her a sense of perspective. Naomi, 36, wrote: "Two of the people in the room have never been on a plane. They ask me what it's like, and I'm embarrassed to tell them I was on seven planes the week before alone. It's so interesting to get to know so many different sorts of people."

London-born Naomi believes the five-day punishment in March helped her come to terms with addictions.

She wrote: "One co-worker tells me how he ended up here, basically because of alcohol. I bond with him, and I tell him I'm in recovery."

She admitted first dabbling with drugs at 23. She recalled: "I first sought treatment in 1999 and then went in and out of recovery.

"I'd think I had things under control, but then I would relapse. I never really looked into myself, deep below the surface. What I came to realise is that I had to surrender. I had to let something higher than me be in control of my destiny. You have to let yourself become vulnerable again.

"Some people can handle a drink or a line of cocaine, but I've finally come to realise that, for me, it's all or nothing — and it has to be nothing. And my life has changed since."

On her final day Naomi left the garage in a sequined silver evening gown. In the diary — to be published in US fashion magazine W — she wrote: "I've paid my debt to society. It's just one day at a time. That's how I'm going to live."
Naomi is now said to be dating hotelier Andre Balazs, Uma Thurman's recent ex. The two were seen out to dinner together. He better stay on her good side. Despite talking a lot about kicking drugs and alcohol in her diary, Naomi didn't once mention her terrible rage problem.