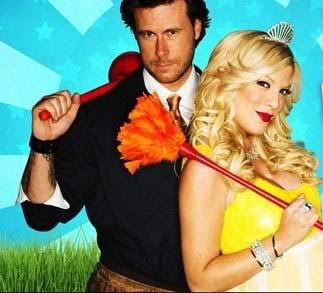 While Tori Spelling's Oxygen reality show "Tori & Dean: Inn Love" makes it seem as if Tori Spelling sunk her entire meek $800k inheritance into the bed and breakfast she runs with her husband that's not the case at all. Tori didn't buy the Inn, she's just leasing it. The luxurious bed and breakfast is still registered with the current owners, who have been trying to sell it for almost a year.
What's more is that Tori and Dean are hardly there when cameras aren't around, claim sources quoted in The Enquirer:
Tori has led viewers to believe that she pucked down her paltry $800,000 inheritance from her late father, legendary TV producer Aaron Spelling, to buy the Chateau La Rue in the sleepy town of Fallbrook, CA.

But that's far from the truth.

"Tori and Dean are leasing the inn," explained the actresses publicist.

According to legal documents, the property belongs to Christopher and Patricia King, who have owned it for years.

In fact, records indicate the four-bedroom inn has been on the market for more than 300 days and remains active on a multiple listing service. The asking price… has been reduced form the original $3.4 million to $2.6 million.

During the "Inn Love" premiere… Tori conducted a highly publicized estate sale at her Hollywood home, hawking all her worldly possessions to raise money to supposedly buy the 4,000 square-foot inn.

And in episodes filmed before she gave birth to Liam on March 13, a heavily pregnant Tori interacted with guests at the inn for the TV cameras.

"But these days Tori and Dean are nowhere to be found on the grounds," according to an insider.

"And it's so odd at the inn. When you finally manage to reach a live person at the desk, they don't even answer the phone like it's a normal business. I had to ask if I'd reached the Chateau."
[From National Enquirer print edition, May 14, 2007]
I haven't seen this show, but fellow gossip blog Seriously? OMG! WTF? speaks highly of it and says it's sweet and that Tori and Dean are fun to watch.
If they make it out like Tori bought the Inn and she's really just leasing it that's more than misleading. Still, it's reality TV so they're bound to embellish.
The series is Oxygen's second highest rated reality show and has been picked up for a second season. In news reports, it's clearly stated that Tori invested her savings in the Inn:
The show's first season chronicled Spelling and McDermott's to invest most of their savings in a bed-and-breakfast in Fallbrook, Calif., northeast of San Diego. The new episodes will follow the couple as they try to make the business a success while getting used to being parents. Spelling gave birth to the couple's son, Liam, in March.