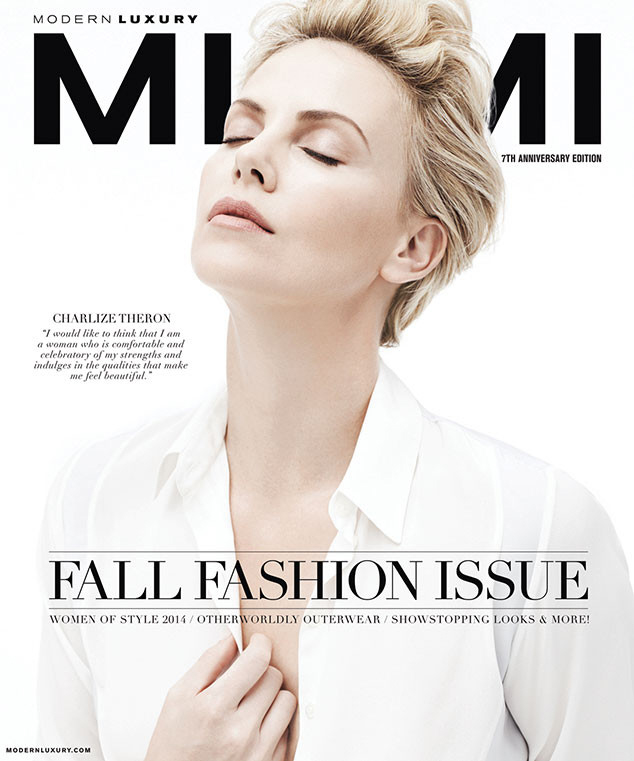 Is it just me or does Charlize Theron look really plastic-y in these Modern Luxury photos? It might just be wonky Photoshop or bad makeup. But she's giving me Priscilla Presley vibes. Anyway, Charlize is still talking about body image and aging and how she's gotten to a place where she's really happy with herself and her life. Even though most of us give her a major side-eye about Sean Penn, I have to say… I agree with her that this is the happiest she's been in a while. Her boyfriend is a sulky curmudgeon and alleged abuser and she's never been happier. They're probably going to get married. Sean will probably adopt Jackson too. Anyway, here are some quotes from Charlize about her happiness and self-confidence:
On her body: "I do not have a perfect body! I'm always finding things I can work on, but I definitely have reached a point where I feel comfortable and happy with the way my body looks. I definitely am not one of those people that is constantly counting calories and doesn't allow myself to enjoy food—I love food. But I just try to be mindful of what I eat and be good to myself."

She likes to hike with her mom: "My mom and I really enjoy hiking in the morning. There is a great trail around the corner from my house, so I go with [my 2-year-old son] Jackson and the dogs."

Self-confidence: "I like to think I am a woman who is comfortable [with] and celebratory of my strengths…and indulges in the qualities that make me feel beautiful."

Finding a modern man: "A modern man should elevate and celebrate the emerging progression of the modern woman. These days women are doing any-and everything, and men are realizing that women are able to do everything they can do. I think at the end of the day, we should be supporting one another, building each other up. We need each other."
I don't have a problem technically with anything Charlize said, if we're just taking her words at face value. But taken in context with her life right now… does anyone really believe that Sean Penn is a "modern man" who embraces Charlize's feminine strength and supports her 100%? I do not. Sean's past relationships tell a different story – he likes women who put their careers on hold for him, he likes a woman who makes it all about HIM. But, as I said, Charlize seems genuinely happy these days. Perhaps we should just hit pause on our I TOLD YOU Sos until this relationship crashes and burns.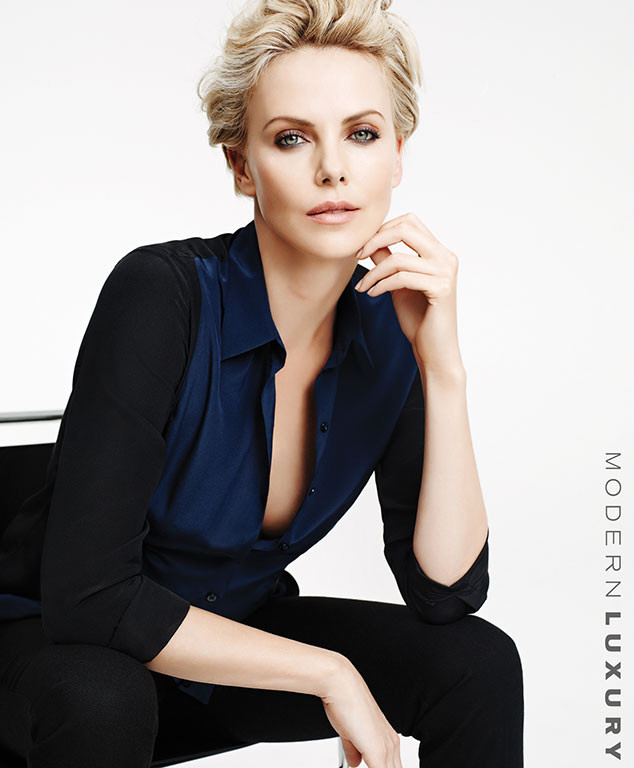 Photos courtesy of Modern Luxury.