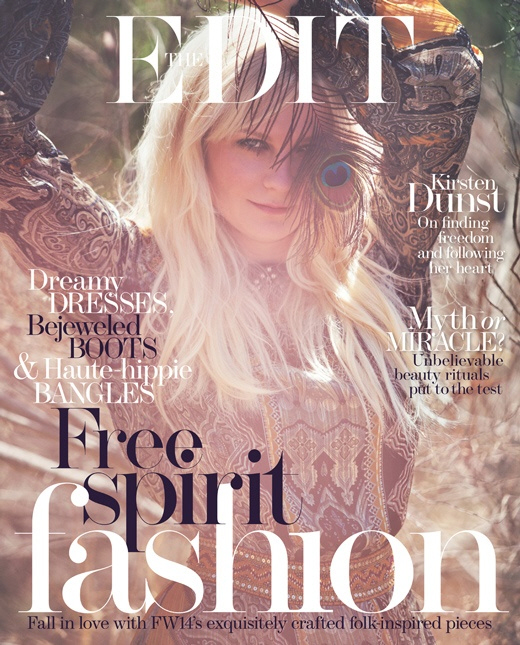 I kept seeing this Kirsten Dunst cover for The Edit a few days ago, but I kept ignoring it because Kiki's interviews these days are… odd. Not "bad" so much as… difficult to parse. There was that interview she gave where she tried to explain how 1950s gender roles are the best, and that's why relationships work. Then there was her W Magazine interview where she claimed that she's never done the casting couch thing because "I don't give off that vibe." Thankfully, her interview with The Edit isn't full of verbal landmines – you can read the full interview here. Some highlights:
She spends a lot of time flying undercover in London: "I'm lucky, because if I need to, I feel like I can escape myself. So when I'm not watching The Bachelor on TV and eating English breakfasts, I'll come here, eat a lot of bangers and mash and drink Guinness."

She hasn't been making 'safe' career choices: "You forget that not everyone goes to see independent films. The other day this guy said to me: 'Were you in the Spiderman movies?' When I said yeah, he asked: 'Do you make movies anymore?' For most people, if you're not in mainstream cinema, it's like you've vanished."

She's gained some weight & she's fine with it: "I've got a little bit more of a tummy now, so although I own about 20 pairs of jeans, I'll wear the same three for a year because the rest are from when I was skinnier. I guess if I wasn't comfortable and in a relationship I'd be thinner. When you're with someone, you eat so much more and you chill out a bit – but I don't criticize myself more than is healthy, because there's such a lot of that, isn't there? Whether it's girls among themselves or gossip magazines, it's all about women tearing apart other women. I don't get why that's so prevalent right now."

Botoxing in Hollywood: "If you're going to be an actress who is lasting and still working when she's older, you can't have stuff done because you just look weird, and you certainly can't be in period films. I've heard of men doing it too, and I get so distracted by it. I can't even see their performance because I'm just thinking, 'What did they do to their face?' 'Filling' is definitely the worst thing people do; it makes everyone look puffy. No, the prettiest women to me are the ones who have let themselves age. Kristin Scott Thomas in Nowhere Boy looked absolutely gorgeous. So I feel like there is a way to age gracefully and maybe just do a peel now and again to maintain your looks but not change them."

Taking time off: "Because I started so young I feel like I can take time off now. If my career ended tomorrow I would be proud of the films that I've done. God, that sounds so dramatic. But I don't buy that stuff about things getting harder for actresses as they get older. Actually, I think it's going to get easier. I mean, it's the golden age of television and I'm only about five years away from doing a TV show, for sure. I'm not going to record an album or anything but I would definitely do a musical movie. Basically, I'm pretty much game for anything."
She also addressed the issue of her teeth, which used to be discussed a lot. Kiki says that people in the industry "subtly" suggested to her repeatedly that she should get her teeth fixed but Sofia Coppola told her not to give in, and Kiki went with Sofia's advice. As for girl-on-girl judgments, of course she has a point. But like I always say, everybody judges. We all judge. Kiki judges too, that's why she believes in 1950s gender roles and why she throws shade at actresses who are victimized by casting couch situations. That's why she's judging people who get fillers… although I completely agree with her. People getting fillers these days look so friggin' weird and puffy.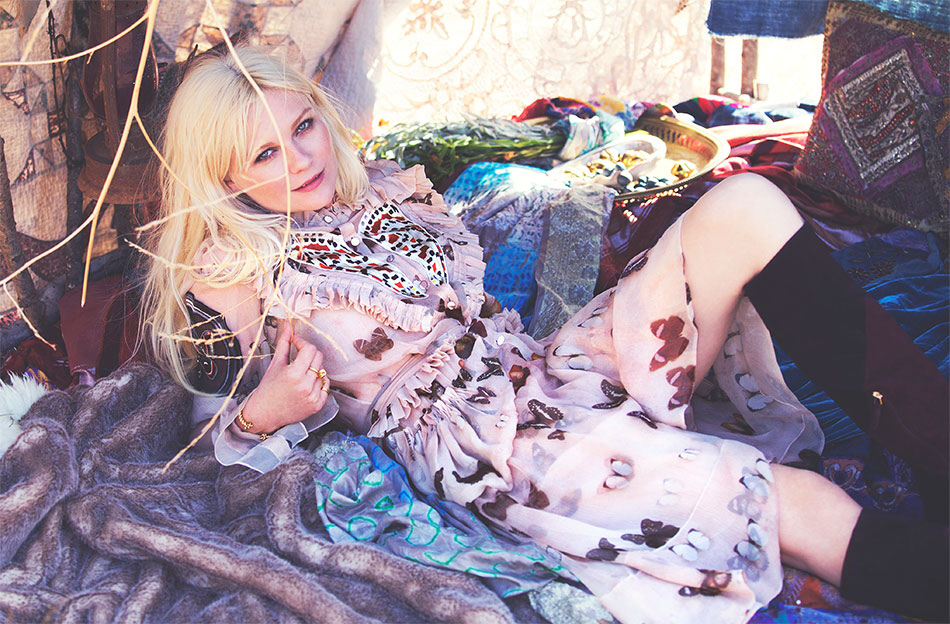 Photos courtesy of The Edit.