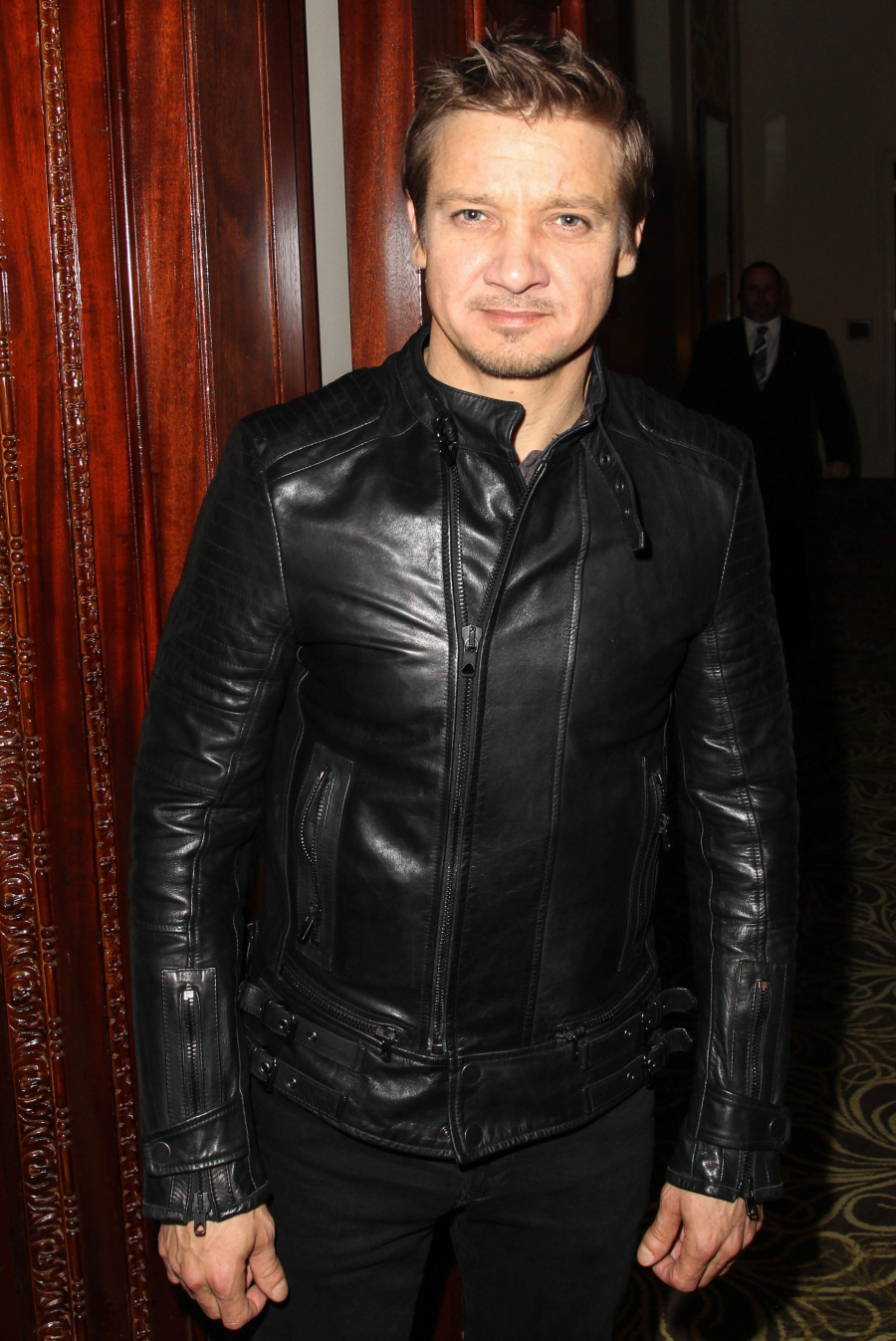 Last week, Jeremy Renner finally got around to confirming that he married his baby-mama Sonni Pacheco. He confirmed it during a magazine interview to promote his latest film, Kill the Messenger. There was some cognitive dissonance there – Jeremy was talking about how no one needs to know anything about his personal life, but he's still talking about his personal life while promoting his film (a film about journalism). I'm not going to make a big deal about it because… well, most celebrities do it. It's just what happens. Anyway, Renner gave a new, lengthy interview to The Daily Beast and he talks a lot about his personal life, about hacked phones and much, much more. You can read the full piece here. Some highlights:
Information Age: "Why I steer away from media in general is because I'm sickened by what gets attention—like sensationalism, hacked celebrity phones, etc. It makes me feel terrible to be a human. What's a headline anymore? We can say we're at war, and then it's something else that comes up two days later, and then it's gone. A lot of it has to do with technology, too. I think it's a travesty for our youth that we're born with cellphones in our hands and have access to all the information that adults do. You didn't earn it, and you don't deserve it—it just fell in your g–damn lap. Information should be earned. What is actually earned today?"

He hates the Pundit Class: "I hate that. 'Here's a penny for your thoughts…' Get out of here! I don't give a sh-t about your opinion! Punditry is completely ridiculous, as is speculation. Why are you speculating on things? Just deliver the news and report the facts. But with the 24-hour news cycle now, they just use speculation as filler until they actually get some real news to report on. It's why I can't really watch the news, man."

On sleep: "I almost never get any sleep. I get about 2, 3 hours a night."

Whether he's concerned that his phone will be hacked: "I mean… if it were a few years ago, I'd have a bunch of naked pictures of girls. But now, the only pictures of naked girls on my phone are of my baby! And hey, if you take pictures of my naked little baby girl, I'm coming after you. I'm going to hurt you. I'll hurt you."

On the idea that there should be more female leads in film: "Sure. I absolutely agree. I love strong female characters, and I think it's really important. Another reason why I got involved with Kill the Messenger is that there are strong female roles in this, and I actually wanted them to be stronger than they ended up being in the movie—like my editor in the film, played by Mary Elizabeth Winstead. Strong female roles in cinema are hugely important to me. A lot of them seem to just service the guy, and it's a travesty. You need to strike a good balance between the men and women in a movie, because that's when things really ignite."
There's a lot of stuff about Marvel in the interview too… he doesn't confirm that he's in Captain America 3, which I guess was a rumor going around. He basically says that if Hawkeye ever gets his own stand-alone film, it will probably include a lot of Black Widow too. He says his Marvel contract is for three Avengers films and one Hawkeye film, which is interesting. Didn't Chris Hemsworth have to, like, sign away his life to Marvel? I think Hemsworth has a nine-film contract, which is probably why he always looks so grumpy.
As for the rest of it… I don't agree that "information has to be earned" – I think "the Information age" is a good thing for the most part, but the kidz just need to learn how to be discerning about what is and is not real life, real information, etc. Oh, and I guess Renner used to like to take naked photos of his ladies. Or he just likes to be sent naked photos from his ladies. Good to know.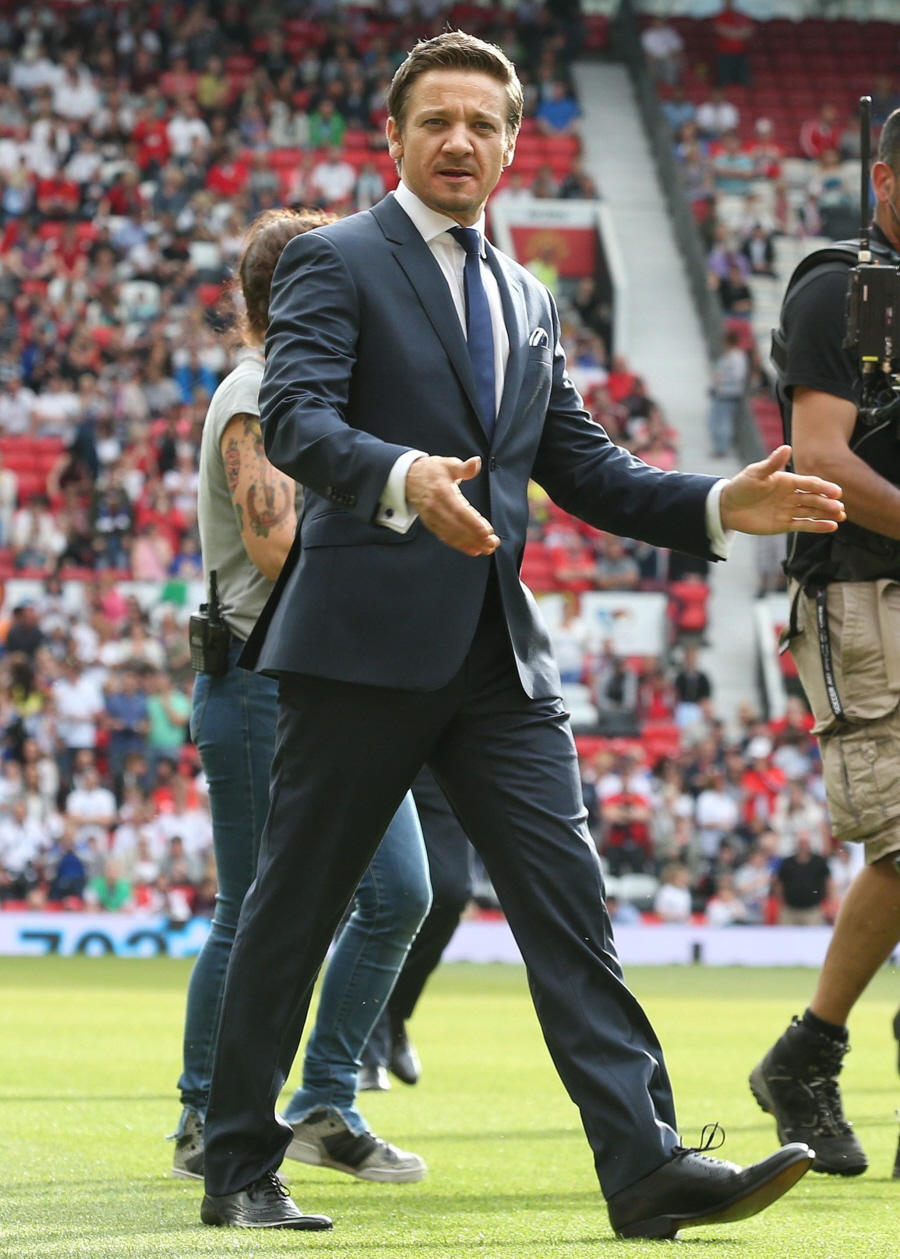 Photos courtesy of Fame/Flynet.