Matt Damon was one of the high profile guests at the Alamooney wedding extravaganza in Venice last weekend. We know because we saw photos of the Bourne actor smiling obligingly for the cameras, as we've come to expect from him. Matt is always game. There was an opportunity cost to Matt's weekend-long celebration of his friends' wedding. He missed his buddy Ben Affleck's premiere for Gone Girl. According to Radar Online, Matt's absence enraged Affleck's wife, Jennifer Garner, who had words with her husband at the premiere. Just so you know, I think this is BS but I'm repeating it so we can talk about it.
RadarOnline.com has learned that Matt Damon's absence from the Friday premiere of Ben Affleck's highly-anticipated and Oscar-touted role in Gone Girl definitely did NOT go unnoticed by Mrs. Affleck herself, Jennifer Garner, who was less than pleased that her hubby's supposed BFF skipped out on the high-profile event to attend George Clooney's wedding.

"Jennifer was furious that Matt didn't go to the premiere," an eyewitness told Radar exclusively. "She flipped out that he ditched his best friend on his big night to go to George's wedding instead."

Says the source, Garner thought he could have walked the carpet and then hopped on a plane to Italy, where Clooney tied the knot with Amal Alamuddin in a Venetian extravaganza Saturday surrounded by a who's-who of VIPs, including Vogue editrix Anna Wintour, Rande Gerber, Cindy Crawford, Emily Blunt, John Krasinski, and his Ocean's 11 and Monuments Men co-star Damon and his wife Luciana Barroso…

"Jen and Ben go to every event for Matt," said the source of the overheard behind-the-scenes beef. "She was just mad because he could have tried to do the same for Ben, and still made it to George's wedding in time."

But, it seems, Affleck was more forgiving of his friend. After a few calming words from Garner's husband, who kept his cool, Affleck stepped out onto the red carpet alongside a stunning and very pregnant Rosamund Pike for the New York City fete.

"Ben calmed her down," added the eyewitness. "But people in the vicinity were shocked."
Matt lives right down the street from the Garner-Afflecks, and Ben claims he's at Matt's house constantly. These two are close. Matt probably assumes that Ben will understand when he can't support him at every event. I think this story is bogus, there hasn't been an official premiere for the film yet, just a kind of soft premiere at the NY Film Festival last Friday. From the photos I could find, Garner wasn't even there, but let's assume a photographer at the Gone Girl premiere overheard Jen ask Ben "Where's Matt?" or something similar. Jen does not seem like a confrontational person. She comes across as the sweet, understanding type and Ben has said as much about her. Even if this happened I doubt it was as big of a deal as Radar is claiming.
Meanwhile Ben seems to regret not being able to make it to Clooney's blowout. He told ET Canada "Some people have to work and everybody else gets to be in Venice." He added that "[George] found a great girl and I'm happy for them. I wish them the best." You know that Ben just wants to sit his ass down at the Casino Venezia.
Oh and Ben was a guest on Jimmy Fallon last night. He said his three kids don't care that he's playing Batman, but that they love Frozen so much that even his two and a half year-old son, Samuel, wants to watch it constantly. He also claimed that he played Samuel the clip of Fallon singing "Let it Go" with Idina Menzel and that Samuel made Ben sing Fallon's part. Ben sounded really hoarse too.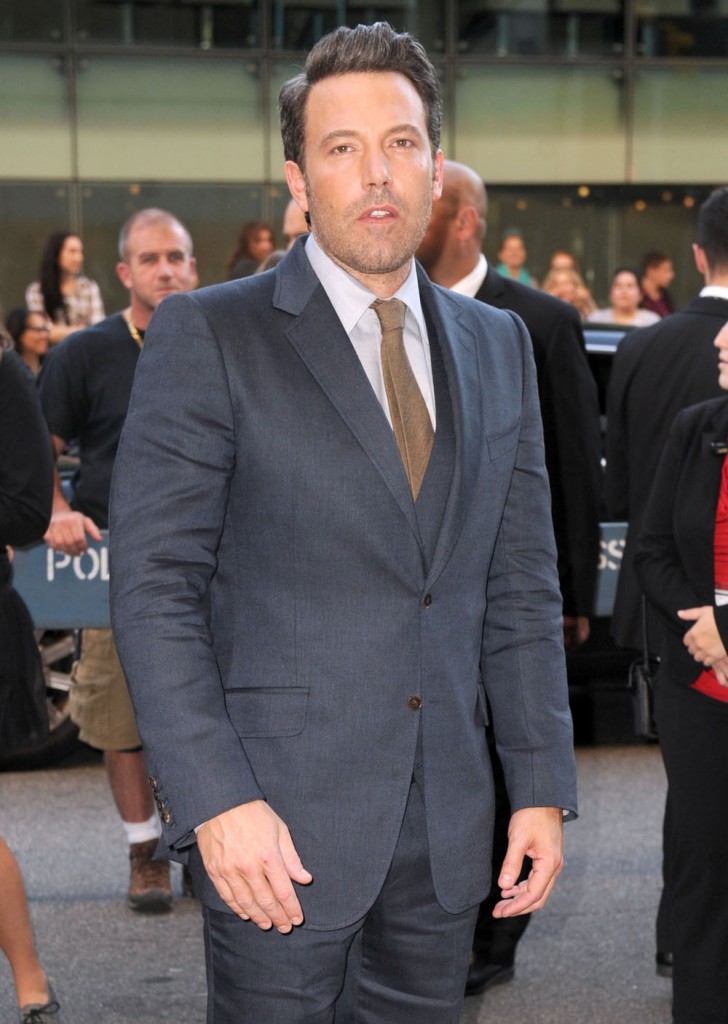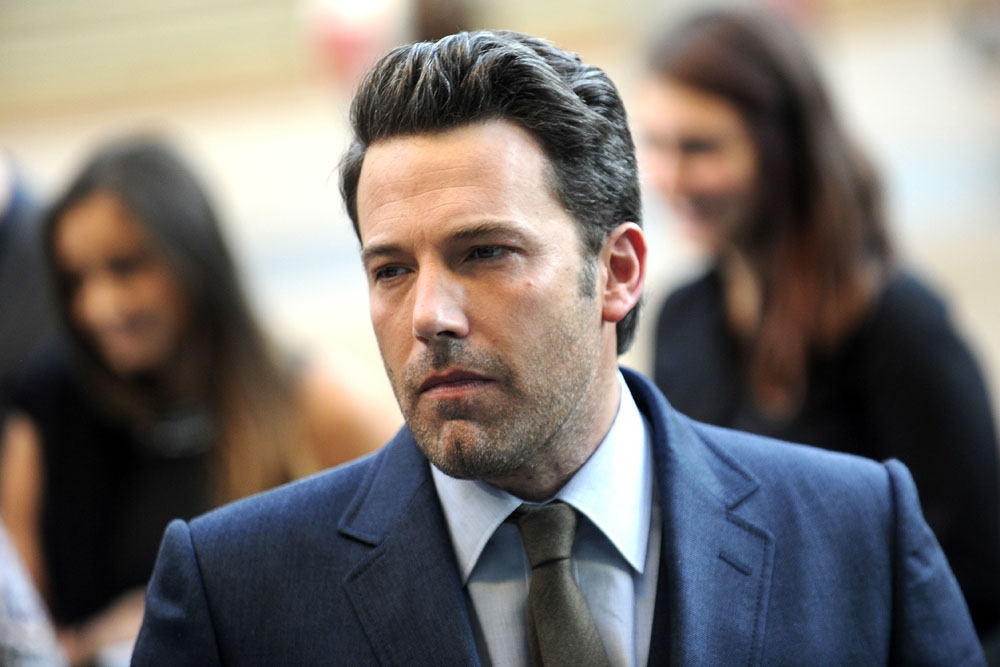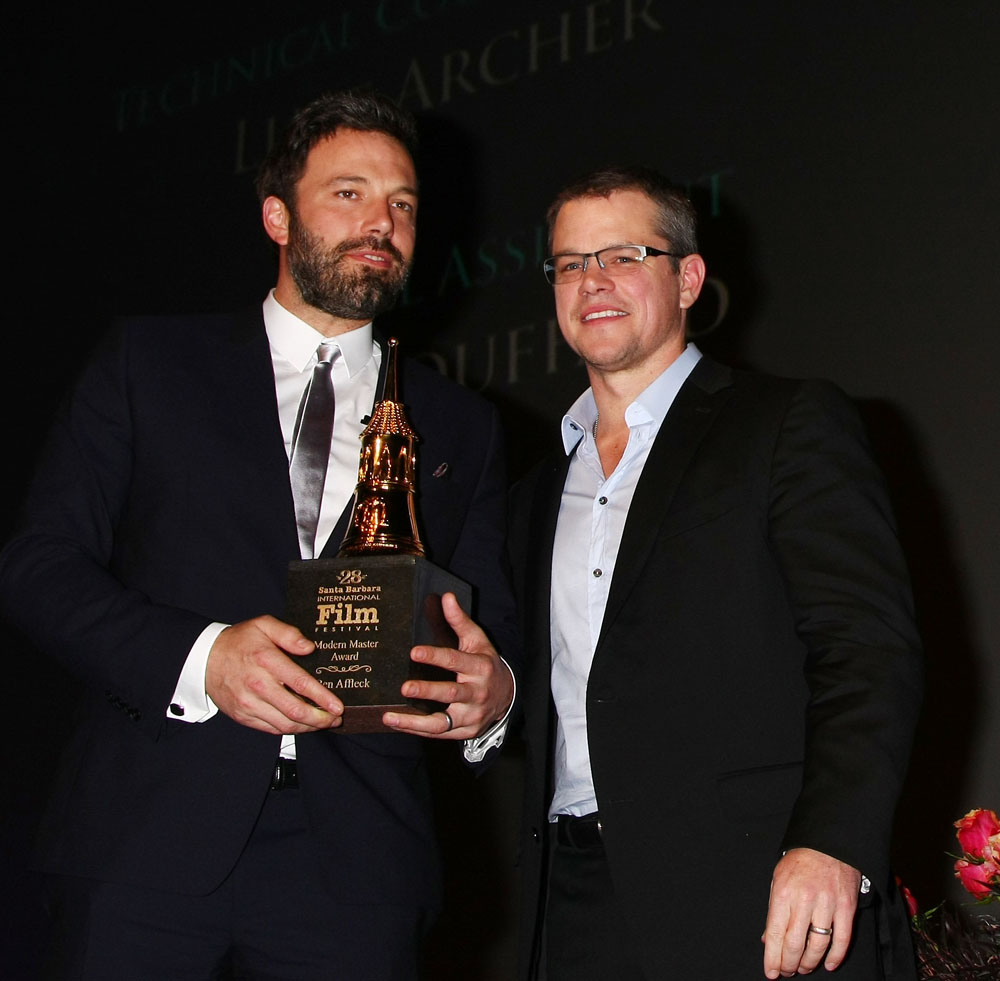 photos of Affleck and Damon are from 2013 and 2010. Header image is from 2014. Affleck is shown alone on 9-26-14 at the Gone Girl premiere. Credit: Getty, WENN and FameFlynet