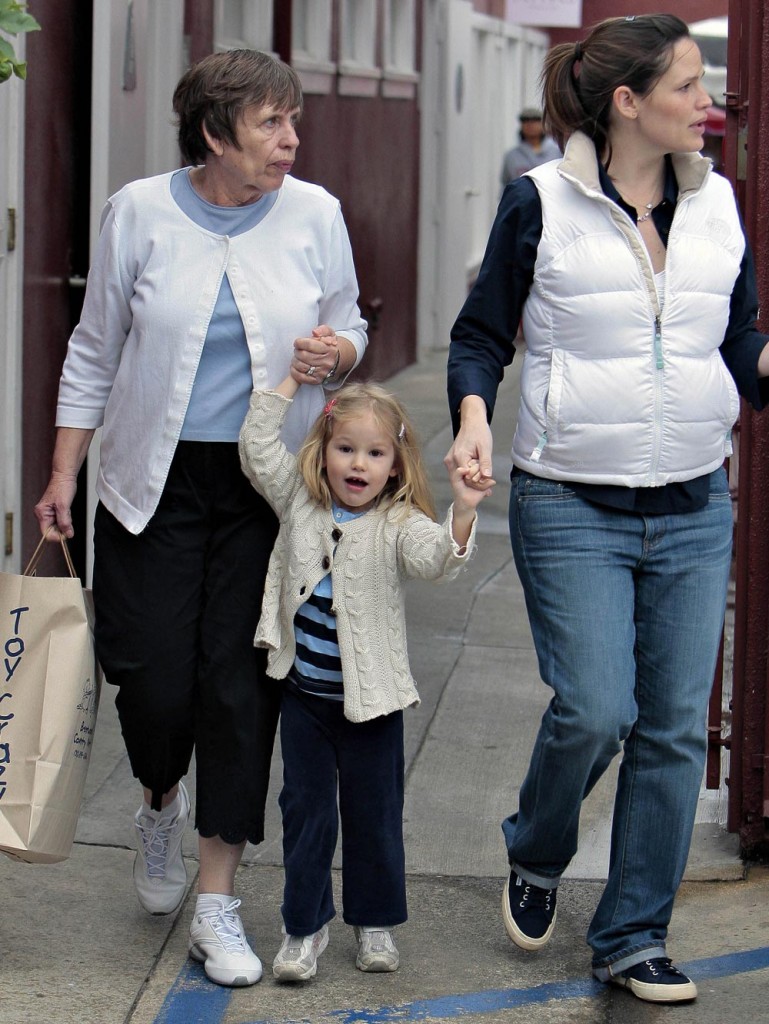 After welcoming their second daughter Seraphina Rose in January, Jennifer Garner invited her mother to come stay with her and husband Ben Affleck. This has caused some problems for Affleck – he now shares his home with four women. Two daughters, a wife and a mother-in-law might be too much for one man to take. The National Enquirer is reporting that Affleck is suffering from "estrogen overload".
But it's not serious. At least not yet. Affleck, they say, just needs to hang out with some guys. Perhaps a camping trip? Or Affleck could go old-school and go hang out at a strip club with Christian Slater. Would strippers help or hurt Affleck's "estrogen overload"? What Affleck does instead is call his buddy Matt Damon – but they don't talk about the Red Sox anymore, they talk Barbies!
Macho movie hunk Ben Affleck is suffering from estrogen overload!

The "Pearl Harbor" star is the odd man out in a house full of four females – his wife, Jennifer Garner, their three year old daughter Violet, their new baby Seraphine Rose and now his mother-in-law Pat, who moved in after the baby was born Jan. 6.

And while he loves them all dearly, the Oscar winner is complaining about drowning in girl power, sources say.

"On one hand, Ben is thrilled that Jen's mom is pitching in to help with the girls, but on the other hand, he feels like he's lost the battle of the sexes!" an Affleck family friend told the Enquirer.

"Ben keeps talking about how desperate he is to get away for a guy's weekend. The poor guy needs a weekly retreat away from the girly-ness"

[Ben is] getting moral support from his lifelong pal Matt Damon, whose wife gave birth to a girl in August, making him the dad to two girls and a step-father to a third.

"Ben is leaning on Matt," the source said. "Not long ago they'd call each other to discuss the Red Sox or poker. Now all they talk about is Barbie dolls and princesses!"

To make things worse, Jen's mom often invites Violet's little friends over for tea parties, and Ben gets roped in.

"Ben's a good sport, but he's had to draw the line after a few sessions of playing dress-up," the source said.

Meanwhile, the 38-year-old actor has been pushing wife Jen, who is also 36, for one more baby, said the source.

"Ben adores the girls, but he told Jen he doesn't want to stop until they have a son. He's hoping third time's a charm for a boy."
[From the print edition of the National Enquirer]
I love the part about Ben and Matt on the phone talking about Barbies and princesses. Something about that rings true, probably because I believe it more of Matt than Ben. Out of the two of them, Matt Damon really seems to be the utterly devoted and worshipful father and husband. Ben still has that look in his eye like he might want a way out. Maybe it's just me, I don't know.
We reported several weeks ago that Affleck is desperate for a son, and I found it strange that so many people were like "Oh, yeah, most men are like that." I'm not so sure. Yes, it's one thing for a man to be hopeful for a son, to openly wish for a son, but it's quite another for a guy to be harassing his wife, who has just given birth, to get pregnant once again, and this time she needs to make it a boy. It just seems like he isn't really appreciating what he has – everyone healthy, everyone happy. I wonder what Victor Garber has to say about all of this.
Jennifer Garner is shown out with her mom and Violet on 2/8/09. She is also shown out with Violet on 2/15 and 2/18. Ben Affleck is shown out with Violet on 2/17/09. Credit: Fame.