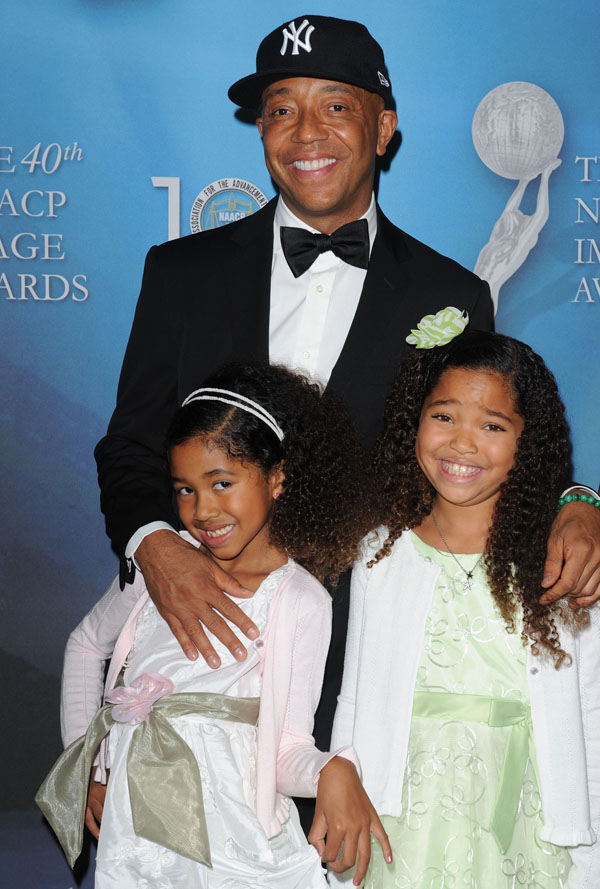 The divorce between Kimora Lee Simmons and Russell Simmons has finally come to a close. The two separated in early 2006, filing for divorce in 2008. Now it seems like Kimora Lee got exactly what she wanted out of the proceedings. She will get $20,000 a month in child support for each of her daughters, Ming and Akoi until they turn 19; and every three years until they turn 16 he will have to buy them a new car costing at least $60,000. Russell also gets no custody, with very rigid visitation rights. He will only get to see them every eight weeks, and even then a nanny as well as a bodyguard must be present at all times.
Simmons has agreed to pay child support for daughters, Ming, 9, and Aoki, 6, of $20,000 each per month until the girls turn 19, according to court papers filed Thursday in Los Angeles.

Lee Simmons also won sole legal and physical custody of the girls, with monitored visitation for Simmons.

"When the children are in [Simmons's] custody, they shall be accompanied at all times by a nanny and security person," the filing reads.

Simmons also agreed to provide a new car, worth at least $60,000, for the children's use, until they turn 16. The car will be replaced every three years, documents show.

The papers also outline a meticulous, seven-page agreement on Simmons's visitation rights, giving him access to the girls every eighth week during their school year and on various holidays.
[from People]
This divorce hasn't been exactly bitter, at least in the public eye, and the two have long been seen canoodling with their respective significant others. Kimora, for one, has been dating Djimon Hounsou, and has hinted at their engagement. She is also pregnant with his baby. Russell has been seen out with various young women.
Considering how the divorce was finally settled, I imagine that Kimora acted like the self-important diva she is throughout the entire process. She's not known for being easy to work with. Even E! wanted to pull her show from their network because she was being difficult. Her diva antics are probably what ultimately got her full custody of the girls with such rigid visitation rules. He's always struck me as a zen, yoga-loving guy, and I wonder under what grounds she was able to so severely limit her children's interaction with their father.
Also curious is the car agreement. The girls each get a car every three years until they turn 16 – which would be the age at which they would actually get to use the car. Wouldn't it make more sense if he had to buy them a car for their 16th birthday? Well – that's Hollywood divorce for you.
Update: Russell Simmons has blogged that it's not true that a judge ordered him to pay $40k a month for his daughters and that he's doing it willingly to provide a good education and future for them:
I am reading these stories today about how a judge ordered me to pay Kimora $40,000 a month in child support and I want to make something very clear. Nothing was ordered, it was given. My kids have a fabulous life; they are exposed to a broad range of artistic and scholastic educational programs and I'm very happy to contribute to that. As long as I have it, they can have it. If I ever don't have it, I'm coming to live with them!
[From GlobalGrind]
Russell Simmons is shown with his daughters Ming Lee and Aoki Lee on 2/12/09 at the NAACP Image Awards. Credit: Bauergriffinonline