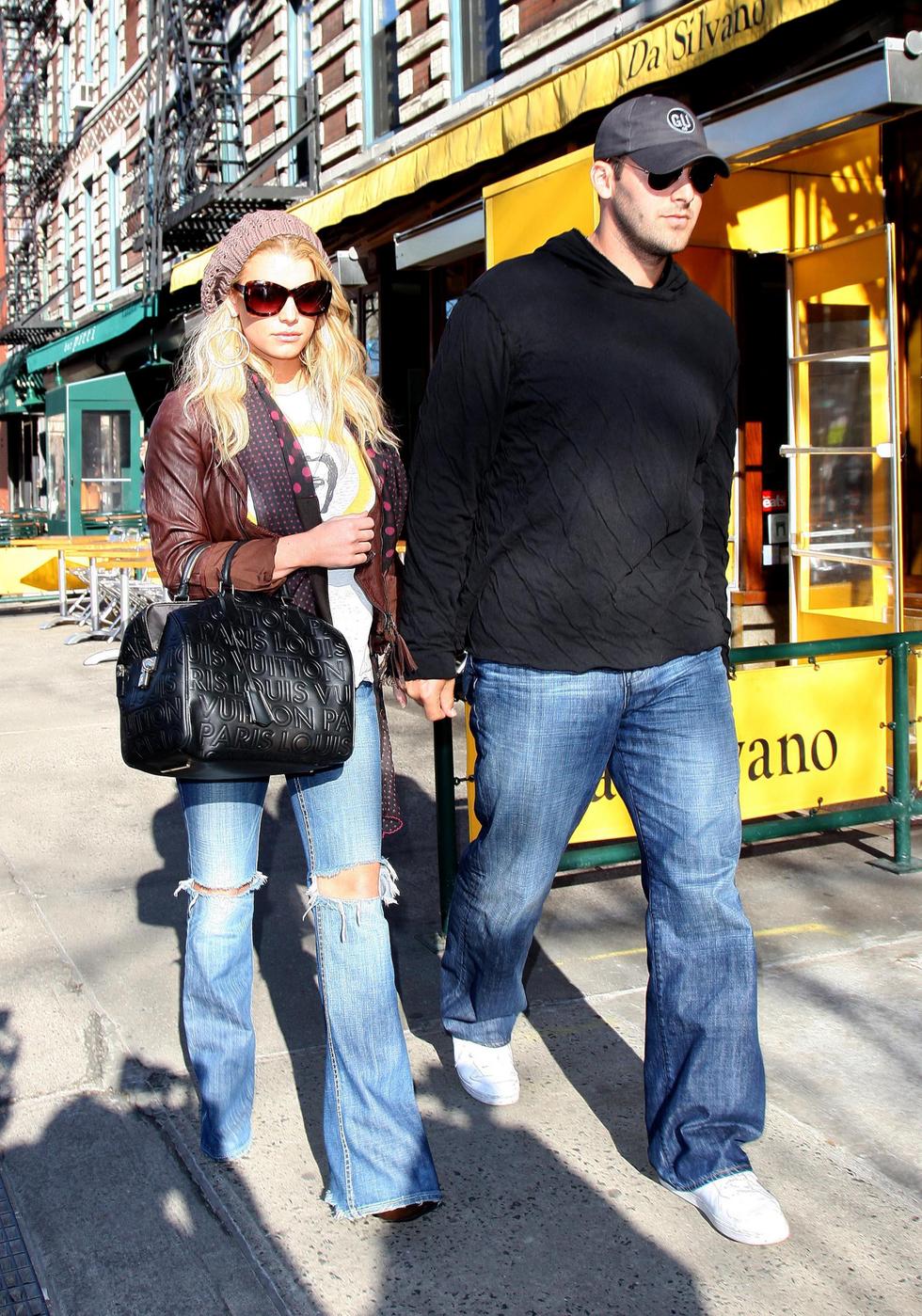 I have to give Jessica Simpson credit for her optimism and perseverance. She just keeps putting herself out there, even when she gets knocked down. Whether it's her personal relationships, her career woes, or being attacked for her weight – whatever she goes through, Jess always gets right back on the horse and keeps on trying.
Us Weekly seems to be making some sort of dig at Jessica by titling a recent article, "Jessica Simpson Says She's 'Lucky in Love.'" This would obviously make a lot of people roll their eyes and think she's a moron, since she's had a lot of public love mishaps. But that isn't what she said – their own article quotes her as saying, "'The thing that makes us lucky is being in love.'" That's very different. But apparently they needed to try to put a negative spin on a positive comment.
Jessica Simpson continued her tour in Salt Lake City, Utah, Thursday night. The 28-year-old showed off her curves in daisy dukes, and looked "fit, tanned and toned," a witness told Usmagazine.com.

"I'm so lucky to be here," Simpson told fans, adding that prayer had helped her sustain her confidence after she faced criticism for apparently packing on a few pounds. She also gushed about her beau, Tony Romo.

"The thing that makes us lucky is being in love…I did find that unexpected kind of love," Simpson said, explaining that she developed a crush on Romo after watching him on ESPN.

The 45-minute set, at the EnergySolutions Arena, included hits "With You" and "Come on Over," which she forgot the words to — again."I always do that right there," she said while laughing. "Sorry!" Simpson also spoke about a "complete butthead" ex — but declined to name names — before breaking into her song, "Remember That."
[From Us Weekly]
I don't think Jessica is any deep soul or anything, but she strikes me as a genuinely nice person and a hard worker. I've probably gotten overly protective of her since the whole weight scandal, but it seems like some magazines like Us are really going out of their way to twist things and frame her in a bad – or at least stupid – light. At times she can be sort of Pollyannaish in her statements about love. And that would probably be true in this case if Jessica had said what their title claimed. But just stating that love makes us lucky is a perfectly normal thing to say, especially for someone who's got it.
Here's Jessica Simpson and Tony Romo spotted leaving Da Silvano restaurant in downtown Manhattan on February 13, 2009. Images thanks to Pacific Coast News.