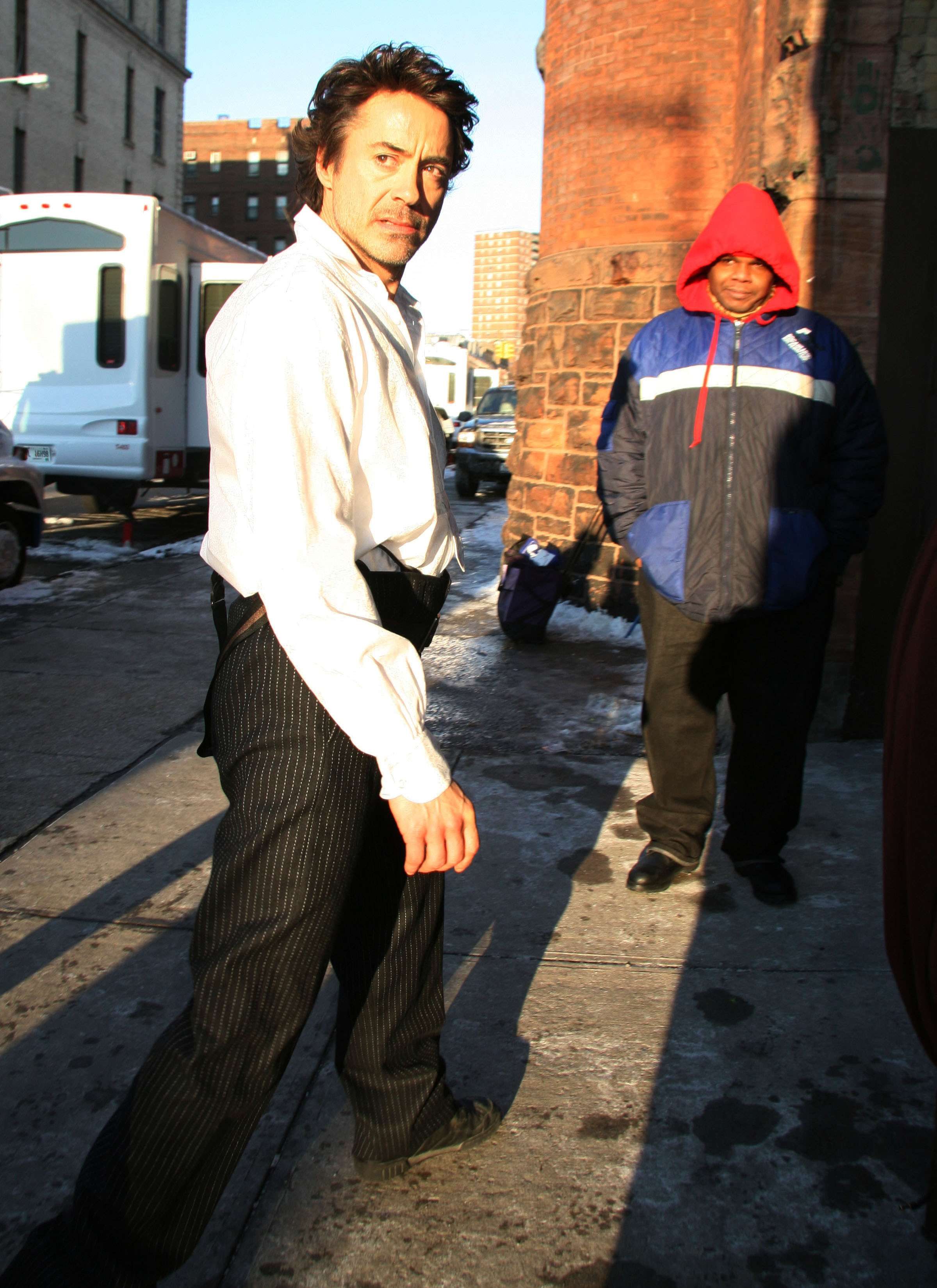 The GOOP has gotten to Robert Downey Jr! Noooo! In truth, it was the GOOP's husband, Chris Martin that got to Robert. Chris Martin is some kind of Sherlock Holmes-obsessive, and had very specific ideas about what Sherlock Holmes should look like in the upcoming Guy Ritchie-directing Sherlock Holmes film. Downey is playing the famous detective, and after Gwyneth the GOOP introduced her husband to Downey, her Iron Man co-star, Martin shared his thoughts on Sherlock Holmes.
Martin told Downey that Sherlock Holmes is supposed to be very thin. This is true. My father is also a devotee of Sir Arthur Conan Doyle, and I read several Sherlock Holmes mysteries in my youth. Sherlock is not only very thin, he's very tall, and throughout the books, Sherlock would smoke opium and snort cocaine. Let's hope that Chris Martin didn't bring up that stuff with recovering drug addict Downey. Downey might be a method actor; I would be worried.
The crux of the story is that Chris Martin told Robert Downey that he had to go on diet if he wanted to make a good Holmes. Downey had bulked up for Tropic Thunder, so he ended up going through a pretty rigorous diet to play the detective.
Robert Downey Jr. is dieting to please his friend Chris Martin.

The actor – who became friends with the Coldplay frontman after starring in 'Iron Man' with Chris' wife Gwyneth Paltrow – has been shedding pounds in preparation for his title role in the upcoming movie 'Sherlock Holmes'. He made the decision to slim down following pressure from Chris, who is a big fan of the Arthur Conan Doyle detective stories.

Robert said: "He's a huge Sherlock Holmes fan. He said to me before we began, 'You've got to be gaunt. You've got to be a skinny as you possibly can to play Holmes.' So every time I'm reaching for a muffin I just think about Chris Martin and skip the snack. It's been tough."

Robert, 43, needed to slim down after bulking up for his role in action movie 'Tropic Thunder'.

He said: "All I did was eat cheeseburgers and smoke Camels for three months. You've got to be in good shape to make it through that."

"I do tons of weightlifting and martial arts anyway, so I stepped up my Wing Chun Kung Fu. I like staying in shape for a movie. Normally you pay for personal trainers, so it's great when you can keep fit at someone else's expense. I run a lot of miles and eat a lot of Wheaties cereal."
[From My Park Mag]
I've heard Robert Downey talk about the martial arts stuff before – he's really into it. I believe he started with it after the last intensive rehabilitation that seems to have stuck. All in all, he is kind of a weird choice for Sherlock Holmes. Downey's a great actor and incredibly gifted, for sure, but he's so American, and his sensibilities just seem so modern. Maybe it's just me though. Back in the 1930s and '40s, the great English actor Basil Rathbone played Sherlock Holmes to great effect – he was tall, dapper, thin and snooty – totally believable.
Here's Robert Downey Jr. on the last day of filming on the NY set of 'Sherlock Holmes' on February 4th. Images thanks to BauerGriffinOnline.