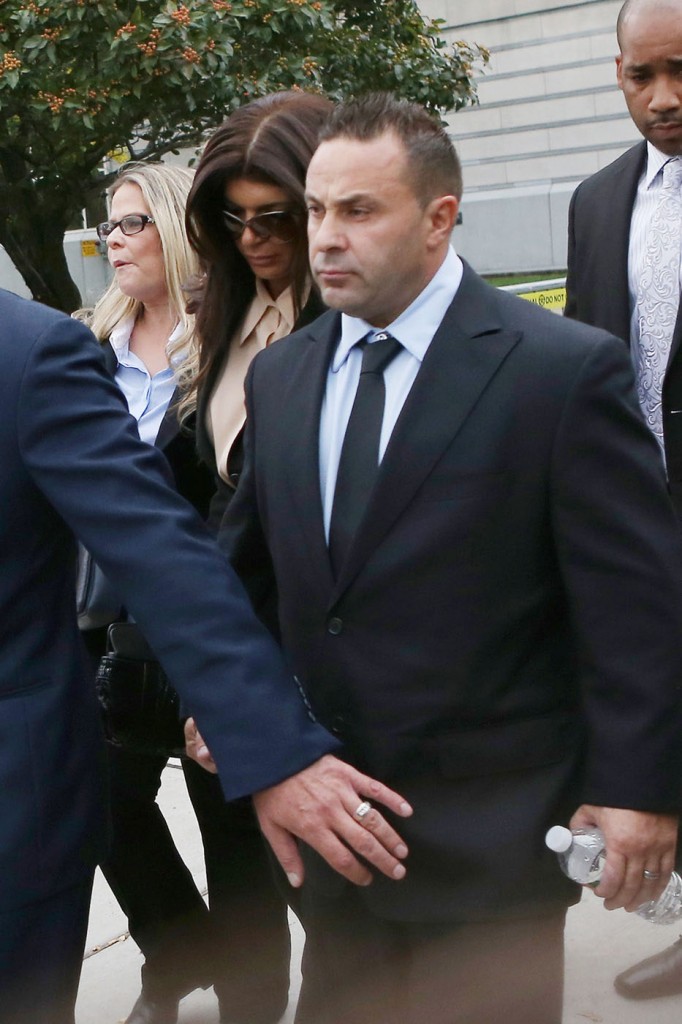 After multiple delays, Teresa and Joe Giudice of The Real Housewives of New Jersey finally faced sentencing in their fraud case Thursday. The two were indicted in July for 41 counts of federal fraud including bankruptcy fraud, mail fraud and wire fraud. Teresa was sentenced to 15 months in prison while her husband, Joe, received 41 months. The couple was also ordered to pay $414,588 in restitution to the court, with $200,000 due immediately. (Which of course the Giudices did not pay despite knowing about the fine since March.) Teresa's request to receive house arrest in lieu of prison time was denied. The prison stays will be staggered in order to allow one parent to stay at home with their four daughters at a time. Teresa will report to prison on January 5th, enabling her to spend the holidays with her family.
The judge in their sentencing case, Esther Salas, at times grew frustrated with the Guidices. Salas referred to inconsistencies between Teresa and Joe's financial statements in their 2009 bankruptcy case and the assets they reported to the feds for this case. She also admonished Teresa for failing to declare her jewelry, handbags and designer clothing. US Weekly has a good summary and there are more details at NJ.com. Here's the summary from US Magazine:
During the hearing, Teresa's attorney requested "downward departure," which, according to NorthJersey.com, would have lowered her sentencing range "to allow probation and possibly home confinement." Judge Salas rejected that request.

An attorney for the prosecution asked that Teresa serve at least 21 months in prison, arguing that a lighter sentence would send the message that you can lie to the court and commit bank fraud if you're famous.

Like her husband, Teresa addressed the court prior to sentencing, at one point breaking down in tears. "Thank you for letting me address the court today. I wrote this last night because I get nervous when I speak," she began. "I speak as a wife, a mother, and a daughter. Today I am blessed but I am also humbled. I hear you and what you are saying, and it is time for me to wake up."

She went on to speak about her four daughters — Gia, 13, Gabriella, 9, Milania, 8, and Audriana, 4 — saying, "My daughters are my life. I don't care about the TV show, or materialistic things. My daughters are all that I care about, and I feel so bad that my 13-year-old has any idea what is going on with all of this. I am more sorry than anyone will know. The silver lining is that I can learn and show my daughters. I know everything happens for a reason, and I hope I can find that reason."

Judge Salas, for her part, stressed that she was disappointed with the stars' handling of their financial disclosure forms. "For a moment I thought about probation, until I read the government's report. What you did in the financial disclosure really sticks in my craw," she said in her ruling. "It's what the court has a problem with."

She went on to say that while Teresa was "not as bad as [her] husband," she was "complicit" in their crimes. "A lot of people are watching, and I need to send a message. It doesn't matter who you are, how famous you are…When I boil down this case, it warrants incarceration," Salas continued. "Mr. Giudice was the captain, and he will have to live with the sentence I gave him.
The first mate deserves a little break. I think a slight variance is warranted."
NorthJersey.com has an overview of Judge Esther Salas's reasoning for sentencing:
- They failed to report their financial disclosures on time to court officials.
- They gave inaccurate information on the disclosure forms, possibly concealing assets.
- They showed little understanding of the gravity of the charges they faced and crimes they committed.
- Teresa's failure to pay $200,000 at sentencing, which was part of the plea agreement, was another example her failure to respect the court.
- Given Teresa's savvy as a businesswoman it "defied logic" that she wouldn't understand she needed to disclose information to the court.
- Teresa needed to take responsibility for herself, stop relying on others and make her own decisions.
- They were trying to "keep up with the Joneses," people who judge others for what they have.
- Teresa is a devoted mother.
- Teresa showed genuine remorse when she apologized to the court.
What's more is that the couple's bankruptcy discharge request was denied by another judge earlier this week. The Giudices were ordered to pay back the nearly $13.5 million that they owe creditors.
Joe was born in Italy and is not a naturalized citizen. He still faces deportation after he serves his sentence. Joe and Teresa will do their first post-sentencing interview on Monday in a very special episode of Watch What Happens Live with Andy Cohen. While I do have sympathy for the Guidice's daughters, I believe this sentencing was fair.