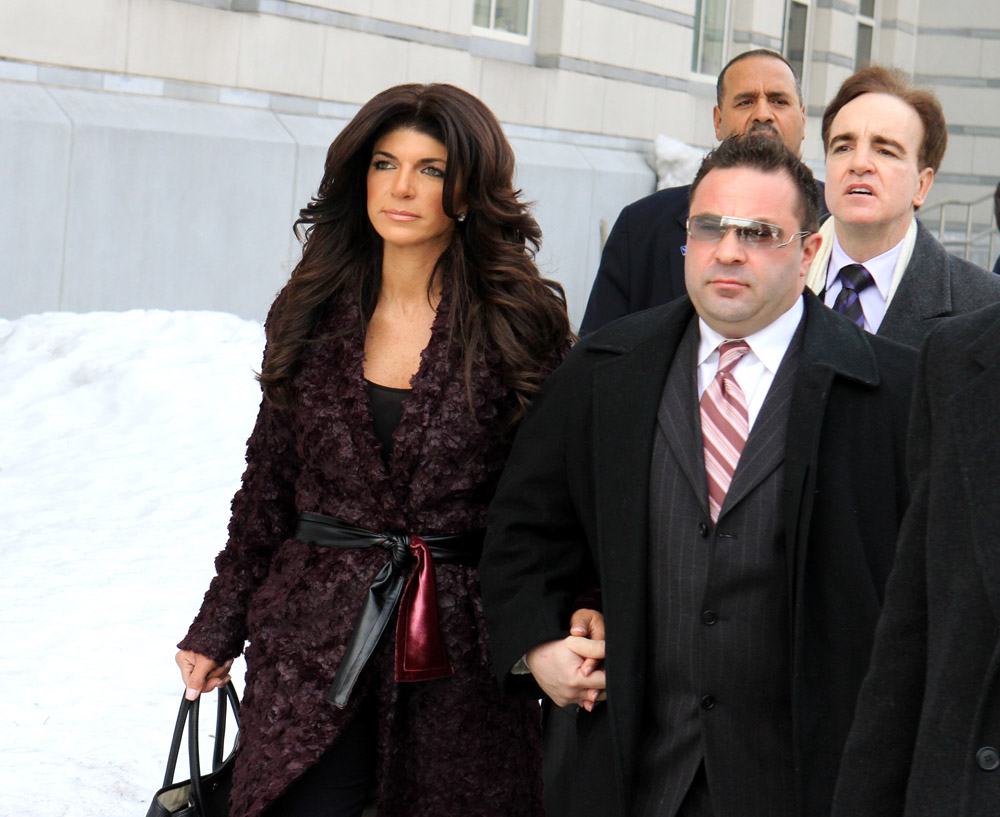 Teresa and Joe Giudice of The Real Housewives of New Jersey were charged with multiple counts of federal fraud last summer. The Giudices are are con artists who faked documents to apply for loans, filed for bankruptcy to avoid responsibility for their debts, hid assets from creditors, and then continued to document their wild spending in the media for years. They failed to file taxes for years at a time.
Despite initially pleading not guilty, and repeatedly insisting that were innocent of the charges, both Joe and Teresa pled guilty in court yesterday. (The photo above was taken outside their court appearance.) Joe plead guilty to five of the 41 counts against him, while Teresa plead guilty to four counts. By doing so they avoid trial. Sentencing is scheduled for July 8th. Teresa has been ordered to pay $200,000 in fines to the government.
Teresa has issued a statement to US Magazine in which she paints her decision to plead guilty as an honorable one that will affect her family negatively. Joe is facing more than three years in prison and could be deported to Italy. Teresa is expected to get about two years.
Harsh reality for Teresa Giudice and Joe Giudice. As expected, the Real Housewives of New Jersey stars pleaded guilty to several mortgage and bankruptcy fraud charges on Tuesday, March 4.
The Giudices were reportedly both composed during their court appearance while pleading guilty to several counts of bankruptcy fraud, conspiracy to commit mail fraud and wire fraud, and failing to pay taxes. They are scheduled to be sentence on July 8. Joe, an Italian citizen, could face deportation.

"Today, I took responsibility for a series of mistakes I made several years ago," Teresa said in a statement to Us Weekly on Tuesday. "I have said throughout that I respect the legal process and thus I intend to address the court directly at sentencing. I will describe the choices I made, continue to take responsibility for my decisions, and express my remorse to Judge Salas and the public."

"I am heartbroken that this is affecting my family — especially my four young daughters, who mean more to me than anything in the world," she continued. "Beyond this, I do not intend to speak specifically about the case outside of court, at the recommendation of my attorney and out of deference to the government and our legal system."

The Bravo reality stars were charged in a 41-count indictment on various fraud and tax charges back in July. They originally pled not guilty to two charges in November, but an insider confirmed to Us Weekly on March 1 that the couple arranged a plea agreement.

"The couple will plead guilty to several but not all 41 of the charges, and both will appear in court on Tuesday with their lawyers," a source told Us at the time.

According to NBC New York, Joe, 43, faces 37 to 46 months in prison, while Teresa faces 21 to 27 months. The couple are parents to four daughters: Gia, 13, Gabriella, 11, Milania, 9, and Audriana, 5.
I do feel sorry for the Giudice's four daughters, who are very young. However I think both Joe and Teresa should serve time. The NY Daily News reports that officials said the couple's "jail terms could be staggered to keep one parent at home with the kids while the other is behind bars..
Radar reports that Teresa is going to request that she serve her time under house arrest. Of course she is. Have you seen her house? Technically it shouldn't even belong to her.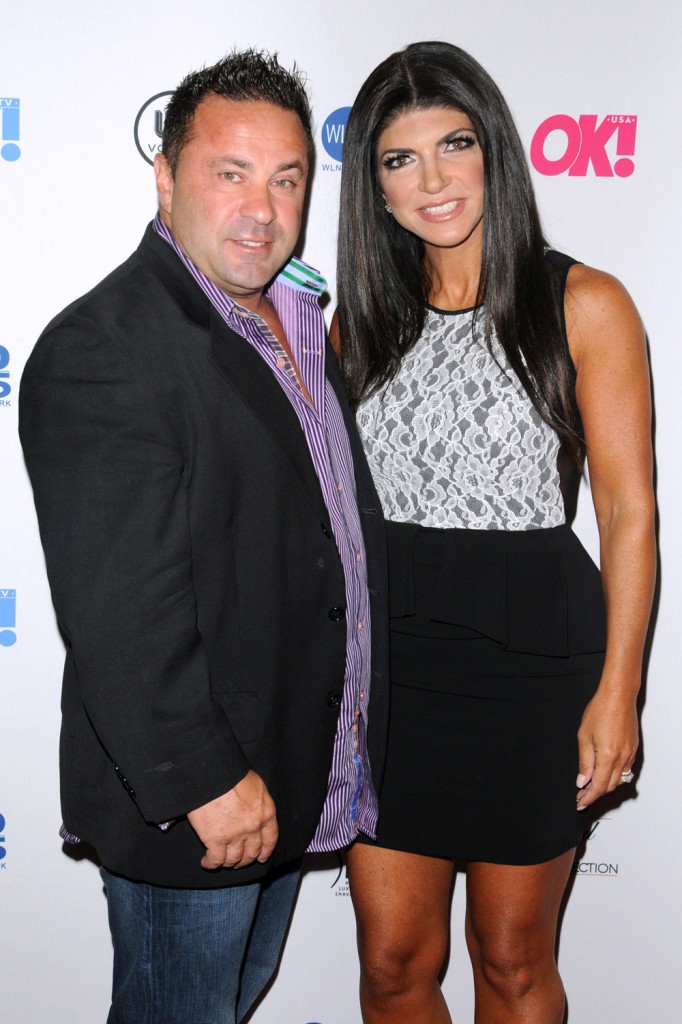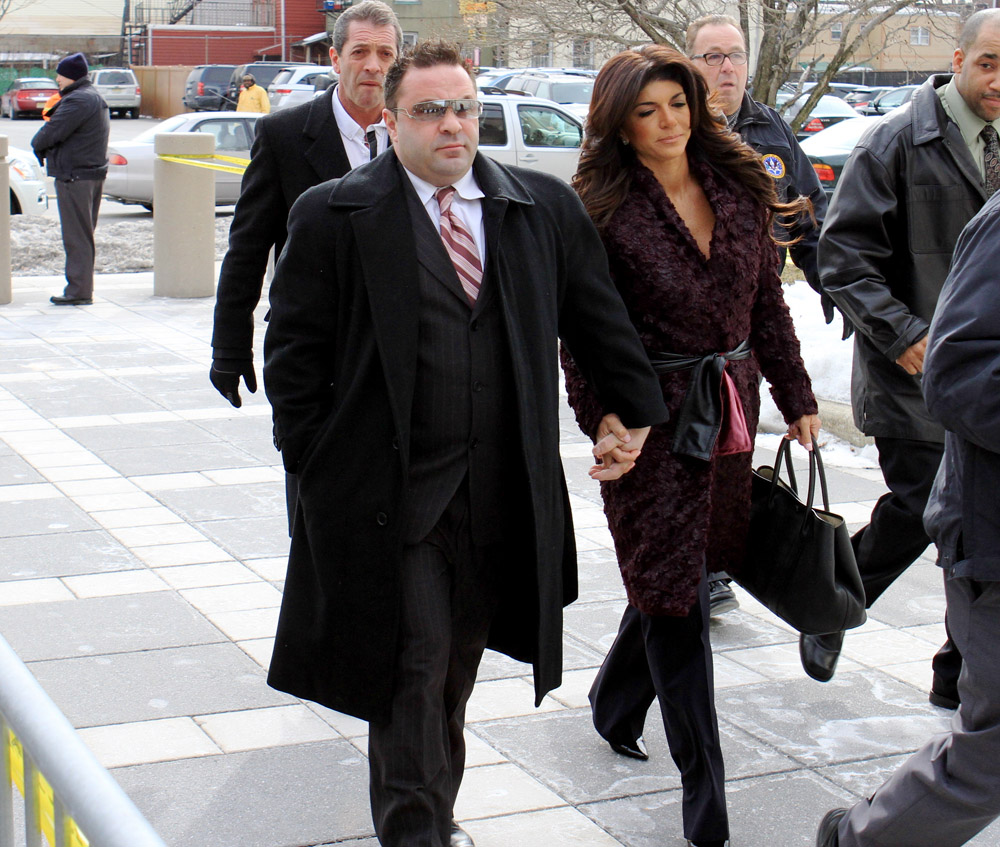 Photo credit: WENN.com and FameFlynet