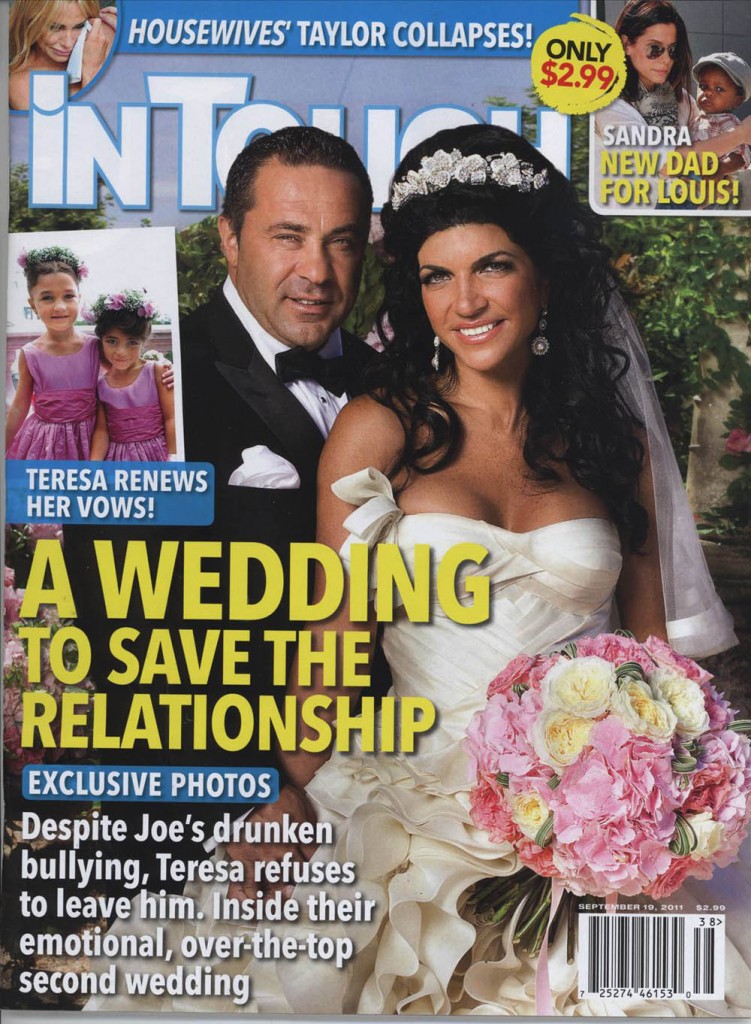 Teresa Guidice and her squt alcoholic husband take the cover of In Touch with their tacky over-the-top vow renewal ceremony. Inside, there's barely a mention of the couple's massive financial problems and their compulsive overspending, typified in this ridiculous show of the wealth they've stolen from the creditors they're now stiffing. The article is all about how their vow renewals are a new beginning for them, and how Teresa trusts and loves Joe despite his verbal abuse, which was shown on Real Housewives of New Jersey. Just as there's no mention of their bankruptcy and Joe's shady mafia business, there's no mention of his rumored cheating, either. It's like the story is straight from Teresa, similar to other stories we've seen in In Touch. I'll include a little bit here, but I want to focus more on the showy vow renewal they had.
Teresa insists that Joe is Prince Charming. And recently, she set out to prove it – with a fairy-tale-themed second wedding at Long Island, NY's Oheka Castle, which included everything from a horse-drawn carriage to a tearful renewal of their vows to an extravagant gown that was truly worthy of a princess. "I was just so happy," Teresa tells In Touch in an exclusive interview. "Marriage means for better or worse. We've been through a lot, and if anything, it's just made us stronger…

"I wanted to show my girls that marriage is really important, as is being faithful to one another," Teresa explains. "I wanted to show our love for each other – I wanted them there to witness it."

Indeed, the ceremony seemed like something tailor-made by a devoted mom to please her little girls – from the princess-like theme and the pretty pink dresses she chose for them to wear, to the huge chocolate cake and the surprise visit by tween heartthrob Kevin Jonas…

Their over the top wedding
At the end of the ceremony, Teresa and Joe sweetly exchanged new rings, elegant bands designed by Zaven Ghanimian, designer and creative director of Simon G. jewelry.

Teresa and Joe chose a decadent five-tiered chocolate cake with vanilla buttercream from Spatula Sweets by Jessica Hagenbuch, which the girls devoured.

Floral designer Kenji Takenake for Noir Hanna International selected hydrangeas, garden roses and passion vine to create a lush and romantic ambiance.
[From In Touch, print edition, September 19, 2011]
So they're deep in dept, having just filed for bankruptcy, and are trying to stiff their creditors by hiding assets. How they hell did they pay for this? Did they get comped stuff in exchange for publicity. Did In Touch give them enough money for the photos to cover the costs? It's possible, but I can't see how In Touch ever recouped that in increased sales or anything. This family is a trainwreck but I doubt anyone bought this issue for the trashy Giudices.
In terms of the relationship between Joe and Teresa, I haven't watched the show in a while and I don't feel qualified to comment on it. He strikes me as an asshole and she's a dumb shrill bitch, so maybe they're perfect for each other. I guess Joe bellowed at Teresa on the show recently that he had dumped her back when they were dating and she "came crawling back." Teresa defended him in this article and said "He was drunk, in his own home and upset. I get where he is coming from… You really have to know him to know it's not malicious." Kaiser says she's seen some of it recently and that Joe hates Teresa's family, is fighting with her brother and wants out of the marriage. It'll be over Teresa's dead body, judging from this story.
These photos are from In Touch, and there are many more in the current print edition.