Gone Girl ruled the box office this weekend with a $38 million take. (Annabelle was very close behind at $37.2 million.) That's good news for Ben Affleck's career, although the movie's success may have more to do with marketing and the popularity of Gillian Flynn's novel. (I've read it but I haven't seen the movie yet. Kaiser will have a review coming up shortly.)
Affleck has been hustling to promote the film. He made an appearance this weekend on Bill Mahar's Real Time on HBO, where he got into a debate with Mahar and author Sam Harris on Islamaphobia and criticism of Islam. Harris claimed that liberals are afraid to criticize Islamic doctrine for fear of being labeled Islamaphobic. Affleck countered that it is Islamaphobic to criticize Islamic doctrine. Then Maher chimed in to call Islam "the only religion that acts like the mafia that will f*ing kill you if you say the wrong thing, draw the wrong picture or write the wrong book." It was a mess, but I don't regularly watch debate shows and it's probably par for the course. Here's some of what they said, and you can see the video above.
Sam Harris: Liberals have really failed on the topic of theocracy… When you want to talk about the treatment of women and homosexuals and public intellectuals in the Muslim world, I would argue that liberals have failed us. The crucial point of confusion is that we have been sold this meme of Islamaphobia where every criticism of the doctrine of Islam gets conflated with bigotry toward Muslims as people. That is intellectually ridiculous.

Ben Affleck: Are the person who understands the officially codified doctrine of Islam? You're the interpreter of that so you can say…

Harris: I'm actually well educated on this topic.

Affleck: I'm asking you… you're saying that Islamaphobia is not a real thing, that if you're critical of something.

Bill Maher: It's not a real thing when we do it.

Harris: I'm not denying that certain people are bigoted against Muslims as people…

Affleck: It's gross, it's racist. It's like saying "you shifty Jew"

Maher: You're not listening to what we're saying.

Affleck: You guys are saying 'if you want to be liberals believe in liberal principles like freedom of speech like we are endowed by our forefathers to inalienable rights like all men are created equal.'

Harris: We have to be able to criticize bad ideas. Islam is the motherlode of bad ideas.

Affleck: That's an ugly thing to say.

Nicholas Kristof: The picture you're painting is to some extent true, but it's hugely incomplete. It is certainly true that plenty of fanatics and jihadis are Muslim, but the people who are standing up to them Malalla, Mohammad Ali Adack in Iran…

Affleck: How about the more than a billion people who aren't fanatical, who don't punish women, who just want to go to school, have some sandwiches… and don't do any of the things that you're saying all Muslims… stereotyping.

Maher: A billion people you say, all those billion people don't hold any of those… pernicious beliefs. That's just not true Ben. You're trying to say that's all the problem is… these few bad apples. You're saying that the idea that someone can be killed if they leave the Islamic religion is just a few bad apples?

Ben: The people who actually believe in an act that you murder someone is not the majority of Muslims at all.

Harris: [Even] conservative Muslims… hold views about homosexuals, about women, about human rights that are deeply troubling. These are not Islamics, they are not jihadists, but they also keep woman and homosexuals immiserated in these cultures and we have to empower the true reformers in the Muslim world to change it. Lying about the length between doctrine and behavior is not going to do that.

Affleck: What is your solution? To condemn Islam?… We've killed more Muslims than they've killed us by an awful lot. We've invaded more Muslim countries… and yet somehow we're exempted from these things because they're not really a reflection of what we believe in. We did it by accident… that's why we invaded Iraq. [To Harris] Your argument is like "you know, black people, you know they [inaudible]"

Maher: It's based on facts. I can show you a Pew poll of Egyptians. They are not outliers in the Muslim world that say that 90% of them believe death is the appropriate response to leaving the religion.

Affleck: [That's like saying] "Ted Bundy did this. Goddamn these gays, they're all trying to eat each other."

Harris: It's not [condemning] people, it's ideas.
[From video of Real Time via E!]
I think that Harris made some valid arguments about criticizing the treatment of women and gay people under Islam and that Affleck mischaracterized those points. Then Maher took it too far and kind of proved Affleck's point. It's likely that they all decided ahead of time what stance they were going to take and that Affleck wasn't directly responding to Harris, but to an overall theme that he was given backstage.
Affleck did make some decent arguments too, especially toward the end, although it came across as somewhat knee jerk to me. I don't think it's fair to lump all Muslims together based on the horrific acts of some extremists, just as it's not fair to equate all Christians with radical cultists. I don't think Harris was doing that, I think he was saying that we need to look at Islamic doctrine, call it what it is and foster more tolerant ideas, but again the same case could be made for Christianity. It's hard to have a reasoned discussion about these issues when the stakes are so high and innocent people are being killed.
Also, Affleck looked really hungover to me.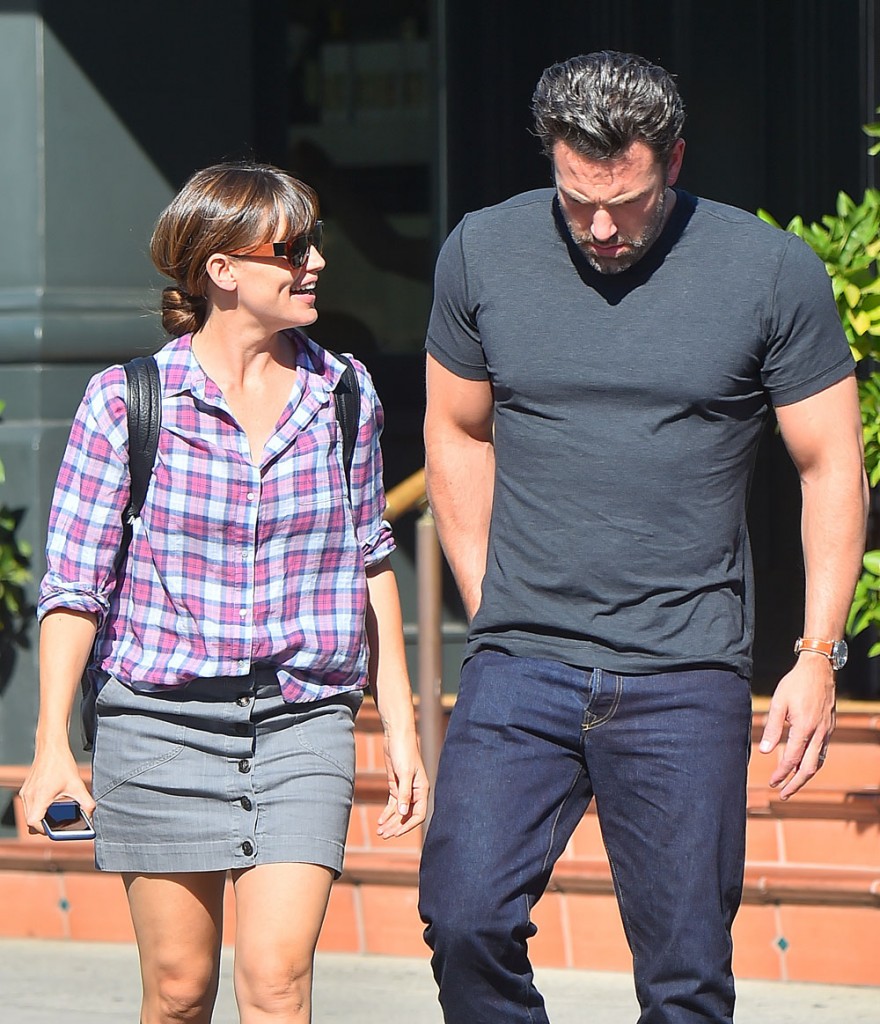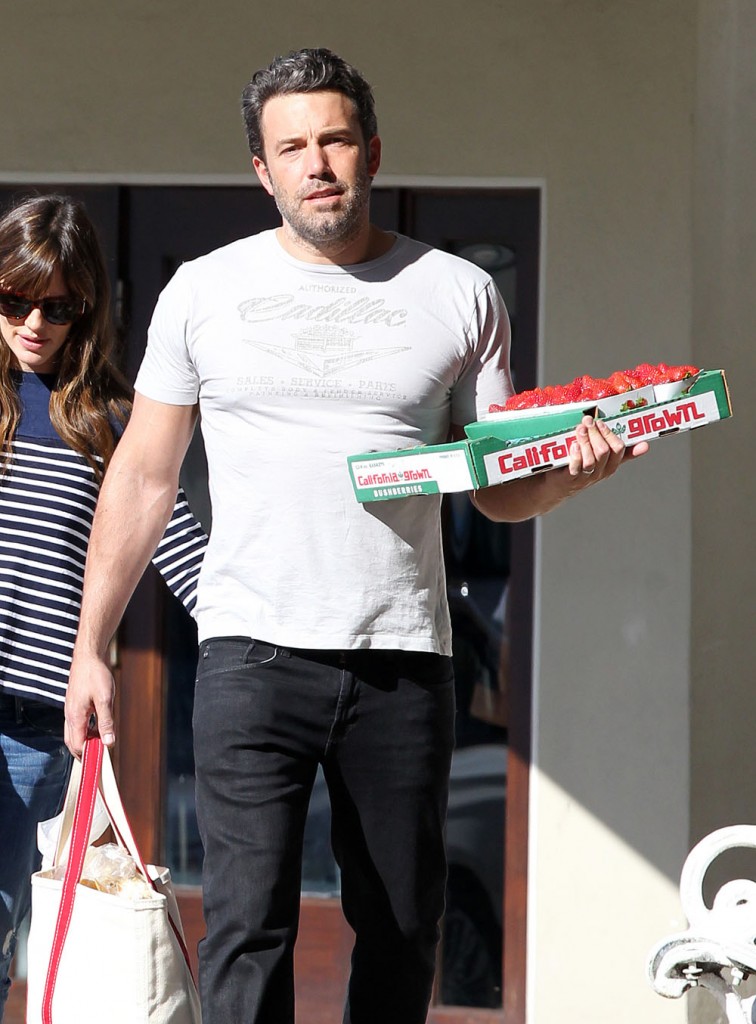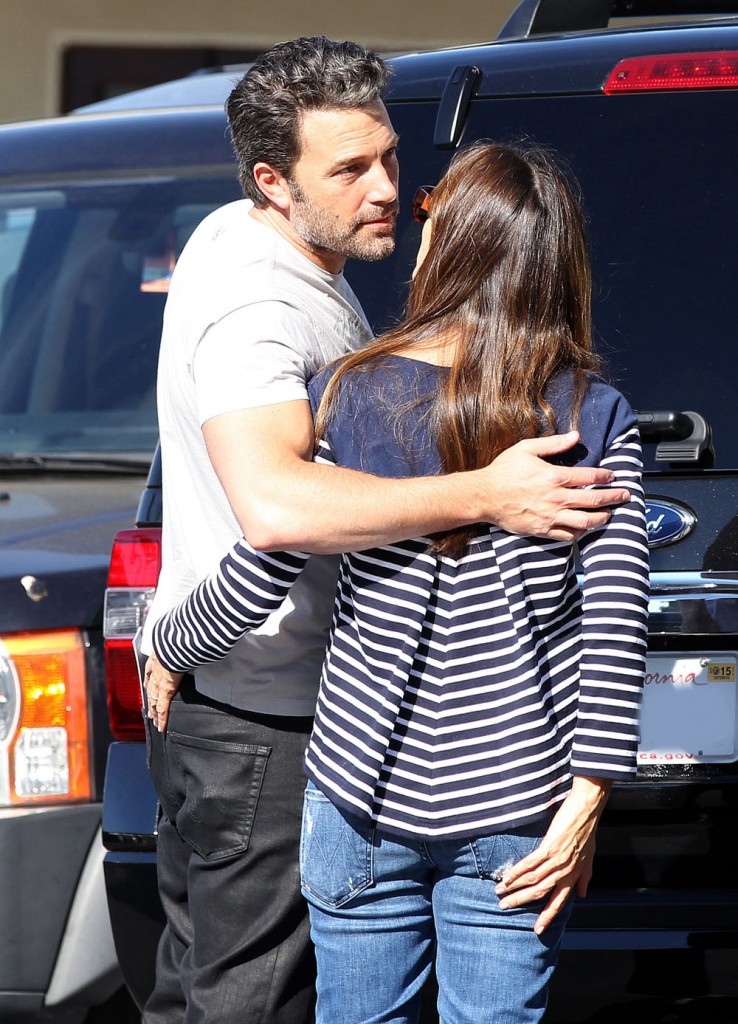 These are photos of Affleck out with Jennifer Garner on Sunday in Brentwood. Beefy. He's also shown at the NY Film Festival on 9-26. Credit: FameFlynet and WENN.com