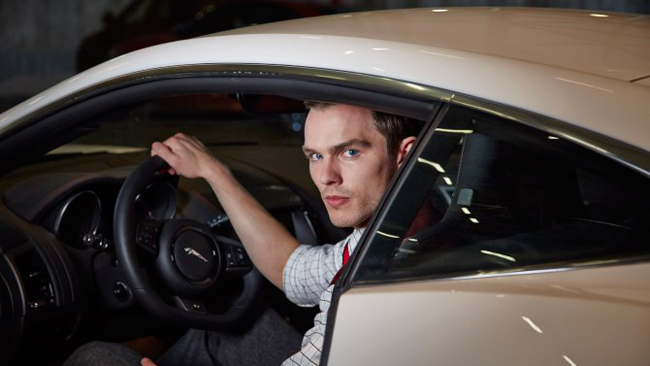 Nicholas Hoult appears in some new commercials for Jaguar. He works it hard, letting "Jag-u-ar" roll off his tongue in a saucy British accent. Nick seems like a strange, low-profile choice for a luxury car company. He's a lot more popular in the UK than stateside. Nick successfully pairs a posh appearance with an everyman persona. He joins the likes of Tom Hiddleston in Jaguar's "British villains" ad campaign."
Nick plays the "boy genius" mastermind behind the supervillains' operation in these ads. He gets to say things like "A villian is only as good — or should I say, as bad — as the technology at his fingertips" and "Behind every cunning plan, there's a brilliant mind." Not to mention "The devil is in the detail." These are all phrases that we've heard before in various contexts, but Nick polishes the words up quite nicely. Observe.
He looks good and sounds great. I'm predisposed to love this ad campaign because I want good things for Nick. His ex-girlfriend made out with Chris Martin during a Kings of Leon concert (gag) last Friday. She's dating a guy who just bought a home across the street from his ex, which isn't weird at all. Okay, it's weird. Very weird.
What isn't weird? Nick Hoult waxing rhapsodic about the wonders of a climatic development chamber. Nick > Coldplay. There, I called it.
Photos courtesy of Jaguar, Getty & WENN