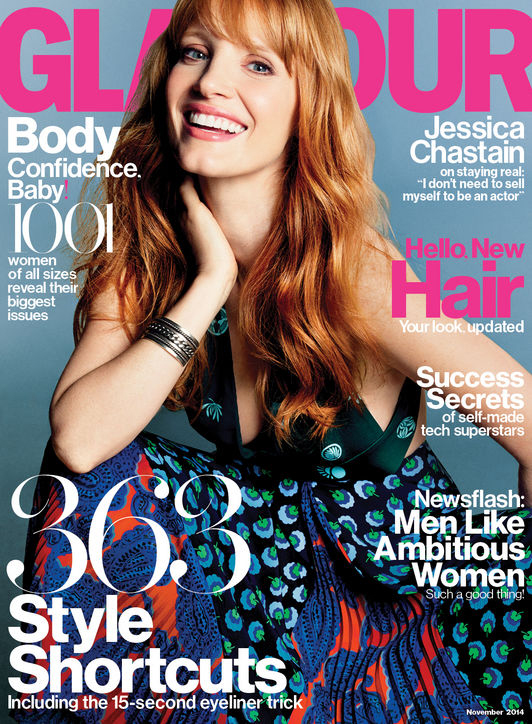 Jessica Chastain got the cover of SO MANY magazines this fall. She covers the new issues of Interview Mag and Glamour, which I'm including in this post. I hate the Glamour cover, but the rest of the Glamour shot is actually really nice. The Interview editorial is all black & white and heavy on the lingerie. Here are some highlights from JC's Glamour interview:
On becoming famous in her 30s vs. at age 19: "I would have been a disaster. If I was 19 and I had the attention that I'm getting now, I would have just said stupid things. I would have partied more. All these expensive dinners and people giving me champagne? All these stupid things that we criticize 19-year-olds for doing when they're famous, I would have done."

On body-shaming & social media: "Oh God, it's the worst. Enough with the body shaming! What is going on in this world? I remember being eight years old. I was a late bloomer. I had very, very short red hair. Very freckly. And thank God there wasn't the Internet, because I was told every day at school that I was ugly. And that no one wanted to be my friend. The most cruel things. And now these girls or boys are having to deal with that in their school and on a world platform. If I can do anything to help young girls and to be a cheerleader for people who sometimes have low self-esteem, I want to do that."

On parts for women: "I love Meryl Streep. She's such an incredible actress. But I feel like she's the only one in her age group who gets those parts. I'd like to see Jessica Lange in a movie again, you know? Or Susan Sarandon. Why isn't Viola Davis a lead in a film? She's one of the greatest actresses alive. And where are the Asian actors and actresses? I'm not saying, 'We don't want movies about men,'" she said. "I'm just saying, 'Come on, all the men I know love women. So let's also have some stories about these women. Let's write something for them, guys—and let's make room for women writers too.'"

Playing flawed, strong women: "There are a very limited number of parts. And there are some women that I've played and I didn't give them too many flaws. Tree of Life. I loved that woman. Or The Help: Loved her, loved her, loved her, for all her openheartedness and compassion. But when I play a female lead, like the role in Zero Dark Thirty, even if she's strong, I try to give her as many flaws as I can. I think to play a female hero without faults is actually doing a disservice to women. I think it's more interesting to see women on-screen with flaws. Then it's not this unreasonable expectation that society then would put on you: "Well, a strong woman can't be like this…."

Having it all: "I don't think it's possible for anyone, male or female, to have it all. I'm just gonna say it: We can have as much as we're capable of doing, but no one is capable of doing everything. Like, I hope someday to have a family and a career. But I have to also be kind to myself.
Jessica has been on a tear recently about feminism, gender equality and how women and their stories are undervalued. I kind of think that if someone else was saying it – like Angelina Jolie, Emma Watson or Kristen Stewart – these statements would be major gossip news. It's a good news/bad news situation for Chastain then. Good news: people are listening to what she says and not trying to make her statements super-controversial. Bad news: most people are not paying attention to her.
As for Jessica's Interview Magazine piece, you can read it here. Mindy Kaling did the interview! It's a good read (they're very girly and sweet to each other) but there's no big quote from the piece.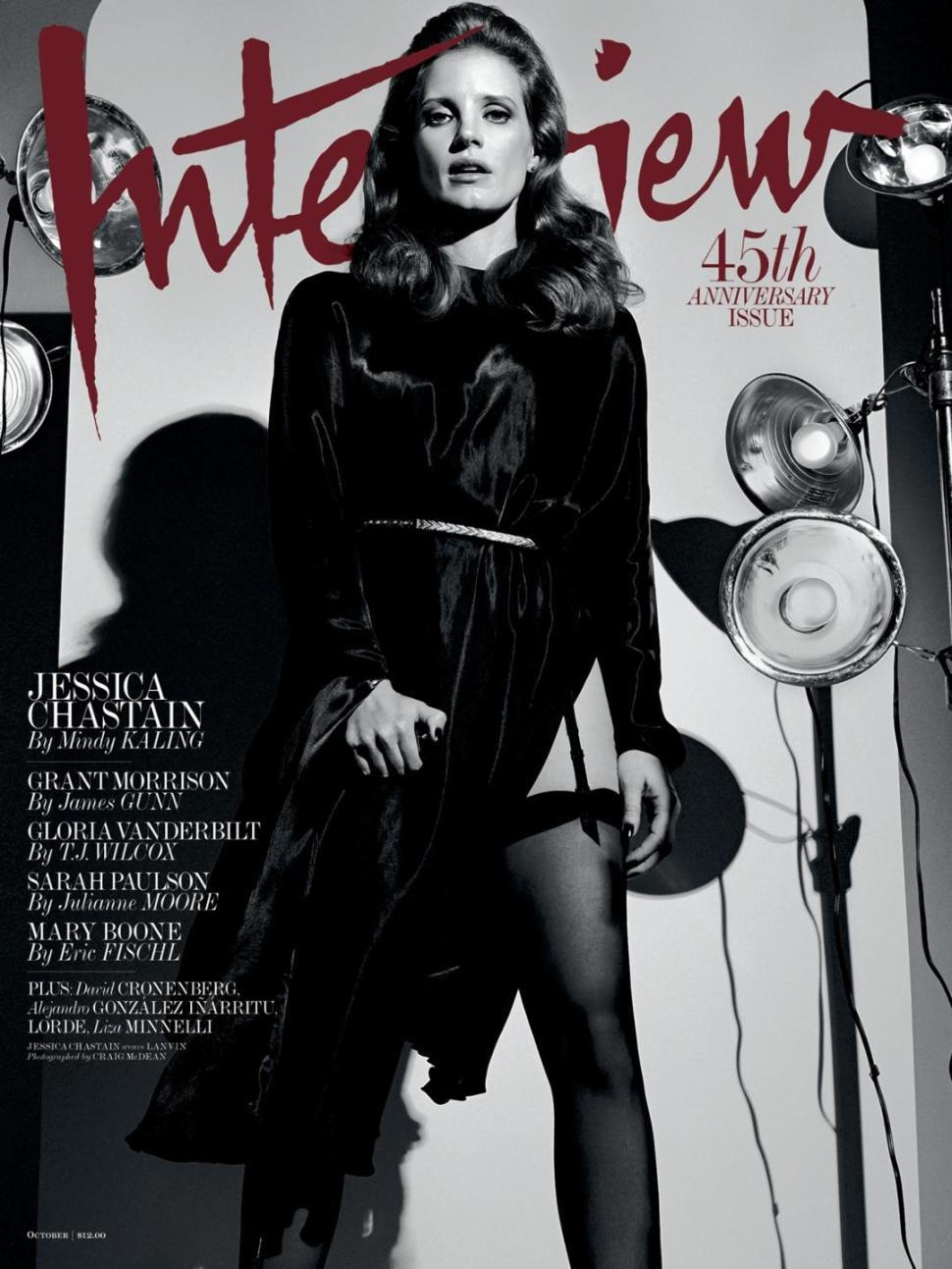 Photos courtesy of Glamour, Interview.