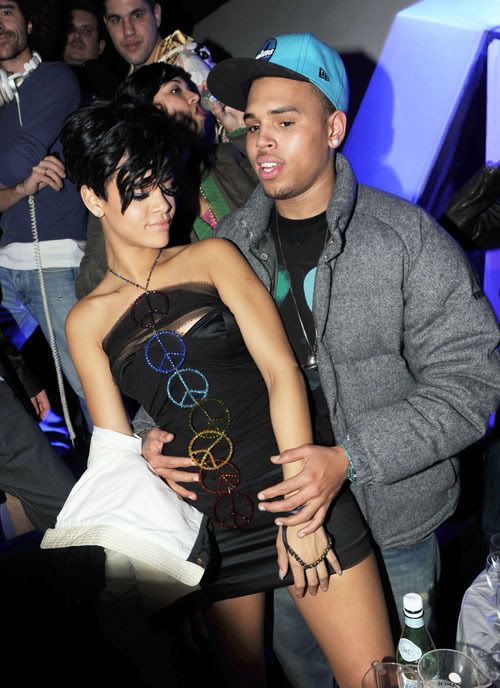 Normally I would not put "reportedly" in the title of a story that comes from People Magazine, because they tend to only run stories with solid information and you can pretty much report it like it's true. In this case I just don't want to believe it. It was easy enough to ignore all the tabloids that claimed Rihanna still loved Chris, because even if that was accurate it didn't mean she was back with him. People claims that they're together, though, and are currently holed up in Miami in a home owned by Diddy:
The pair have reunited almost three weeks after Brown, 19, allegedly battered the "Umbrella" singer on Feb. 8, a source tells PEOPLE.

"They're together again. They care for each other," says the source. The on-again couple are currently spending time together at one of Sean "Diddy" Combs's homes, on Miami Beach's Star Island.

Adds the source: "While Chris is reflective and saddened about what happened, he is really happy to be with the woman he loves."

In its latest issue, PEOPLE reports that Brown called Rihanna on her 21st birthday one week ago. "He called to wish her happy birthday," a source told the magazine. "They've reached out to each other. It's been mutual."

Brown was booked by LAPD for making criminal threats but the case has not yet been presented to the District Attorney, who will ultimately determine which charges, if any, will be prosecuted.
[From People.com]
Rihanna went to Barbados right after the attack on February 8 to "recuperate and spend time with her girlfriends," according to People's last cover story. She returned to LA for a little and was last spotted in Mexico on the beach. It seemed like she wanted some time away to reflect on things and gain the courage to stand alone, but unfortunately that didn't last long. Those reports that Chris was in contact with her must have been true and she was ultimately swayed by his efforts.
Rihanna should have obtained a restraining order against Chris Brown, she shouldn't have taken a vacation with him. It doesn't matter how formerly successful and well know the guy is, he hit her. He didn't just smack her, either, which in itself would have been unforgivable, he battered her so severely that she was left unconscious with two black eyes, contusions on both sides of her forehead, bites on her arms, a split lip and what appeared to be an earring ripped out. When the police came to the scene, he fled, leaving her there passed out. There is no excuse for his behavior. There is also no other scenario that would explain her very severe injuries and it's never been suggested that anyone other than Chris attacked her.
There are reports that claim that Brown is going to plead "self defense" against Rihanna if the case ever comes to that. It's still in the investigation stage and it's unknown if the DA will press charges. There is nothing short of her holding a gun to his head that could even begin to justify that type of attack. If a stranger inflicted that kind of damage on her, he would have been dealt with swiftly and she would want to ensure that the man was behind bars. Instead she's ignoring the very real and possibly life-threatening injuries she received because she "loves" the guy and has a history with him. That's the type of emotional equation that can only end badly for her. This is not the first time Chris is said to have abused her.
Here is more information about how abusers control their victims through a cycle of abuse that slowly breaks them down and leaves them feeling helpless. It looks like Chris and Rihanna are in the "honeymoon" phase.
Rihanna has shown that even the most successful, famous and outwardly strong women can be subject to this kind of horrific, manipulative abuse. At the very least, her pain and heartbreak have brought this very serious issue to greater public awareness. Hopefully women in similar situations can recognize Rihanna's mistake by returning to her abuser. Hopefully Rihanna will realize her mistake before it's too late. Let's not turn this into some lover's spat because they're famous and she seems to have "forgiven" him. The guy could easily have killed her.
Rihanna and Chris Brown are shown in Paris on 12/19/08. Credit: ANG/Fame Pictures