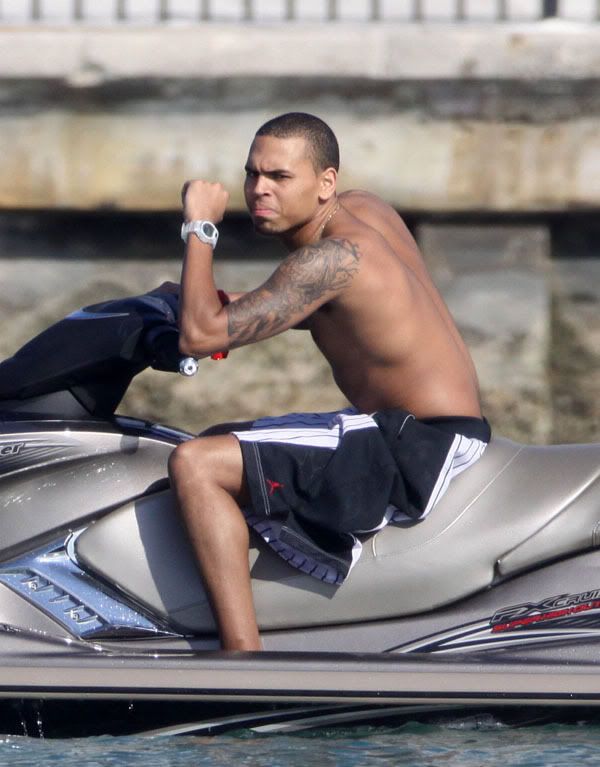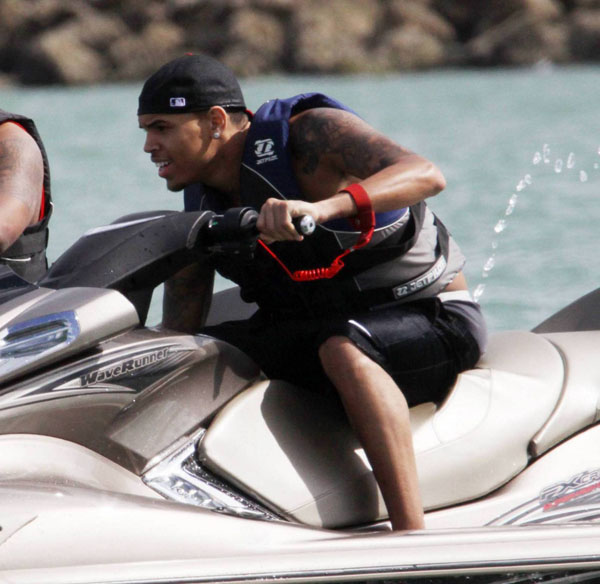 Chris Brown was photographed laughing and riding on a jetski in Miami this weekend. Photo agency MavrixOnline has plenty of faraway photos in this set of the people Chris is hanging out with in Florida at one of Diddy's homes, but I looked hard and couldn't find anyone who could be Rihanna. There were a few photos of a guy in a pool who looks like Brown at first glance hugging a woman who definitely wasn't Rihanna. I got excited thinking Brown was busted with another woman, but on closer inspection it was some other guy I didn't recognize.
There's nothing particularly scandalous about these photos unless you think Chris should be stuck in a snowy climate keeping his head down or better yet in a freezing jail cell, um also keeping his head down. This is his second vacation after beating Rihanna unconscious and fleeing the scene. He first headed to Vegas with his buddies, where he stayed in a suite at the Hard Rock Hotel and Casino.
Chris is supposedly enrolled in anger management courses but they're either distance learning, a one-off, or they didn't start yet. He better enjoy life while he can. If Brown doesn't start socking away money he's not going to have the cash to go on extended vacations in the future. Hopefully even rich friends like Diddy won't be able to save Chris from a career that involves something menial.