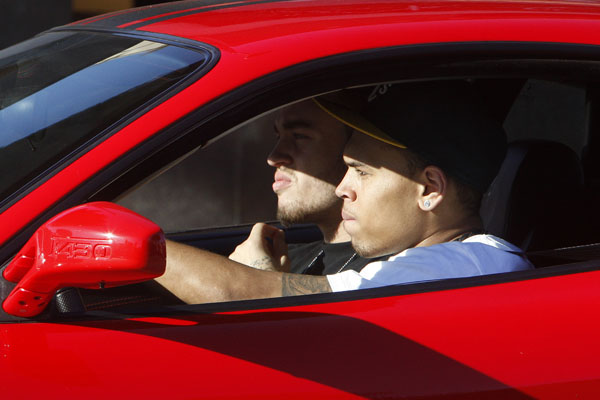 Chris Brown is thought to be in Las Vegas with his buddies holed up at the Hard Rock Hotel and Casino. Somehow he thought it was a great idea to wait out a huge scandal over beating the shit out of his famous girlfriend by heading to Vegas. From the way this story is worded, it's possible that he's not in Vegas as rumored, but it sounds like E! has solid information:
E! News has learned that Brown, who is being investigated by the Los Angeles District Attorney's Office for allegedly beating up his R&B star girlfriend, Rihanna, is holed up at the Hard Rock Hotel and Casino in Vegas. He's staying in a suite on an upper floor of the hotel.

According to a Sin City source, "They had to kick out any paparazzi that were around and get him tons of security to sneak him in."

"We cannot confirm that Chris is staying with us," a Hard Rock spokesman tells E! "However, several of his friends are staying on [the] property."

There has been much speculation as to the 19-year-old Brown's whereabouts since he was seen leaving an L.A. jail Sunday night after being booked on suspicion of making criminal threats. He had been spotted at a West Hollywood hotel and there was an unconfirmed report he had flown to be with his family in Virginia.

His case was turned over to the D.A.'s office Tuesday morning; prosecutors have asked for further investigation into the incident before they decide whether to press charges.
[From E! Online]
Maybe Chris is getting some of his stay comped, because it would be incredibly foolish of him to waste money on a hotel suite when his endorsement deals are drying up, his scheduled appearances canceled, and his career pretty much kaput. It also isn't the best PR move to head to the party capital when the whole world is talking about what a creep you are.
Meanwhile Chris' stylist is telling everyone that the poor guy "feels bad" about the situation and that it didn't happen quite the way we've been hearing:
Chris Brown, who has not been seen publicly since allegedly assaulting girlfriend Rihanna, is a "good kid" who "feels very bad" about what has happened, his friend and stylist tells PEOPLE exclusively.

"Chris is all right. He's a good kid. He feels very bad that something like this has happened," his longtime wardrobe stylist Mike B. tells PEOPLE.

Another friend echoes that sentiment, telling PEOPLE, "You can tell everybody that Chris really feels bad about the whole situation, about it coming out the way that it happened, the way he went about it, the way she went about it … it's just a wack situation."

As for what really happened, the friend says the story is "not as bad as everybody is trying to gas it up to be."
[From People]
Chris should hire a PR person to help him through this mess. I'm not saying I want to see him come out on top by any means, but he's just looking like even more of a jerk by having friends say he "feels bad," and giving vague cliche statements that amount to "it's not what you think." It could be true that we don't know what happened and the initial details are wrong, but he's not looking innocent by the way he's behaving. He didn't even release a statement.
A New York radio station has arranged a protest for Friday on Long Island in which Rihanna fans will rip up Chris Brown posters and stomp on his CDs. Hope he enjoys his little break in Vegas. Once he comes out of hiding there will be plenty of people who want a word with him.
Chris Brown is shown cruising in his Ferrari in LA on 2/2/09 and partying in Ireland on 2/1/09. Credit: WENN