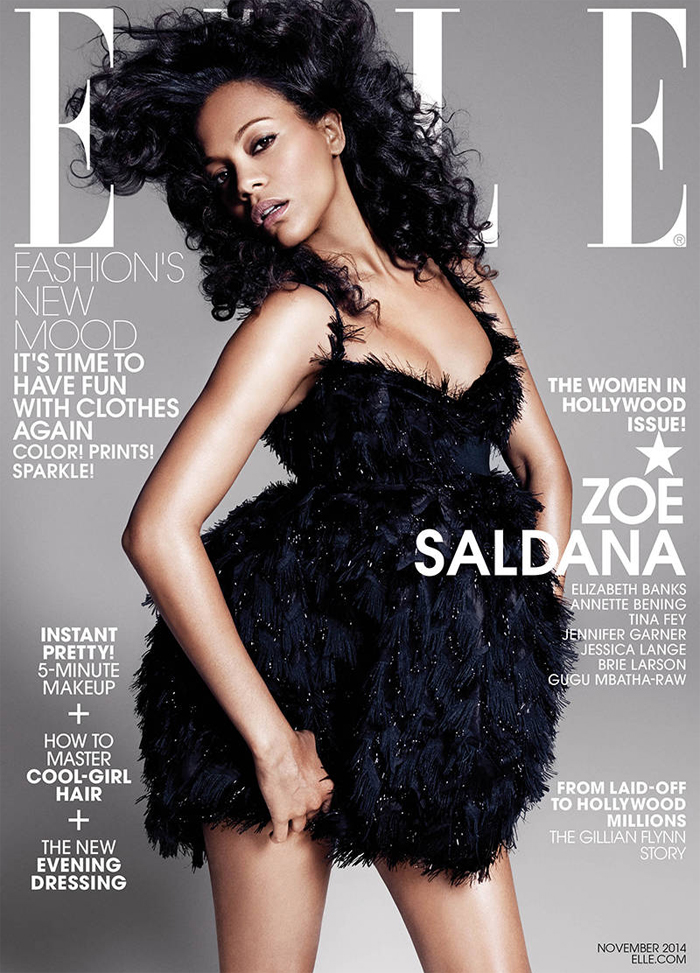 Zoe Saldana nabbed on the Elle's Women in Hollywood covers for November. She camouflaged her bump in a flouncy Lanvin dress that looks like a sparkly Muppet. Even though Zoe doesn't want us to invade her privacy she recently confirmed to E! Online that she's having twins with Marco Perego. Actually, she didn't use the "t" word. She talked about Halloween and said, "I might need three costumes. I might have to make some adjustments, but it would be nice." Zoe and Marco are about to have their hands full.
Jessica Lange and Annette Bening were profiled in this issue too, so here are some excerpts from them as well as Zoe. Are we still pretending that Zoe's Nina Simone movie will see the light of day? That's not a knock against Zoe. The film has been in production for years. Zoe says she was the only actress brave enough for the role:
Zoe was reluctant to play Nina: "I actually encouraged [them] to cast someone else. But she came to me and said that everybody was afraid, and I thought, 'Sh-t, then how can we complain that there aren't enough films about African-American iconic figures?'"

Zoe on if she always knew she'd make it "That's how those seven years my sisters and I spent on a bohemian island played very well. We're not American in terms of feeding into that machine that you have to be somebody. We were somebody the moment we were born."

Jessica on veering away from glamorous roles "I never really thought of myself in those terms. When you're young, you just take your beauty for granted. Sometimes I think, 'Sh-t, I should have done that film!' But it's a passing thought. I played the parts I wanted to play. I do have regrets about films I shouldn't have done, which took me away from my children. That's the only real regret–time wasted."

Annette on what surprised her about acting: "That movies would allow me to start and stop in a way that so many people couldn't. I always wanted kids, and I took years off when my kids were little, and I still do completely withdraw. It's been a way of saving myself and saving the work."
[From Elle]
Jessica Lange is the boss. She frames her career in an interesting way: No regrets for the roles she's skipped, but she does lament the roles that wasted her time. I hope she doesn't regret Tootsie. Annette's perspective is refreshing too. She's grateful for her career and being able to take time away for her family. Jessica and Annette are legends. We'll see what happens with Zoe's career in the years to come.
I'm including some photos of Zoe looking very pregnant this week in Santa Monica. Plus one of screeching Marco Perego for the fangirls.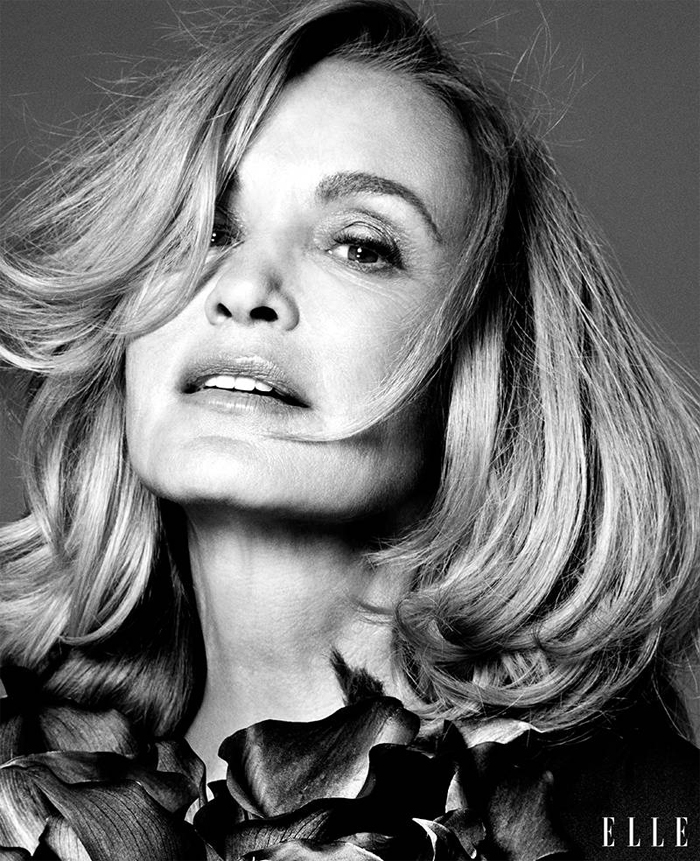 Photos courtesy of Elle