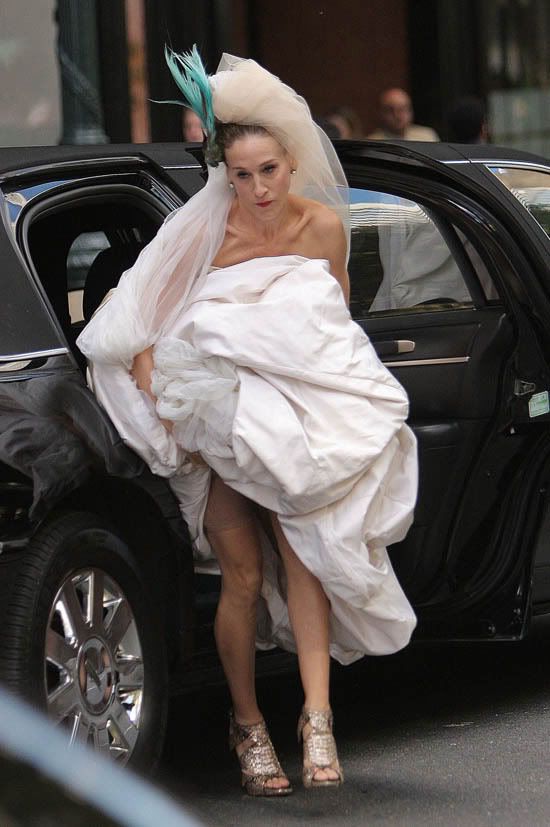 A photo taken during SATC filming on 10/12/07. Credit: Fame
Sarah Jessica Parker has some regrets about her marriage to Matthew Broderick. And no, it's not what you think. Her regret is specific to her wedding dress. Sarah Jessica famously wore black to her wedding twelve years ago, and it's a fashion decision that has haunted her for years.
I saw SJP talk about this several years ago, and from what I remember of the story, Broderick told her she shouldn't wear white because it would be inappropriate. Something about how they were already living together and sleeping together, I guess. But instead of going with some kind of off-white dress, SJP went with black. The Times of India has more:
The 'Sex and the City'actress Sarah Jessica Parker regrets wearing a black wedding gown for her marriage to actor husband Matthew Broderick and is still embarrassed by the fashion faux pas she made 12-years ago.

Parker, who is famous for her impeccable fashion choices, broke the tradition of wearing white for her wedding in 1997. But looking back, she's upset with her daring decision.

"(I would) white it up. I'd wear a beautiful, proper wedding dress, like I should have worn on that day," the star said in an interview.

The 43-year-old actress is also making sure that the couple's six-year-old son, James Wilkie understands that a black wedding dress is not appropriate attire.

Parker adds, "James Wilkie's teacher is getting married, and he said, 'Do you think she will be wearing black?' I said, 'No! I can almost assure you.' Then he said, 'Do you still regret it?' and I said, 'Yes, I still regret it.'"

The star recently said that the sequel to last year's film adaptation of the popular television series looks very promising however she admitted that she was clueless about the plot the film.
From The Times of India
Perhaps if she feels so strongly about it though, she and Matthew should renew their vows just so SJP can wear white.
There has been a steady drum of negative gossip about the state of the Broderick-Parker marriage, including several people noting that at their recent Oscar outing, Broderick looked like he wished he was anywhere else than beside his wife. Still, SJP has consistently denied there is anything wrong. Perhaps a white-clad vow-renewal will help!