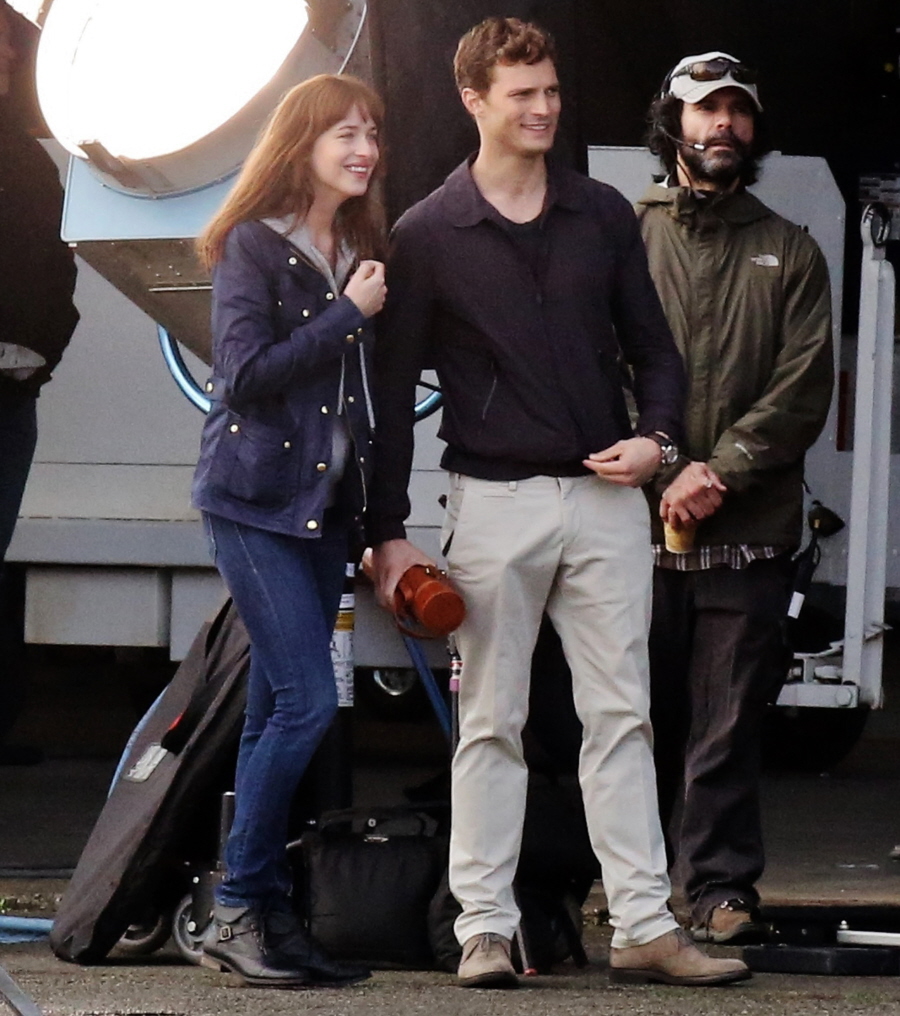 A while back, I read Jenny Trout's blog about Fifty Shades of Grey. The write-ups and analysis are excellent and laugh-out-loud funny, but it just reminded me – I read the book a while back, when everyone read it – that Anastasia Steele is a terrible character. Christian Grey sucks too, but E.L. James was really paying it forward on the Twilight fan-fiction by making Ana the worst version of Bella ever. Ana is no heroine, she's immature, she cries and blushes on every page and she's a pretty terrible narrator. Some hoped that the film version of Ana would be a bit more proactive, or perhaps less whiney and tearful. I assumed that the film was going to take out some of the worst emotional crap in favor of full-on sex scenes, etc. But as it turns out, Dakota Johnson is pretty awful throughout every kind of scene? And that's why they had to go back to Vancouver to do reshoots.
They were seen re-shooting parts of Fifty Shades Of Grey last week, with less than four months to go before the erotic flick gets its cinematic release. And now it seems that rather than merely perfecting a couple of scenes, producers had Dakota Johnson and Jamie Dornan back on set re-enacting their steamy encounters due to a concerning absence of heat between the duo.

A film source has revealed to Us Magazine that the footage didn't feel 'passionate' and producers have been disappointed by the lack of chemistry.

'Dakota isn't coming off sexy enough' said a second source. 'Ana needs to be naive, not a dish-rag.'

A Universal rep denied the lack of chemistry and said: 'No one should question the heat or intensity of our actors.'

The cast are determined to get it right however, with another insider adding: 'They want to do sequels, so this has to be perfect.'
From what I can tell from the photos, they reshot a lot of outdoor scenes, so it's very possible that they just wanted it to look more cinematic, bigger, more exciting. But the paparazzi cameras didn't go everywhere, so maybe they did reshoot some sex scenes too. It wouldn't surprise me at all if Dakota was a dishrag in those scenes. I watched the Today interview between Dakota and Jamie Dornan and they have very little chemistry and that's mostly on her. He was trying to flirt and be "game" and she just slouched there and whined. I called her a charisma vacuum. And I stand by it!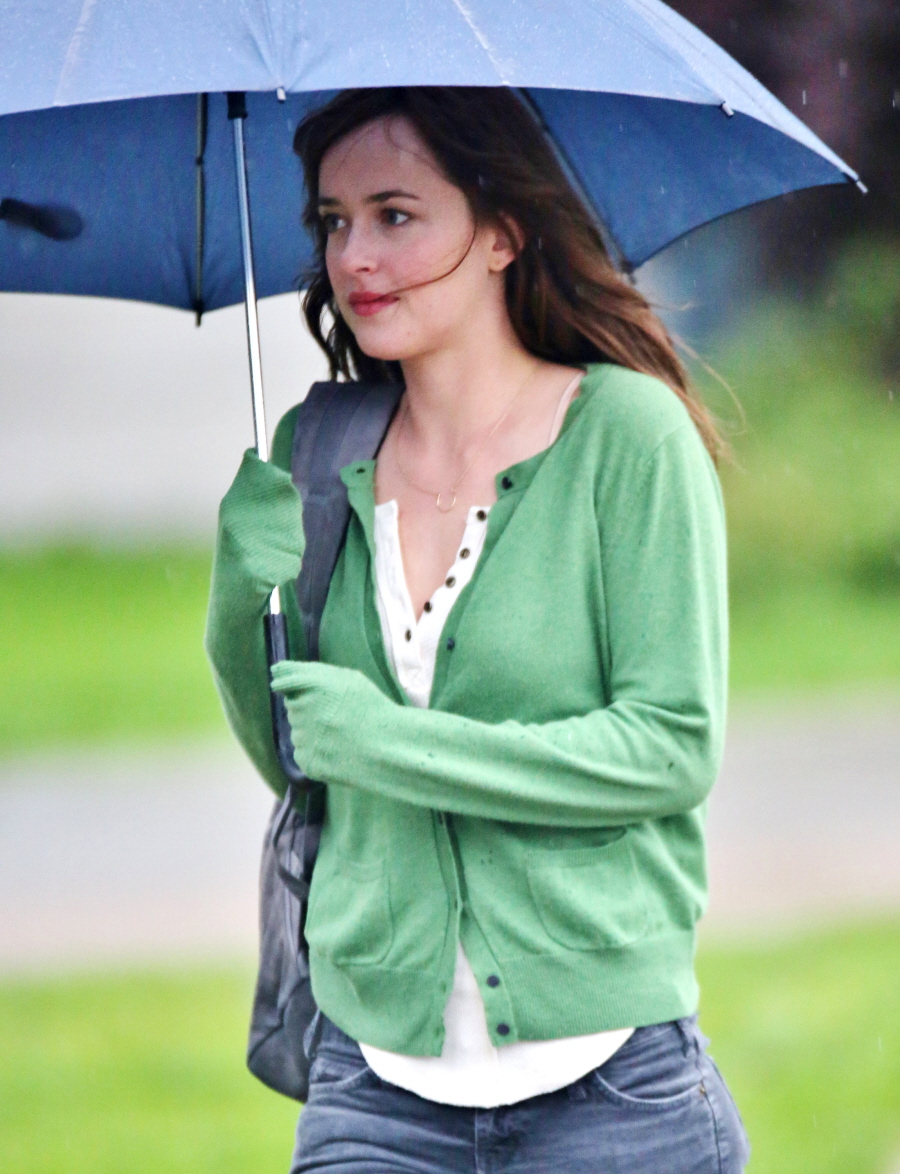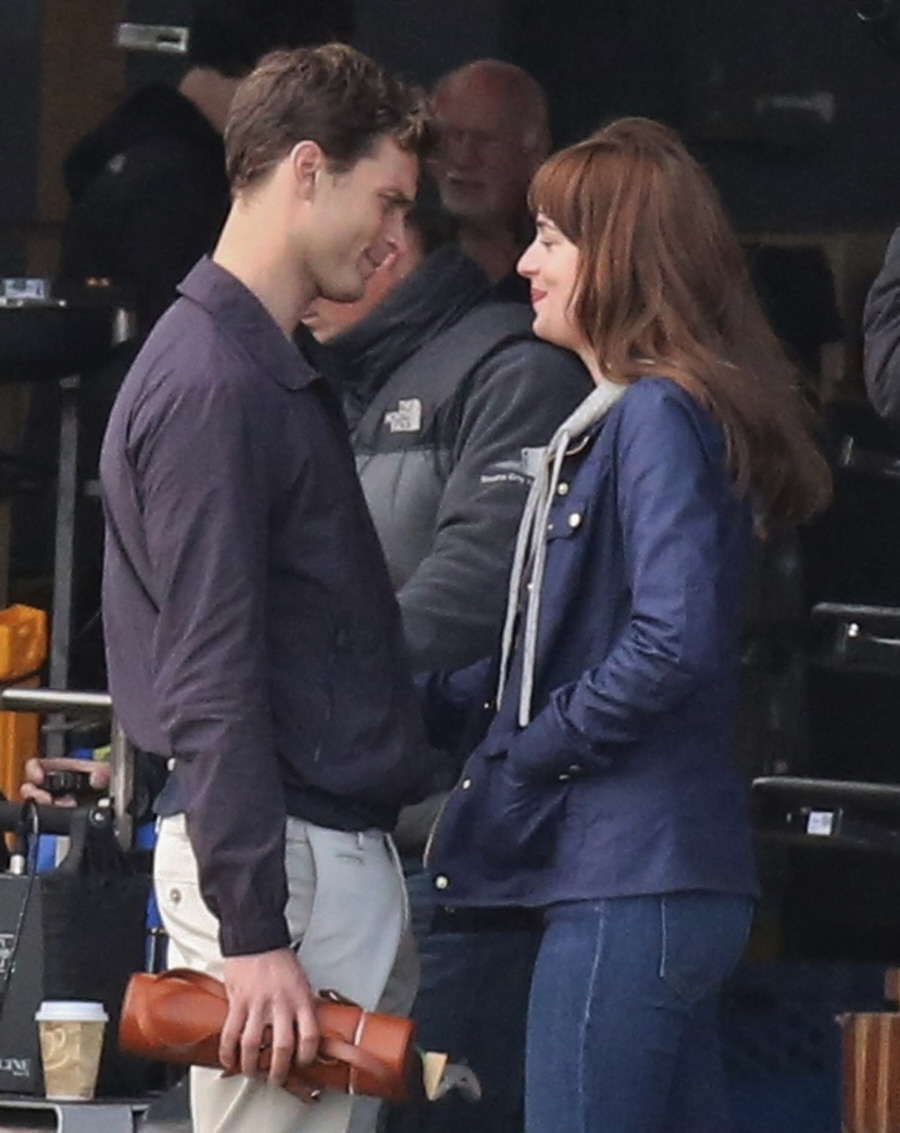 Photos courtesy of Fame/Flynet.