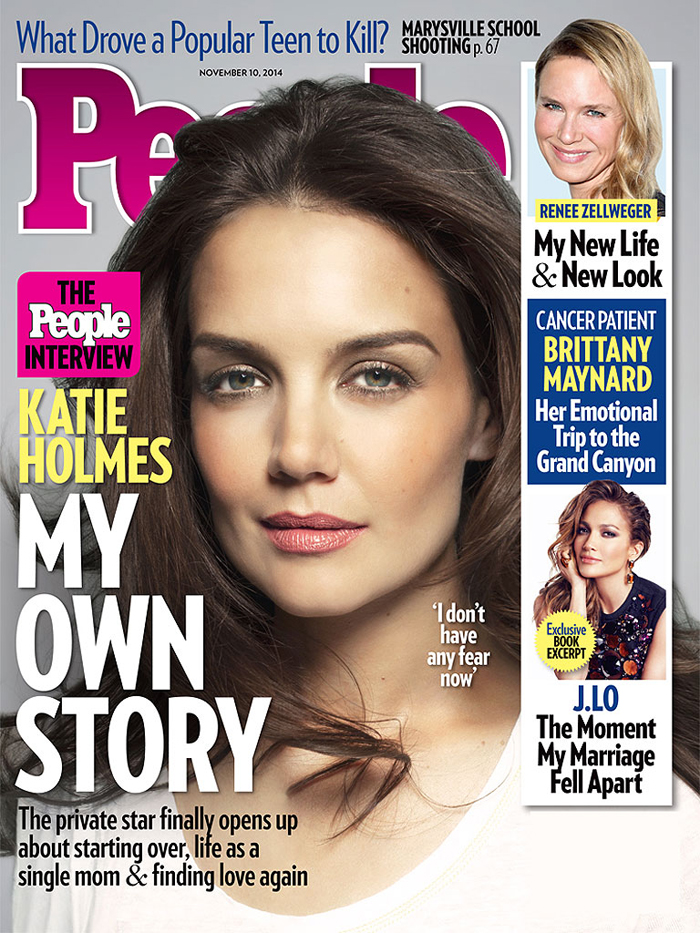 Katie Holmes covers this week's issue of People. They didn't choose a very flattering cover shot, right? This is very "bride of Xenu," but People dangles the promise of Katie telling her "story." So the sleepy, robot look may be on purpose. I am interested to read the full story when it arrives, but I don't think it will be too dramatic. Katie's kept quiet on the issue of her divorce to Tom Cruise, and I suspect there's an agreement in place. Plus we've already heard the worst of it. Like how Tom would scream for days on end at Katie and how she had to use burner phones to organize her getaway. What else could she possibly reveal?
Katie's been doing well for herself. She bought a second home in Los Angeles. She has some indie movies coming out, and she'll reprise her Jackie Kennedy role. Oh, and Olay hired her as global ambassador, which is probably how she afforded that second home. Here's what Katie has to say to People (so far):
Katie Holmes has a three-part mantra these days.

"I don't have any fear now, I don't have a lot of rules for myself, and I don't take myself that seriously," she tells PEOPLE exclusively in this week's cover story.

And when it comes to her career, "I feel ready for new challenges," she says.

The star, 35, is poised to reprise her role as Jackie Kennedy and appears against-type as a vigilante school teacher in the new black comedy Miss Meadows.

And Holmes will soon go behind the camera for her feature directorial debut.

Yes, her 2012 divorce from Tom Cruise made headlines around the world, but Holmes has long since moved on.

"I don't want that moment in my life to define me, to be who I am," she says of her post-split persona. "I don't want that to be what I'm known as. I was an actor before, an actor during and an actor now."

She is also a mom, and life with her 8-year-old daughter Suri "means everything to me," she says. "I'm learning every day, and I have been since the minute I became a mom."

Part of that learning curve is accepting that things don't always go smoothly at home, she admits.

"My patience has grown, but between 4 and 6 p.m. . . . I mean, wow," she says. "Between tickle fights and glitter art, I try to throw in some manners along the way."
[From People]
I completely understand Katie's desire to not be known as the third ex-wife of Tom Cruise. That must be super embarrassing to realize the whole world was correct about Tom when we all thought he was losing his (lifted) marbles. Katie will be fine. She's been free for two years, and there's no going back. She's completely correct about the hours of 4-6 pm when it comes to raising a child. There's something about that time of day that brings out the most rambunctious behavior.
Since we haven't talked about Katie in awhile, so here are plenty of pics. She and Suri went to the farmer's market together, and I'm jealous of Suri's hair.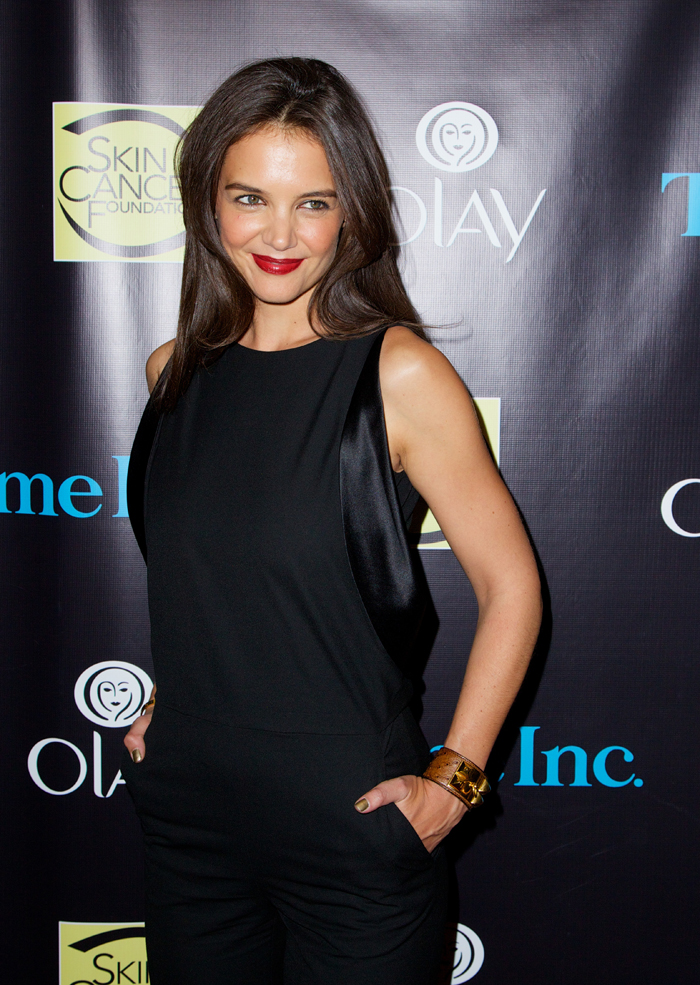 Photos courtesy of Fame/Flynet & WENN