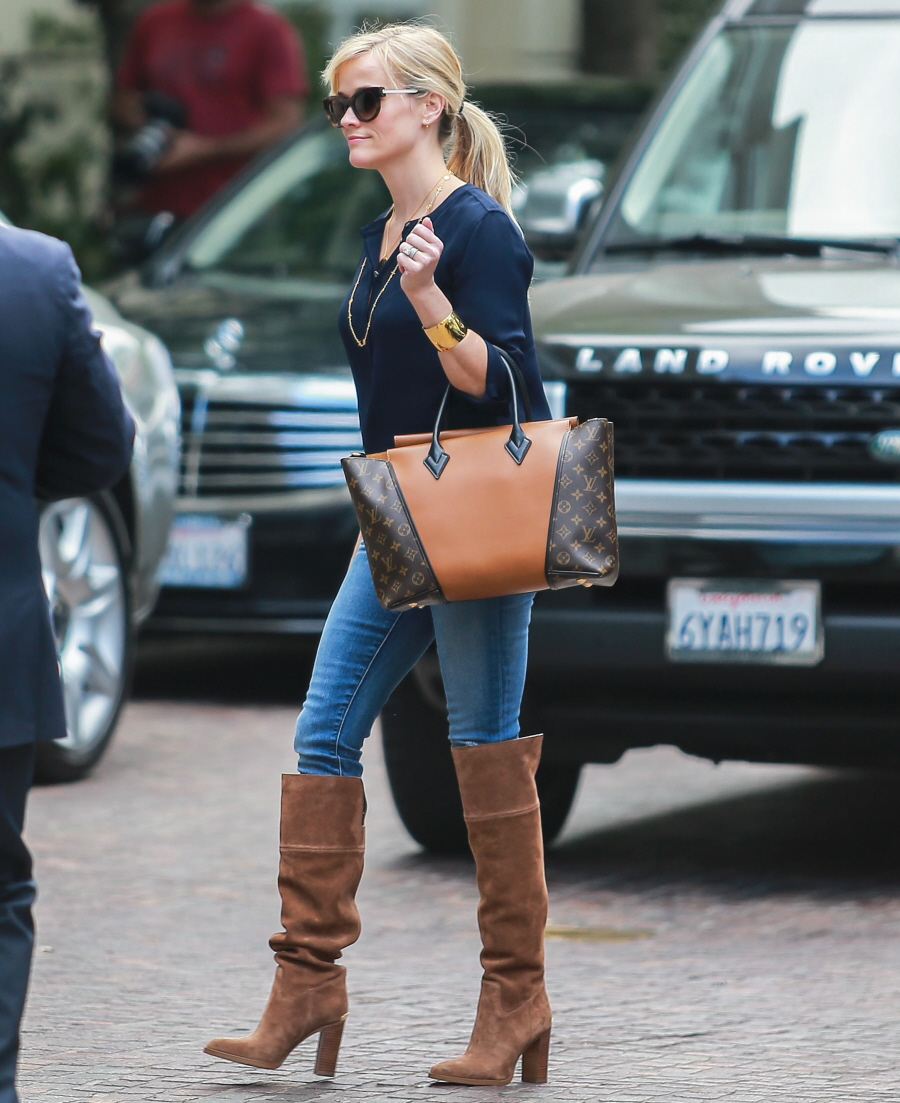 Are you tired of the Rah Rah Feminism jag that every actress has been on lately? I don't mind it, honestly. I'd much rather cover actresses talking about feminism than, say, what they eat or how they parent or how they were terribly uncool in their teen years. And while I find American Citizen ™ Reese Witherspoon pretty unlikeable these days, I'll admit that she has some interesting things to say from inside the Hollywood Machine. Reese is campaigning for that Oscar, hoping that she somehow gets a second Best Actress Oscar for her work in Wild. That seems to be where she's positioning herself these days. Hilariously, the press surrounding her Oscar campaign is mirroring Matthew McConaughey's campaign last year – everybody has noticed it, and Reese is even using the same kind of McConaughey-esque language of "I made a conscious effort to redirect." Reese mixes it with a dash of feminism and voila! Oscar campaign! Here are some highlights from Reese's New York Times interview:
Why she "redirected" her career a few years ago: "Other than one studio, literally one, nobody was developing anything with a female lead. It just hit me like a ton of bricks. And I was so mad. And then I thought: 'Why am I so upset about this? Why don't I do something about it?' "

The perils of being a likeable America's Sweetheart: "I've sat through millions of development meetings where people are like: 'We don't want Reese to say profanity. We don't want her to have sex. We don't want her to take drugs.' I didn't really feel the constraints of it until about three years ago, where I realized, 'I'm not this.' I'm a complex person that has so many different aspects in my personality. But somehow, I have this reductive experience where I'm put into this tiny little box. Likable. Can we scrub the likable box? And what is likable? To me, likable is human, and real, and honest. To me, I find the character in 'Wild' much more likable than a lot of characters I've played in comedy. She's telling the truth. She's not ashamed of the sexual experiences she's had. She's not ashamed of her drug use."

Her 15-year-old daughter Ava: "It's interesting to see how men look at her now. And what kind of women is she looking at in film? Who are her heroes?" Beyond some of Jennifer Lawrence's characters, in the "The Hunger Games" and "Silver Linings Playbook," Ms. Witherspoon said, "It's pretty thin."

On her performance in Wild: "I said to my producing partner, 'If we can pull this off, this'll be the first movie, I believe, I can't recall, but that stars a woman that at the very end has no money, no man, no parents, no job, no opportunities, and it's a happy ending.' How important, how needing of that, are we? How late to the party are we?"

Feminism: "We save ourselves. Every woman knows it. Every man knows it. You look up. Nobody's coming to the rescue. It's a universal story. But it's revolutionary in the way that a woman is allowed to tell it."
I'm fine with the message, but I do find the messenger questionable. The thing is… being "likeable" is a gilded cage, I get that. But for women like Reese, like Jennifer Aniston and Jennifer Garner and Sandra Bullock and many more, likeability is extremely lucrative. It's how many actresses build their resumes and their bank accounts. Likeability and relatability are two of the most powerful tools for celebrity women. But, as I said, likeability is a gilded cage. Many of those "sweethearts" have tried to break out and get dirty (Reese even got arrested after bitching out a cop), and very few people are buying it. So, after so many years of being told that Reese is likeable, that she's a sweetheart, that she's just a down-home Southern girl and she could be your best friend… now Reese is turning her back on that image. All to save her career and possibly get another Oscar nomination. What do you think?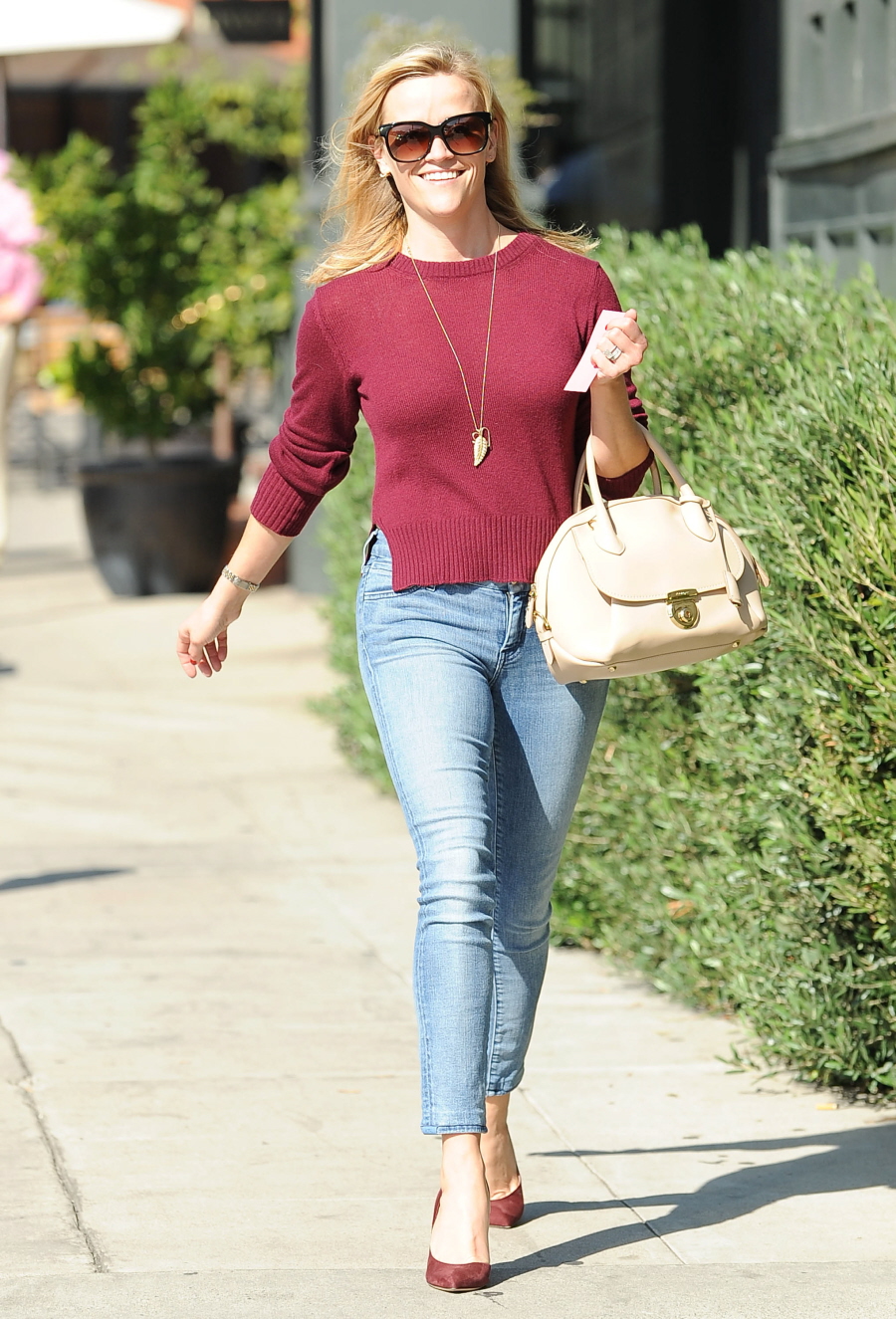 Photos courtesy of Fame/Flynet.