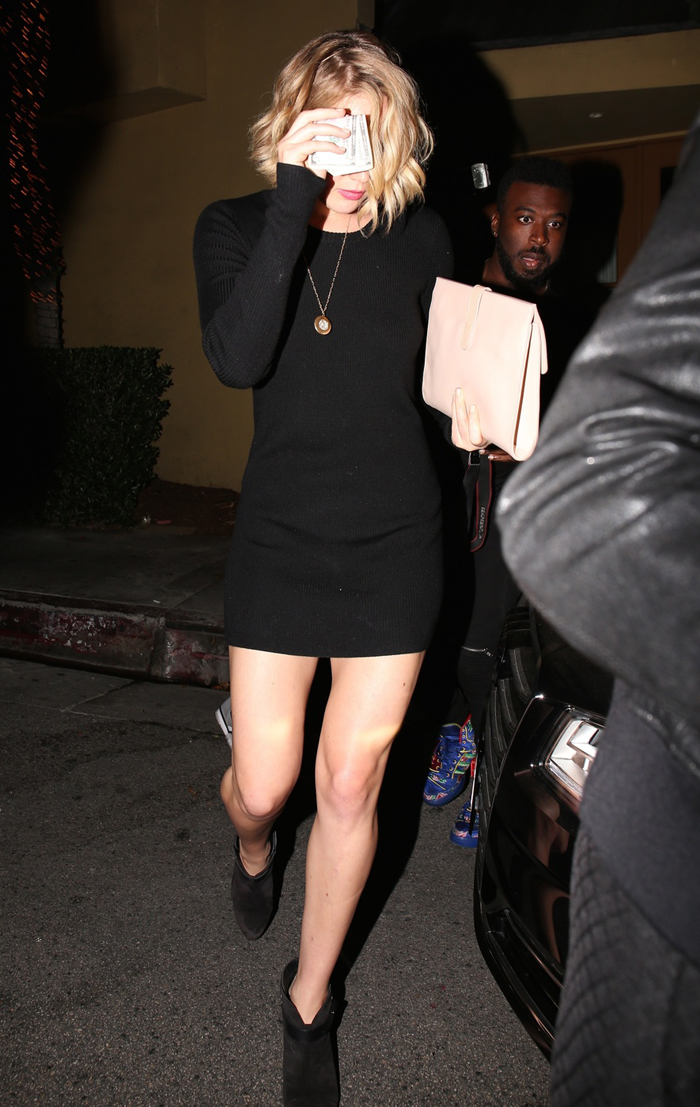 I'm sorry, but this story is just funny now. This is a photo of Jennifer Lawrence leaving a West Hollywood eatery around the time she and Chris Martin broke up. People magazine told the world that JLaw broke it off. We heard all sorts of theories about how Jennifer was weirded out by watching Chris and Goop "play happy families." I adore JLaw, but I don't know what she expected by dating a still-married man.
Everyone assumed a Goop victory, including Goop. She made smug faces on the red carpet, and she dangled the pizza of reconciliation. JLaw was seen awkwardly visiting Chris' home, probably to tie up loose ends and grab her Doritos supply. Now People says that isn't the only visit. JLaw's hung out with Chris two more times, and he's so into her. This news must have ruined Goop's two-hour morning workout:
For a couple who officially broke up, Jennifer Lawrence and Chris Martin are still seeing a lot of each other.

On Oct. 27 – the same day that sources confirmed the split – the Mockingjay actress visited Martin's Malibu home for several hours. But that wasn't the last time she was spotted visiting his place: She returned three nights later, on Thursday.

The pair went out separately Friday, with Lawrence, 24, "having a great time" at Justin Timberlake and Jessica Biel's Halloween party, while Martin, 37, went trick-or-treating in Malibu with ex Gwyneth Paltrow and their kids Apple, 10, and Moses, 8.

On Saturday, Lawrence was spotted driving to Martin's Malibu house again.

While one source tells PEOPLE that the pair have indeed split, another insider says they remain an item.

"They're very much together," the insider tells PEOPLE. "He's very much into her and they're still seeing each other."

A rep for Lawrence has not commented.

As for other sources' contention that Lawrence is bothered by Martin's ongoing closeness to Paltrow, "she doesn't give a sh-t about Gwyneth [and Chris's relationship]," says the insider, adding that the Hunger Games star thinks the reports are "hilarious."

Lawrence recently bought Jessica Simpson's former Beverly Hills house for $8.2 million but has yet to move in. Since their romance began this summer, she has often gone the extra mile to meet Martin on his turf.

"In the beginning, they would spend almost equal time in the Beverly Hills-West Hollywood area and Malibu," another source says. "Lately, they have mostly been spending time at his Malibu house, which means she has to drive back and forth" — about a 90-minute commute.
[From People]
Good god why, JLaw? Not only is she jumping back into Goop's clutches, but she's driving 90 minutes to visit Chris. *shakes head* Jennifer leaves in a few days for the Mockingjay tour, so I tried to find reassurance in knowing she and Chris are probably only hitting it. Then I grossed out all over again. At least this is better than a last minute thing with John Mayer, right? A situation can always be worse.
It is weird that Jennifer's camp is so outspoken about her interactions with Chris. Maybe Grandma is talking again, but otherwise, these leaks don't make sense.
Also bizarre: January Jones threw her hat in the ring by Instagramming a picture of Chris and calling him "the cutest muffin ever." NO.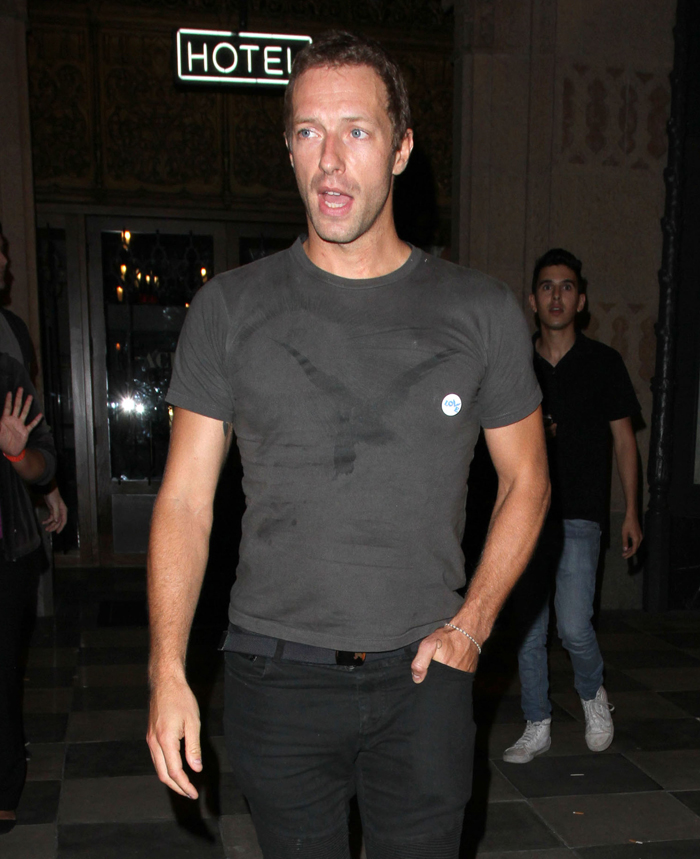 Photos courtesy of Pacific Coast News & WENN