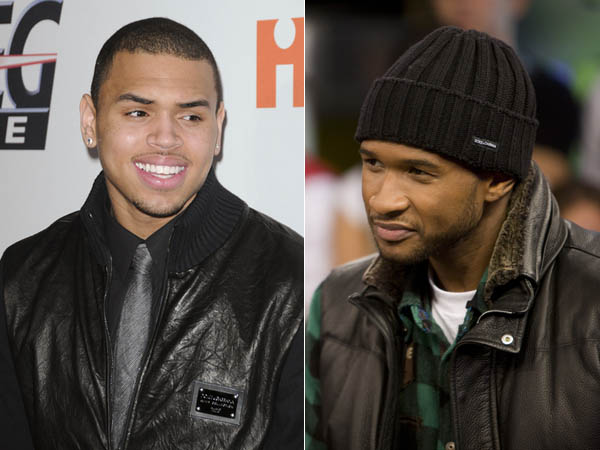 While many of Chris Brown's friends are tentatively offering him words of support, R&B star Usher expressed his disappointment with singer Chris Brown's "lack of remorse" in the days following his arrest for domestic violence against girlfriend Rihanna. A video of Usher calling out Brown for being photographed jet-skiing in Miami surfaced on the internet yesterday.
Usher doesn't approve of Chris Brown's jet-skiing.

In a video posted by producer Jermaine Dupri, the "Yeah!" singer slams his fellow R&B star for being photographed last weekend joyriding around Diddy's Miami Beach mansion in what was his first public outing since the incident with Rihanna.

"I'm a little disappointed in this photo," Usher said Monday on Dupri's online Living the Life series. "After the other photo [of Rihanna's brutalized face]? C'mon, Chris. Have a little bit of remorse, man. The man's on Jet Skis? Like, just relaxing in Miami?"

Brown and Rihanna spent the weekend in Florida apparently working toward a reconciliation. They returned to Los Angeles on Monday in anticipation of the "Gimme That" performer's tentatively scheduled arraignment on Thursday. Prosecutors are awaiting evidence from the LAPD before deciding to file charges.

Usher and Dupri are currently holed up in a recording studio working on Usher's new album. The duo is mostly seen on the eight-minute clip (unspooling at MTV.com) joking around with friends. But the comments took a decidedly serious turn when the topic of Brown and Rihanna came up.
Just hours after that video was posted, Usher's PR Rep issued an apology on behalf of the singer, saying that it was wrong for him to "pass judgment" on Brown.
Usher issued a statement late Tuesday (March 3) apologizing for the comments he made toward Chris Brown, which appeared in a video posted by Jermaine Dupri.

"The comments made during a recent recording session amongst friends were taken out of context and blown out of proportion," the statement reads. "I apologize on behalf of myself and my friends if anyone was offended. The intentions were not to pass judgment and we meant no harm. I respect and wish the best for all parties involved."
Personally, I think Usher has nothing to apologize for. While other stars such as Terrence Howard and Kanye West are calling for people to give Chris Brown a break- saying that he's young and made a mistake – I have to give Usher props for taking a stand on this. Frankly, I've been more than a little shocked at the amount of support Chris Brown has been able to muster – from celebs and from everyday people. When this story first broke, I was disgusted by the number of times I heard comments like "What did she do to make him so angry?" Now that Rihanna has reportedly forgiven and reconciled with her abuser, and rumors are surfacing that Brown may not face criminal charges, this story is getting more frustrating.