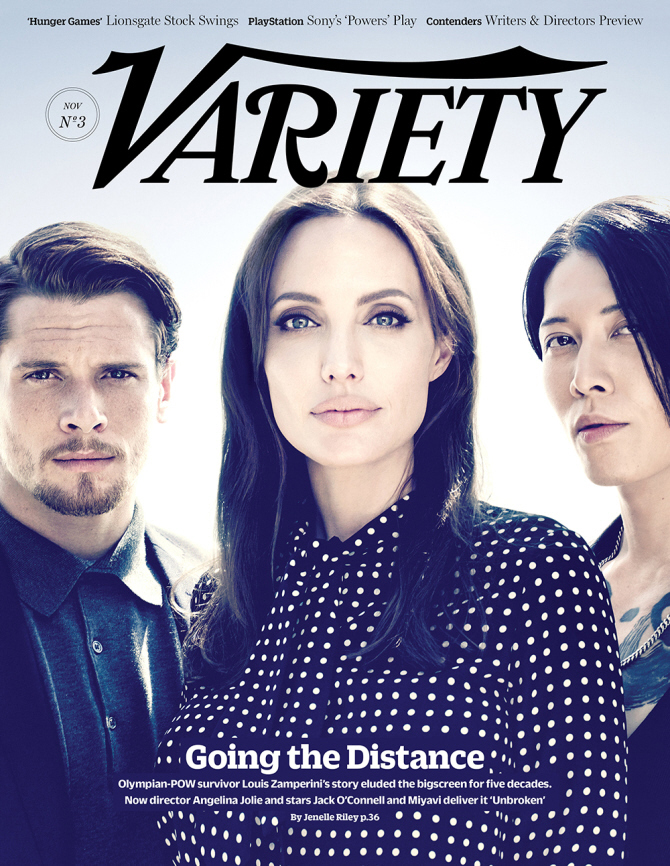 Ooooh, YES!! Angelina Jolie, Jack O'Connell and Miyavi cover the new issue of Variety, and it's really good. I have a horrible confession to make as a Brangaloonie: I thought Angelina's Vanity Fair article sucked. Not because of Angelina or anything she said, but because she was barely quoted at all. Most of the "profile" was just a recap of what she's been up to for the past few years and there was barely anything new. But this Variety piece really makes up for it – it's an extensive look at how all the pieces came together to get Unbroken made. Angelina is extensively quoted, but so are Jack and Miyavi and you can tell that these three people care a lot about each other. It's also obvious that Angelina became extremely close to the Zamperini family. You can read the full Variety piece here. Some highlights:
Angelina's hero: "They say you should never meet your heroes, because they often disappoint you. But Louis really was one of the greatest people ever. There's so much going on in the world today that could make you lose hope. To read about somebody who had something inspirational and positive — it was fulfilling. I wanted to be close to his story. I wanted to go on this journey and become a better person."

Louis Zamperini's adult children, Luke Zamperini and Cynthia Garris, adore Angelina & they say Louis was in love with her: "It was a very close and very affectionate relationship built on so much admiration and respect," Luke says. He adds that Jolie's husband, Brad Pitt, was also a fan. "When Brad was shooting 'Fury,' he was so excited to tell Louis he could drive a tank," Luke laughs. Adds Garris, "The night our father passed away, she and Brad came to our home and took such beautiful care of us. They cried with us, they held us, they made a soft place for us to fall. At one point I told her, 'My father was really in love with you.' And she said, 'I was in love with him!'"

Looking for the perfect actor to play Louis: "He had to be the appropriate age, because he was a young man at the time. It had to be somebody who had the strength and masculinity of that era — a real man's man, a physical man. And at the same time, it had to be a skilled actor who can be deeply emotional and make people root for him."

Angelina always thought about hiring a rock star to play The Bird: "There's a confidence that comes from someone who's a frontman. It's a very unusual thing to be able to be in front of thousands of people and have your presence affect a room."

Miyavi worried the film would reflect badly on the Japanese people: "But after meeting Angie in Tokyo, I was confident to be a part of this story. We can all learn many things from this film, from the theme of forgiveness."

Whether Angelina is retiring from acting: "I'll do a few more. I'm about to direct something with Brad and myself, in fact…[but] I'm happier when I get to put a camera on another actor and watch them do great work."
Jack also tells a wonderful and moving story about how he wanted to get Louis's approval event after the studio had hired him. So he managed to get a one-on-one with Zamperini and they adored each other, with Jack saying: "We sat in his dining room, and he showed me his memorabilia and I got really emotional… He and his family welcomed me in, so I could go to Australia feeling I was championed by his people." Jack asked to try on Louis's bomber jacket and it fit perfectly. Louis's daughter calls Jack an "honorary Zamperini."
I have to say, I'm really pleased that Miyavi is being pushed out to center stage for the promotion of this film. They could have easily just made it about Jack and telling Louis's story, but I think the studio is going to spend some money and see if they can get Miyavi an Oscar nomination for his first film ever.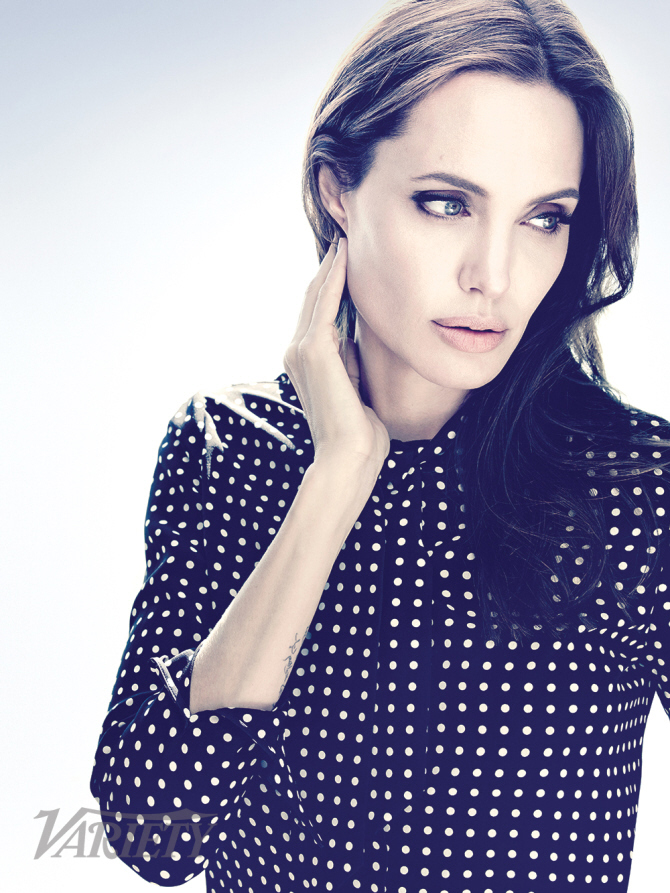 Photos courtesy of ART STREIBER/VARIETY.