Visit NBCNews.com for breaking news, world news, and news about the economy
The Ray Rice tour of redemption continues. Yesterday, we talked about how Janay Rice was performing figurative backbends for her husband to help him get back on the field. So far, no teams have taken Ray up on his newly reinstated NFL eligibility. Four teams are rumored to be sniffing around the smoking embers of Rice's football career. Did I hear a rumor about the New England Patriots? Hopefully that was passing gossip. This Boston.com columnist believes Ray should gain a second chance somewhere because (to the journo) it's all about the game, not what happens off the field.
Anyway. Janay spoke with ESPN last week about how she doesn't consider herself a victim. She also did the happy family act for Matt Lauer and insisted that she did something wrong in that elevator. I feel for her. She's fronting like everything's okay, and maybe it is … right now. Janay has lived for 10 months with this Ravens-induced guilt, which has been heaped on her since the beginning. She's probably in survival mode. But the heat is off Janay for a few minutes because Matt Lauer also interviewed Ray. He has a lot to say, and it's all in pursuit of a lucrative NFL contract:
What it will take for an NFL team to sign Rice: "They would have to be willing to, you know, look deeper into who I am and realize that me and my wife had one bad night, and I took full responsibility for it. And one thing about my punishment and everything going along with anything that happened is that I've accepted it. I went fully forward with it. I never complained, or I never did anything like that. I took full responsibility for everything that I did, and the only thing I can hope for and wish for is a second chance."

On not publicly apologizing to Janay: "The reason why that press conference was the way it was, was because we were still under legal situations. So there wasn't much that could be said, but I'll be honest, we were nervous, I was nervous, and that was the first time we were available to speak. And I made a horrendous mistake not apologizing to my wife. We were given what to speak about. It wasn't truly coming from us, if you can understand, but I made that clear in my last time I was able to speak that my wife is an angel. She can do no wrong. I take full responsibility for my actions."

Did it bother Ray when Janay apologized? "In hindsight I think she was doing it because she knows what I do for a living. She understood my job and my profession. And I think it was her doing that, trying to take light off the situation, to… [protect me] … And I appreciated it, but that's not what the big deal is. The big deal is for me to always protect her, and that's why I said I take full responsibility. She can do no wrong. This is something, you know, as a man you have to own and, we're horribly sorry, and I'm horribly sorry for everything that I have to put my family through. I still got to live every day, go take my daughter to school. She's going to grow up and the way the Internet works now she's going to Google her father's name and the first thing that's going to come up is, you know what's going to come up."

His career isn't really that important: "The reality of it and that's what I'm more worried about fixing is that I want my wife, my daughter, my family – we all just want our lives back. I realize football was one thing, but now I realize that the amount of people we've affected, the amount of families we've affected, that, you know, domestic violence is a real issue in society. We could take our one bad night, it just happened to be on video, but we are truly sorry to the people that are really going through it. You know, it's a real problem. And I know when the time is right, I know my wife wants to help, I know I want to help."

Ray on the relationship: "We weren't in a perfect relationship. No relationship is perfect. We've had arguments, but when you talk about abuse, you know, that's something that we know that we'd never cross that path. But then did we say things to each other that we want to take back at times? Yeah, we crossed that line before, but it never got to an altercation where it went that far. That was just very uncharacteristic of myself. I take responsibility. That was very uncharacteristic."

If Ray doesn't get signed: "If I never play football again, I'll be honest with you, I would adapt into life and I would sacrifice more so she can have a better future."

Janay's reaction: "I know he wants to play football, but I know regardless he'll always support me in anything that I want to do. So God forbid he doesn't play football again, then I'll step in and, you know, maybe I'll be a provider."
[From Today]
Ray Rice is putting on a decent act. He's definitely been coached with key terms like "angel," "uncharacteristic," "one bad night," and "full responsibility" drilled into his head. There are moments during this interview where flashes of well-rehearsed sincerity come through. But the moment he says, "Our one bad night, it just happened to be on video," reveals the charade. There's virtually no way that a man prone to violent outbursts could always keep it together and just happen to slip up the moment security cameras are watching. Not buying it.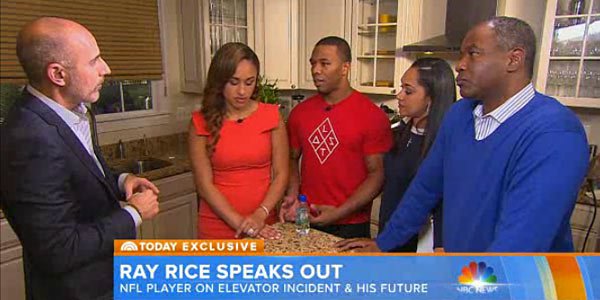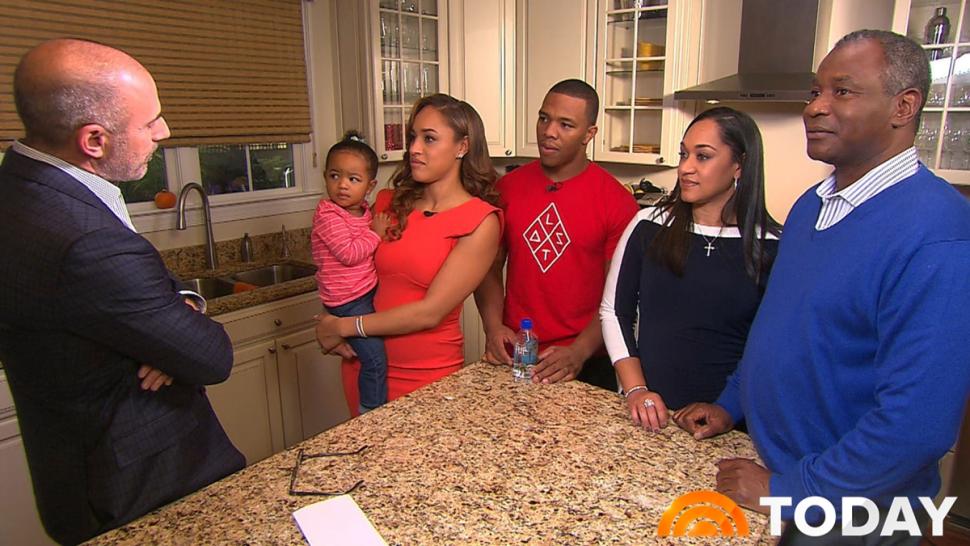 Screencaps courtesy of Today/NBC; photos courtesy of WENN