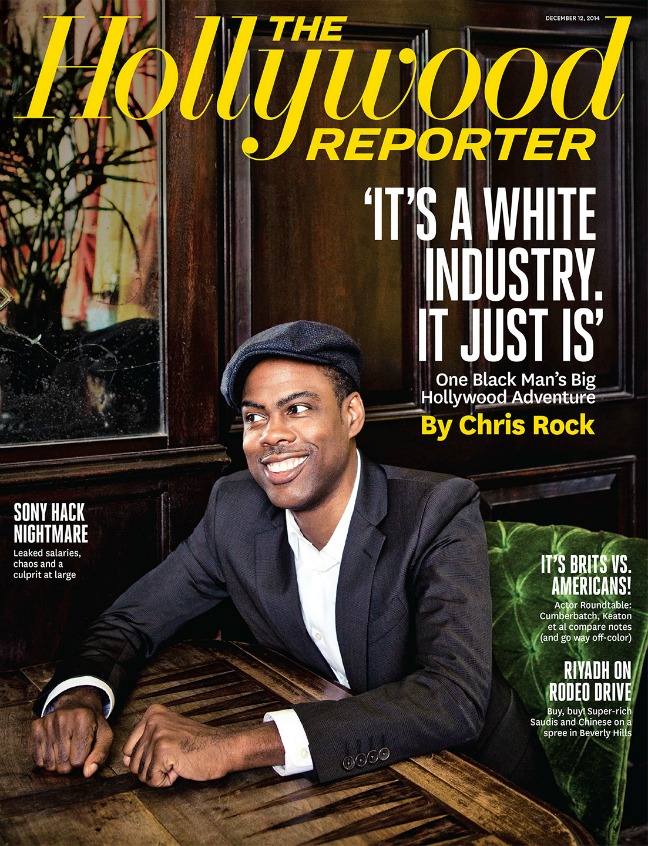 Chris Rock continues to crush the publicity tour for his latest directorial effort, Top Five. He wrote the film, and he stars in it too. Dude is a triple-threat. In a new cover essay for Hollywood Reporter, Rock keeps on killing it by cleverly telling those truths that no one else will whisper out loud. His recent NY Mag feature eloquently explained his perspectives on class inequality and race relations. He's not done yet.
Rock has penned a magnficent essay that covers his observations and experiences after three decades in Hollywood. He starts with how Eddie Murphy and Arsenio Hall gave him a chance when no one else would pay attention. Now Rock tries to help other up-and-comers like Hannibal Buress: "I'd do the same for a young white guy, but here's the difference: Someone's going to help the white guy. Multiple people will." Rock jokes about putting a microchip in Steve McQueen's pocket. You know, so he can someday be in a McQueen movie. He tells us what he really thinks of Hollywood's "slave state" of Mexicans. As always (and as some of you mentioned last time), it's best to read these excerpts in the Chris Rock voice.
It's a white industry. Just as the NBA is a black industry. I'm not even saying it's a bad thing. It just is. And the black people they do hire tend to be the same person. That person tends to be female and that person tends to be Ivy League. And there's nothing wrong with that. As a matter of fact, that's what I want for my daughters. But something tells me that the life my privileged daughters are leading right now might not make them the best candidates to run the black division of anything. And the person who runs the black division of a studio should probably have worked with black people at some point in their life. Clint Culpepper [a white studio chief who specializes in black movies] does a good job at Screen Gems because he's the kind of guy who would actually go see Best Man Holiday. But how many black men have you met working in Hollywood? They don't really hire black men. A black man with bass in his voice and maybe a little hint of facial hair? Not going to happen. It is what it is. I'm a guy who's accepted it all.

I really don't think there's any difference between what black audiences find funny and what white audiences find funny, but everyone likes to see themselves onscreen, so there are some instances where there's a black audience laughing at something that a white audience wouldn't laugh at because a black audience is really just happy to see itself. Things that would be problems in a world where there were a lot of black movies get overlooked. The same thing happened with those SATC movies. You don't really see that level of female movie that much, so women were like, "We're only going to get this every whatever, so f*** you, f*** the reviews, we're going, we like it."

Now, when it comes to casting, Hollywood pretty much decides to cast a black guy or they don't. We're never on the "short list." We're never "in the mix." When there's a hot part in town and the guys are reading for it, that's just what happens. It was never like, "Is it going to be Ryan Gosling or Chiwetel Ejiofor for Fifty Shades of Grey?" And you know, black people f***, too. White women actually want to f*** black guys, sometimes more than white guys. More women want to f*** Tyrese than Jamie Dornan, and it's not even close. It's not a contest. Even Jamie would go, "OK, you got it."

Or how about True Detective? I never heard anyone go, "Is it going to be Amy Adams or Gabrielle Union?" for that show. I didn't hear one black girl's name on those lists. Not one. Literally everyone in town was up for that part, unless you were black. And I haven't read the script, but something tells me if Gabrielle Union were Colin Farrell's wife, it wouldn't change a thing. And there are almost no black women in film. You can go to whole movies and not see one black woman. They'll throw a black guy a bone. OK, here's a black guy. But is there a single black woman in Interstellar? Or Gone Girl? Birdman? The Purge? Neighbors? I'm not sure there are. I don't remember them. I go to the movies almost every week, and I can go a month and not see a black woman having an actual speaking part in a movie. That's the truth.
[From Hollywood Reporter]
This is less than half of the essay, and you really should read the whole piece. Can we put Chris Rock in charge of Hollywood? I'm not even joking. He's absolutely correct about everything he says here. The casting process for True Detective's next season dragged on for ages. We heard aa ridiculous number of candidates that HBO floated on the internet, and none of the actresses were black. Oh, and the Gone Girl screenplay cut the only black female role from the story. Remember Tanner Bolt's wife, Betsy? Not in the movie. I could make a bad joke about how Betsy is the real gone girl. Whoops, just did.
Here's a behind-the-scenes video where Rock praises Jonah Hill.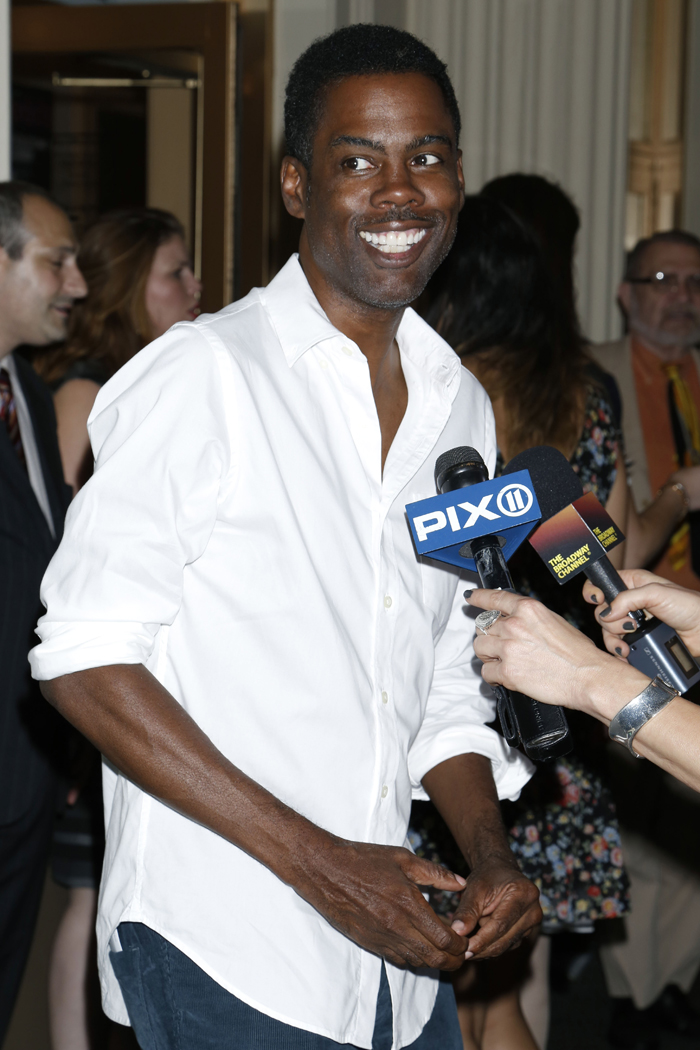 Photos courtesy of Hollywood Reporter, Fame/Flynet & WENN