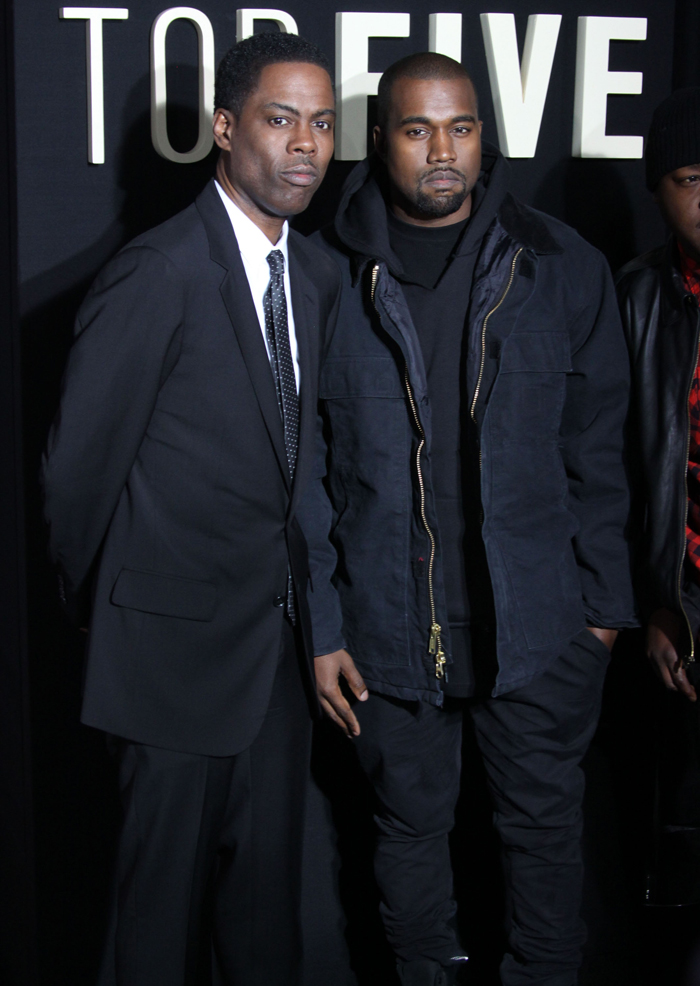 These are photos of Chris Rock at the premiere of Top Five, which he's been promoting like a boss. Kanye West came out to support Rock, and they made serious faces on the red carpet. Have you seen the trailer for this film yet? It looks hilarious. Very sharp and critical of show business and the contemporary human condition. Rock has promoted this film by talking about class inequality and race relations. At the premiere, Rock was asked about his hard-hitting essay where he called Hollywood "a white industry. Just as the NBA is a black industry." According to the Mail, Rock said, "I don't look at it as even being political. I'm just stating the facts." He doesn't see himself as a Jon Stewart or a Bill Maher but as a guy revealing his own experiences.
This new Rolling Stone interview is another epic masterpiece. The journo notes how Rock arrives alone without a publicist. The full piece is humongous because Rock is not shy. The dude can talk. I cut a lot of stuff, including his loving feelings about Kanye. There's a paragraph where he discusses his former party lifestyle and how white girls aren't the same as they used to be. He ends with a punchline about Gwyneth Paltrow. It's a little dicey and too risque to print here, but I laughed like a 15-year-old. Here's some sizeble excerpts about many topics:
On freaking people out with his SNL monologue: "I'm just thinking about making people laugh. I hate when guys talk about 'I'm edgy.' The worst comics think that way. It's not edgy if you're talking about it! You just live it. Tupac didn't talk about it. He just lived it. It sneaks into your work. Richard Pryor wasn't edgy. Richard Pryor was just Richard Pryor. I'm not Marilyn Manson. I'm not trying to shock people."

Why he directed this film: "It's not a key ambition. But who's making those movies? If someone was going to hand me something like Top Five, I'd be more than happy to act in it. And, you know, live a life. But if you're a black comic, it's 'What version of Beverly Hills Cop can you do?' And by the way, if someone wants to cast me in one of those movies, I'd do those, too. But I've got arty taste, which is great and not great at the same time. I'd rather work with Wes Anderson, but I don't look like Owen Wilson. I'd love to work with Alexander Payne and Richard Linklater. But they don't really do those movies with black people that much. So you gotta make your own. And the black movies of substance tend to be civil rights. Put it this way: I don't want to be in anything that happened before the Jackson 5. Anything before them is just black misery."

He was racially bullied at his Brooklyn high school "You know what? Even in all the misery, there was always that Brad Pitt, 12 Years a Slave white person that was nice. Yeah. Davey Moskowitz was nice to me. But it's weird. So there's a cloud of rage around me, but being an artist kind of changes that. No matter what you thought coming in, what ignorant thing you believed, you're in show business for two years, you're like, 'OK, I was wrong.' It's hard to be mad at any particular group of people when you're an artist."

On having daughters: "How does it affect the way I think about women? People always want to know what the world would be like if the country was run by women — just ask a black person. We live in a matriarchal society. You'll go to a black church. They'll say bad sh*t about men all the time. But you never hear, 'Women need to step up.' No, it's all, 'You're the greatest thing that ever walked the Earth.'"

The basis for Top Five: "I watch Louie, Seinfeld, Curb Your Enthusiasm. I thought, 'Let's do a movie like that, but about the whole idea of black fame.' I wanted to make a nuanced black movie. In all black movies, the rich people are always evil. And anybody that's educated is evil, which is honestly the worst stereotype that you can have. Vanessa Williams in Soul Food — you went to college! Oh, my God, she must be horrible. Most Tyler Perry movies, that's what it is. You know, white entertainers do not have a responsibility to a community. Nobody's telling Bradley Cooper to keep it real. Harry Belafonte is mad at Jay Z and Beyonce, says they don't do enough. But nobody's mad at, uh, who's my man from Maroon 5? Yeah, no one's mad at Adam Levine — 'What are you doing for people with great haircuts?'"

On processing the allegations against Woody Allen & Bill Cosby: "It's hard, man. You separate the work from the thing, and you go, 'I really don't know what happened.' With Woody, I literally don't know. I mean, I got daughters — I don't want anyone calling my daughter a liar or anything like that. The only thing I can say is, I've never seen anyone accused of anything like that just once."

On looking good at age 49: "Rich 50 is like 36."
[From Rolling Stone]
What do you think about Rock's assertion about living in a matriarchial society? His statement is interesting, and he's talking about his own world. Not the mainstream world where the Ray Rice situation tried to downplay the effects of domestic violence. I sort of see what Rock is saying, but he's not explaining himself well here. Some of Rock's stand-up comedy has referenced how, in his relationships, women have always been in charge. He didn't say it in a misogynistic way. That's just how it is for him.
I can tell that Rock is still uncomfortable talking about Bill Cosby (and Woody Allen). He started to slip up with the "separate the work" statement, but Rock redeems himself by talking about his daughters. The final sentence in that paragraph is telling about his ultimate feelings.
Here are more premiere photos. Jerry Seinfeld showed up to support Rock. Rosario Dawson looked gorgeous. I'm excited to see her in a movie that's gaining good buzz.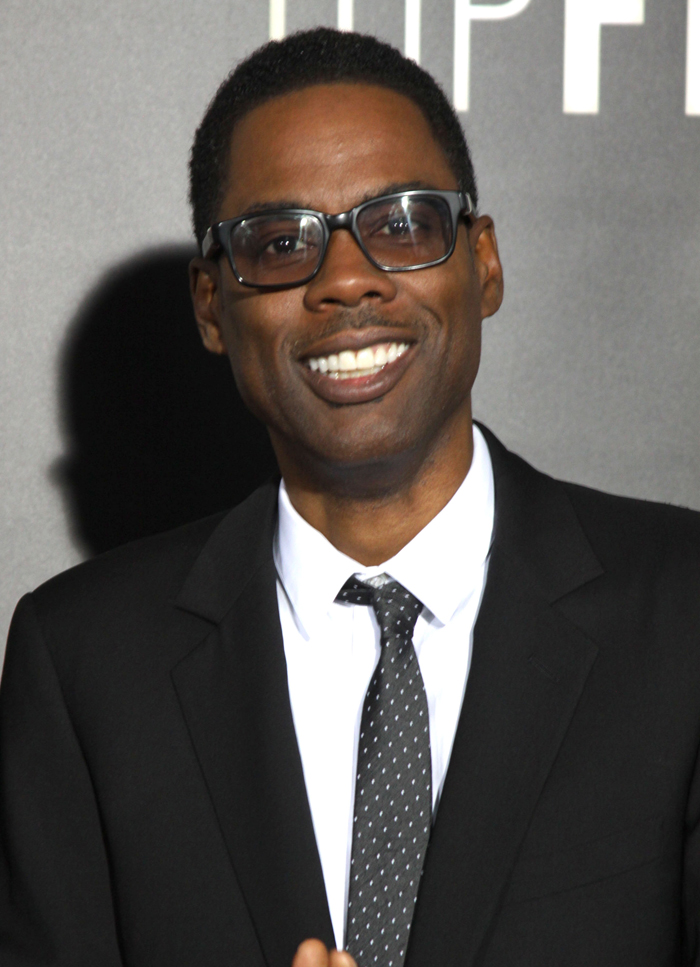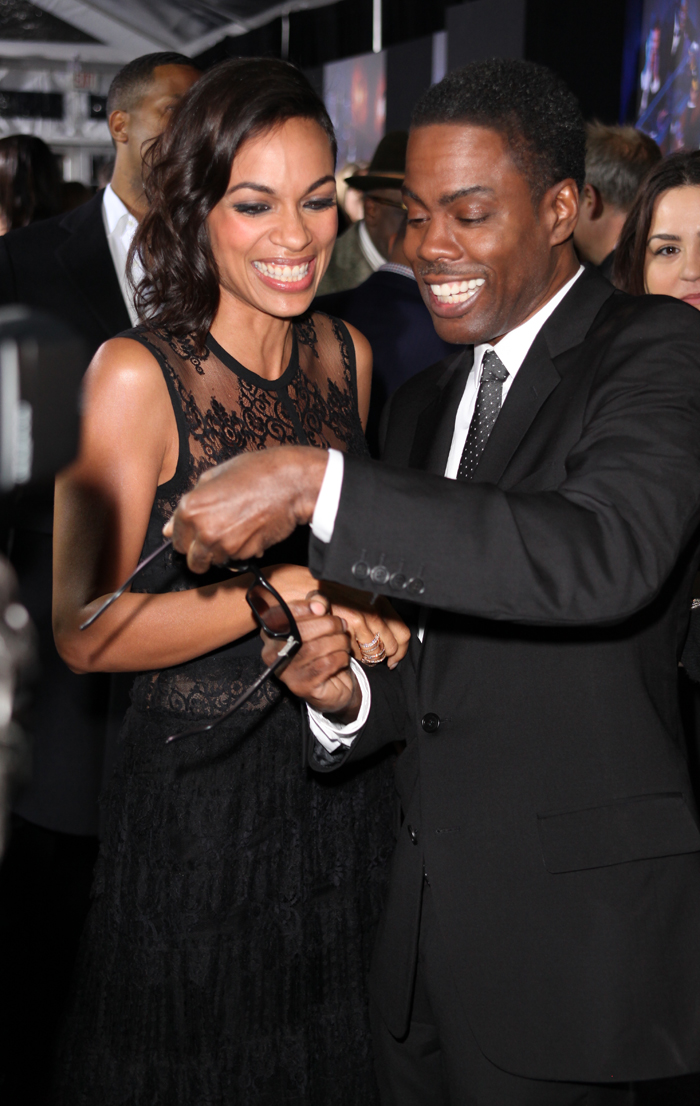 Photos courtesy of Fame/Flynet & WENN