I usually try to forget that Bradley Cooper and Leonardo DiCaprio are friends, but yeah. They totally are members of the same posse, and it's been that way for at least a few years. Leo might even be the reason why BCoop decided to lower his dating age bracket.
Bradley's been running a sort of low key awards campaign for his role in American Sniper. He didn't receive a Globe nod, which comes as a surprise for a guy likely looking to threepeat nominations. BCoop is currently busy on Broadway, so he has an excuse not to shake hands for months on end. Deadline has an exclusive story that's a little surprising. Ben Affleck is reportedly on the case to drum up Academy support for Bradley. Leo is supposedly in on the plan too, as is Josh Brolin:
After all the sinister implications of the Sony hacking scandal, a nice story has emerged among the sharp elbows on the Oscar circuit that is enough to make one feel good about actors who simply love the craft.

Even though he was suffering from the flu, Ben Affleck took the time to speak at an event meant to celebrate American Sniper and Bradley Cooper's performance as Navy SEAL Chris Kyle. During a screening of his film Inherent Vice, Josh Brolin could be heard talking about how important Cooper's performance was. Now, both of them have movies in the Oscar hunt–Affleck having starred in Gone Girl. And yet they were standing up for the strong performance turned in by Cooper, who is at a distinct disadvantage because he is starring on Broadway in The Elephant Man, and got snubbed in both the Golden Globes and SAG nominations to the shock of many.

Word is that Leonardo DiCaprio might also do something. This is noteworthy because stars never do anything against their self interest to help the competition when awards are on the line. Why the change? As Affleck said the other night, and I'm paraphrasing, right now we need to say something strong and meaningful about what our industry is about and what our country is about, and Cooper's performance does that. Cooper's performance, he said, speaks well for who are are at our best.
[From Deadline]
We all know Leo's been chasing Oscar gold for a long time. Even though he and Bradley are buds, I'm surprised that Leo would help Bradley try and get there first. Maybe Leo feels safe because he stayed absent from theaters this year, so he's scratching Bradley's back. As the director of a Best Picture winner, Affleck's carries a lot of weight with the Academy (much more than Leo). Does anyone listen to Josh Brolin? I guess he's part of the dude club.
Coop's been doing some interviews lately, which I haven't covered for lack of good pull quotes. He told Charlie Rose that he only spoke with the real American Sniper, Chris Kyle, once before his death. Kyle's wife, Taya, told NPR that Bradley nailed the role to "eerie" ends. She said Bradley "kind of sniffs when he's on the sniper rifle before he's about to have to make a serious decision." All of Chris' friends have remarked on the spot-on gesture. Kyla has no idea how Bradley thought to do so after one conversation with her husband. It does sound eerie.
Here's the latest American Sniper trailer, which looks better than the last one.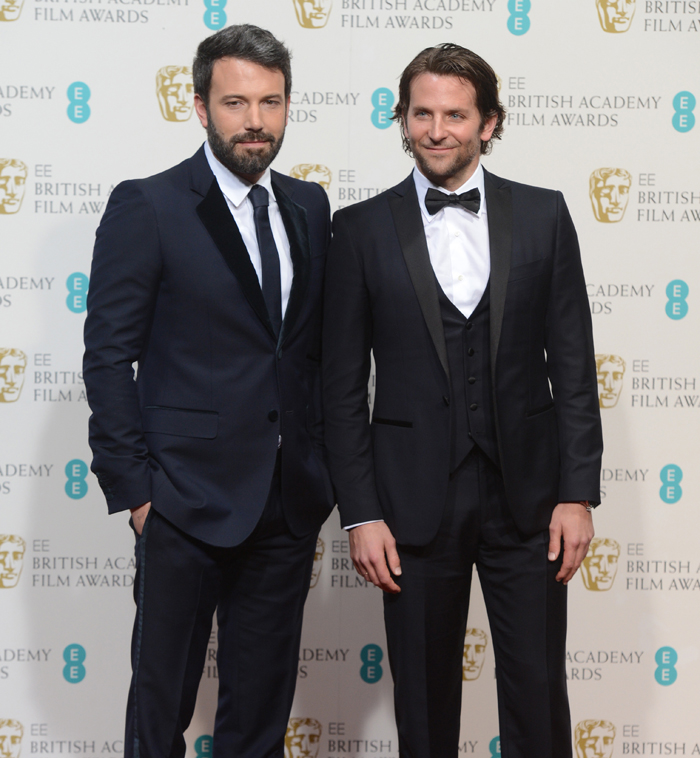 Photos courtesy of Getty & WENN