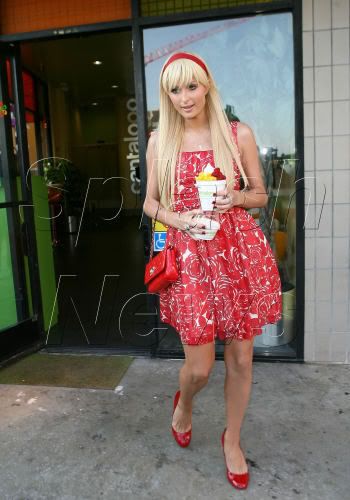 Paris Hilton's cell mate has been hand picked especially for her stay.
Here we go again. Jeebus, Allah, Superman, ANYONE, please send this woman to the slammer already because I am sick to death about hearing about her preparation for a measly three weeks in jail. She's reading the Bible because she's going to jail, she's training in case she gets beat down in jail, she's making pottery in order to reflect before she goes to jail…JUST SEND HER TO JAIL ALREADY!
TMZ has the exclusive on this current segment of the Paris Hilton Going To Jail Saga:
Officials at the jail where Paris will do time have decided an inmate who is doing time for reckless driving will be the perfect match for Paris. Sources tell TMZ that jailers were looking for someone who they believe will not try to cash in on Hilton's stay. The woman is already in the cell that Paris will be in … waiting for a touch of Hilton.

Sources also tell TMZ that jailers are already conducting searches of anything electronic — they are prohibiting cameras, cellphones and the like. We're told a memo has gone out to the staff, warning them that anyone who takes pictures of Paris will be disciplined — i.e., fired.

Our sources say a "written protocol" has already been prepared especially for Paris' stay, detailing "when and how things should be done for her."
This sounds so wrong it's untrue. There is a protocol for Paris's stay? WTF?! This is Paris Hilton going to the Big House, not the bloody Queen going to the White House! It doesn't look like the Department of Corrections is co-ordinating Paris'
stay, it sounds more like the E! Network is running this show now!
You know what will be the only thing that will make me feel better about this whole fiasco now? If the inmate "who is doing time for reckless driving that will be the perfect match for Paris" ends up being Lindsay Lohan. That would make everything right as rain again in my eyes. They can televise the prison fight that will ensue after two days of the celebutards rooming with each other, and the proceeds can go towards finding Paris and Lindsay proper mothers who won't let their daughters act like complete asses in public.
Picture Update: Picture below of Paris painting a giant ceramic bear is from Buzzfoto. Header image from SplashNews.