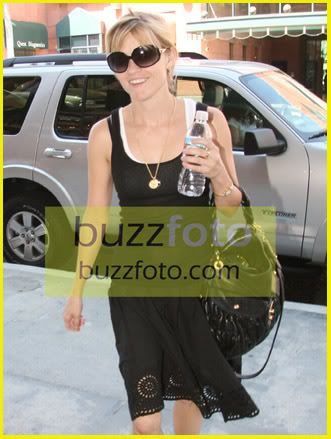 Back in mid May I ran a story about how Jake Gyllenhaal and Reese Witherspoon were photographed exiting the same office building 45 minutes after each other. The tabloids were going to jump on that, I said, even though I did not consider it evidence of any kind of rendezvous, especially since they were just working on a film together and may have had a business meeting for it, or they could have been at the building for different reasons. Well OK! Magazine ran a story about it, and they say it meant something. Also, Reese went back into the building for five minutes afterwards, and seemed to wait in her car until the photographers came or something. I didn't really understand the point they were making:
On the afternoon of May 8, Jake entered an office building and emerged 45 minutes later – only to be followed closely by a grinning Reese! "She was in a great mood," an onlooker tells OK!, "She was grinning from ear to ear."

Then, in an interesting play, the blonde actress got into the passenger side of a waiting vehicle and drove around the block, waited for photographers to appear, and got out of her car and snickered, "It's about time." She hurried into the building and emerged five minutes later.
[From OK! Magazine, print edition, May 28, 2007, via Sammie's Effluvia]
I don't get it. Maybe Reese left something in the office she was visiting and wanted to get her picture taken again or something. It sounds fishy to me.
Reese and Jake were spotted out at lunch in LA supposedly the next day on May 9th, according to Life & Style. [print edition, May 28, 2007]. That's all they say about it though, there is no restaurant name mentioned and there are no pictures.
Now US Weekly is blowing another office visit by Reese and Jake out of proportion, but he did head over to her house afterwards, that's something:
Reese Witherspoon, 31, and Jake Gyllenhaal, 26, who met last summer on the set of Rendition, had a rendezvous following a May 25 visit to a doctor's office in Culver City, California.

After the appointment, the pair hopped into separate cars and headed to Witherspoon's house.

"Jake put his hand out of the sunroof and was waving, "says an eyewitness. "They looked totally in love."

That's the impression he's giving pals: "Jake said he's found someone who knows how to look out for both of them, and not just themselves," a Gyllenhaal source tells Us. "Reese is more attentive than anyone else he knows."
Again, not really buying it. They seem to be just friends if you ask me, especially since they're rarely spotted together and when they are, it's during the day. If they were out to lunch, what was the name of the restaurant and who is the source of that news? It's all so vague with these two.
Pictures from Buzzfoto of Reese and Jake's hot separate office visit.