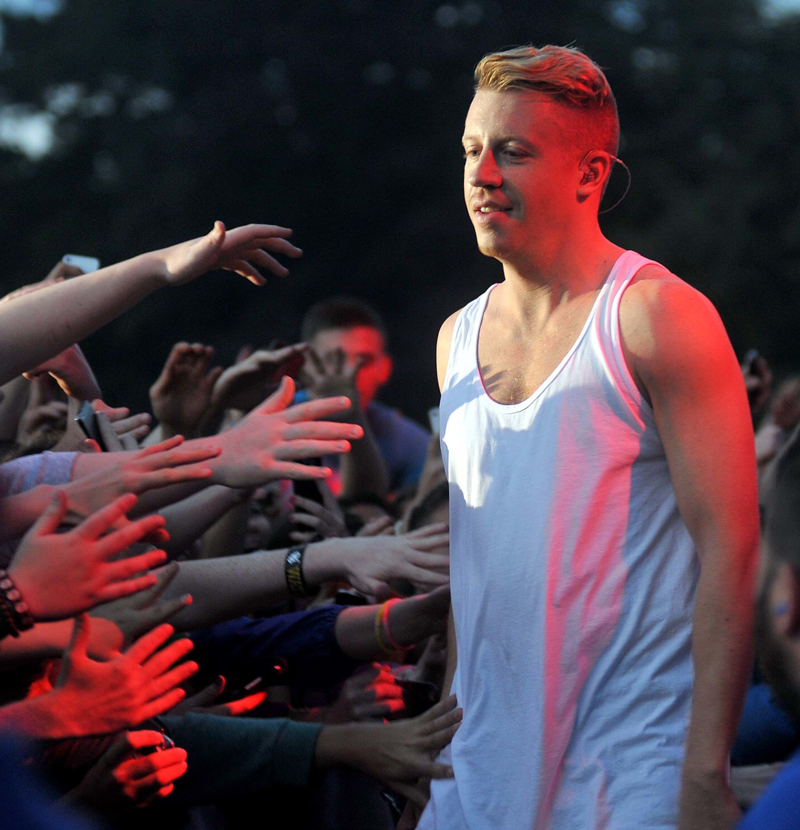 Macklemore went on drama-free hiatus after winning big at the Grammys last year. He and Ryan Lewis dropped a few performances, but Mack took the first real vacation of his life. He needed time off to regroup after achieving mainstream success, which followed a decade of struggling as an underground rap act. He's not really promoting anything right now. Macklemore felt compelled to do an interview with Hot 97, which has been a go-to place for the current hip-hop culture discussion (after Azealia Banks' recent talk).
The impetus for Mack's visit is the Iggy Azalea problem. We've already talked about how Iggy's been repeatedly accused of cultural appropriation. She's also up for a Grammy, which places her into a similar position as Macklemore was last year. (Macklemore feels like he "caught heat" too.) Mack won Best Rap Album and later apologized to Kendrick Lamar. Mack tells Hot 97 he still believes Lamar had a better album, but he regrets his delivery and choice of words. He spoke for over an hour, and here are some excerpts:
On racial injustice: "For me, as a white dude, as a white rapper, how do I participate in this conversation? How do I get involved on a level where I'm not co-opting the movement, or I'm not making it about ME, and also realizing the platform and the reach that I have? Doing it in a genuine, authentic way. Because racism is uncomfortable to talk about. And white paople, we can just turn off the tv when we're sick of talking about racism. It does not work that way for everybody."

We don't live in a post-racial society: "I was talking to somebody the other day, and they said to me, 'Silence is an action.' And it is my privilege that I can be silent about this issue. And I'm tired of being silent. I've been silent for a long time about it. Because I didn't want to mess up. Didn't want to say the wrong thing. Didn't want to offend anybody. But it is so imperative right now that we have this raised conversationin America. If we're going to progress, if we're going to move past it, if we're going to truly work together, we're going to have to get past that awkward stage of race conversation. Step up and just have it. And I don't know where that starts, other than just speaking about it. As a white person, we have to listen. We need to direct the attention to people of color who are on the round mobilizing, and listen to those people, and take some direction."

On race as a factor in his success: "Why am I safe? Why can I cuss on a record, have a parental advisory sticker on the cover of my album, yet parents are still like, 'You're the only rap I let my kids listen to.' … If I was black, what would my drug addiction look like? It would be twisted into something else versus maybe, 'Get back on your feet!' The privilege that exists in the music industry is just a greater symptom of the privilege that exists in America. There's no difference … I got put in that 'hero' box and I think that when that happens, it's because of white privilege."

On white appropriation of hip hop: "You need to know your place in the culture. Are you contributing or are you taking? Are you using it for your own advantage or are you contributing? I saw a tweet that said, 'Hip hop was birthed out of the civil rights movement.' This is a culture that came from pain and oppression. It was the byproduct [of white oppression]. We can say we've come a long way since the late Seventies and early Eighties, but we haven't. Just because there's been more successful white rappers, you cannot disregard where this culture came from and our place in it as white people. This is not my culture to begin with. As much as I have honed my craft … I do believe that I need to know my place."

On Kendrick Lamar & the Grammys: "We've texted [since the event]. I made a mistake and a lot of fear was going into that moment. I wanted to win some Grammys … I think we made a great album. I think it had great impact … I wanted to win Song of the Year. I wanted to win Best New Artist. I wanted to win some rap categories. But I thought Kendrick had a better album … The mistake came from Instagramming the text message and betraying my homie's trust. That's wack … The language that I used was a bad call. 'Robbed' was a bad choice of word. White people have been robbing black people for a long time. Of culture. Of music. Of freedom. Of their lives. That was a mistake. Looking back at it, I learned about the voting process of the Grammys. Random people that aren't necessarily part of the culture whatsoever joining in on the ballot that comes back down to this whole issue of privilege because they're familiar with whoever is the biggest artist. That's who they check the box [for]. And in 2013, we had the biggest record."
[From Hot 97 on YouTube]
Macklemore talks a lot here, but he also hangs back and lets the hosts voice their opinions (and they do). As Mack says, he doesn't want to offend anyone. I don't think he's being too PC here — this IS a sensitive subject. Mack agrees that it's troublesome how young kids are growing up with himself and Iggy as primary examples of hip-hop music. Mack was influenced by true trailblazers, and he's very aware of "culural smudging" that Azealia Banks keeps pointing out. Mack doesn't know a solution to the issue, but he at least acknowledges, "I need to know my place." That's a far cry from Iggy's dismissive take on the subject.
Here's the video clip of Macklemore's Hot 97 interview. It's a long one!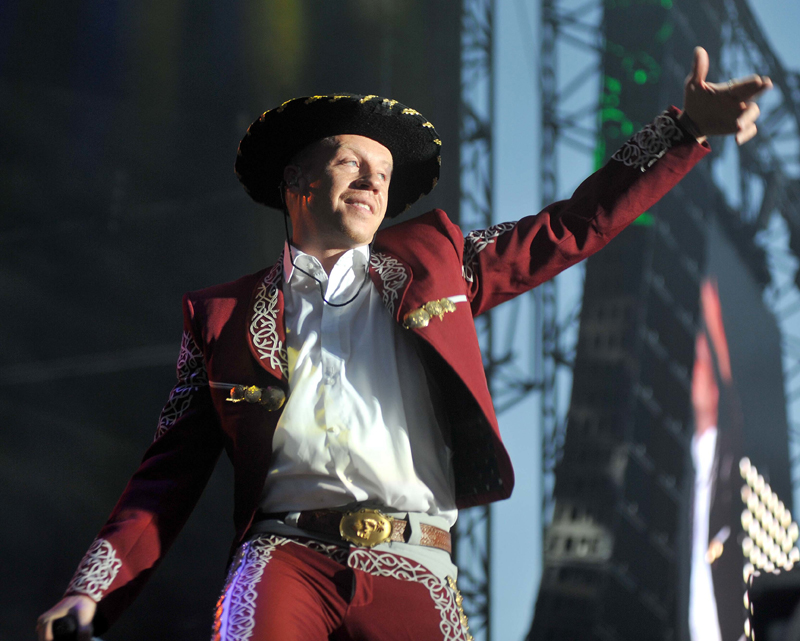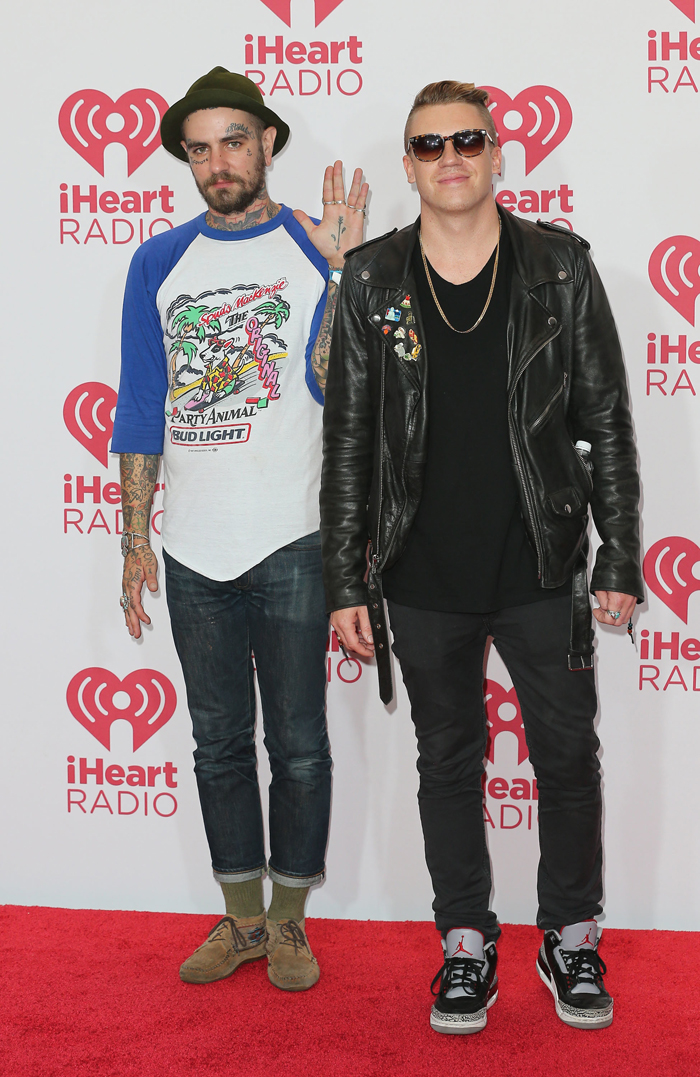 Photos courtesy of Fame/Flynet & WENN