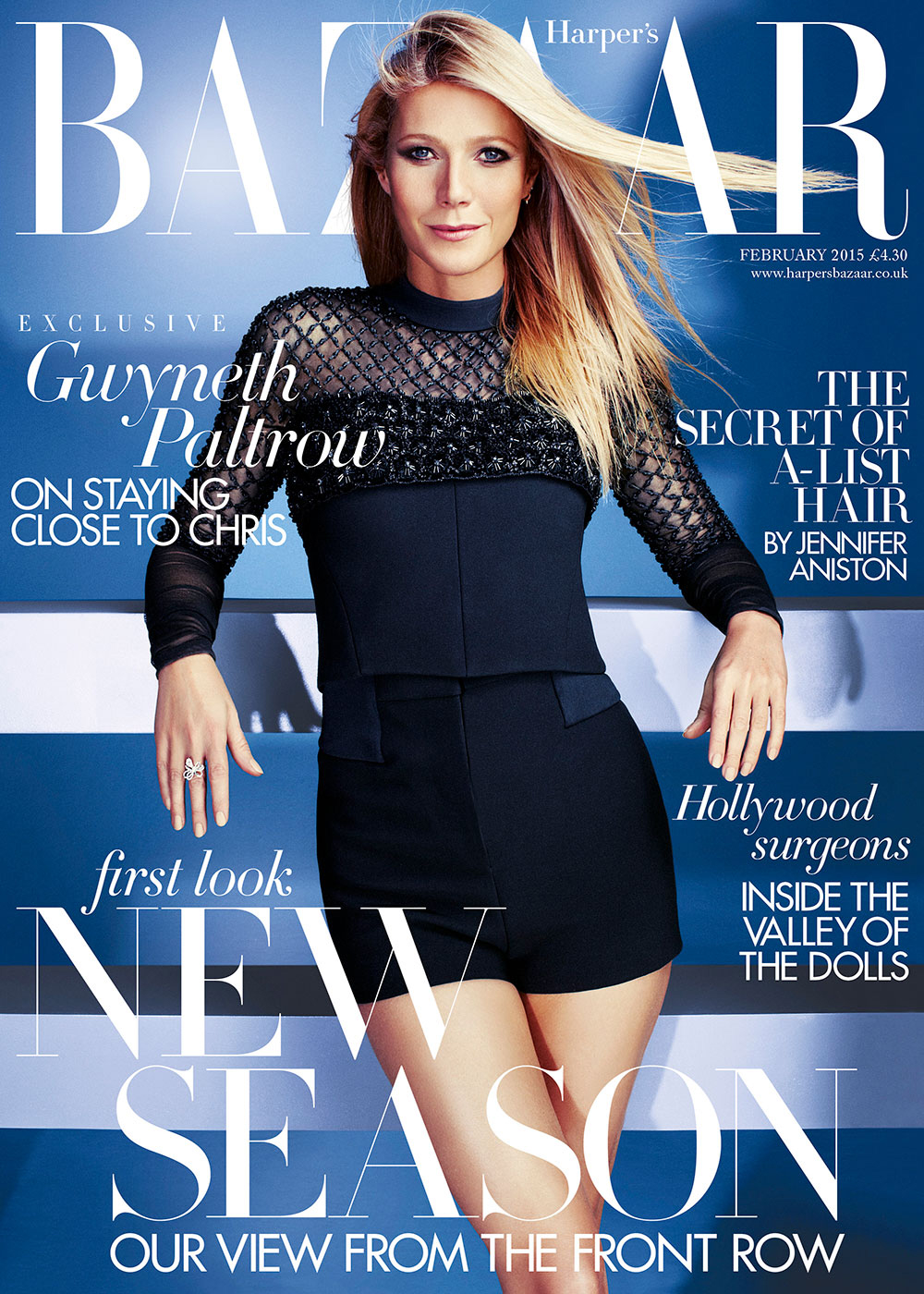 Gwyneth Paltrow covers the new issue (the February issue) of Harper's Bazaar UK. She's promoting that terrible-looking Johnny Depp film, Mortdecai, where Depp tries to be a scarfy version of Peter Sellers. The film comes out in January, the graveyard of theatrical releases. I'm hoping that Gwyneth and the other stars will really have to come out to shill this movie, just because it will be funny to see. Anyway, you can read Gwyneth's full Bazaar profile here. Some highlights:
Moving back to LA: 'There's a deep comfort about it because it's so familiar. The other day I was lying on the grass and the kids were playing and I was looking at the blue sky and the palm-trees – and there was something about the weather and the smell and I was, like, eight years old again. I had such a strong memory of being a kid here – it's a really nice place to be a little kid, and it's great to watch my children have that experience.'

Reflecting back on her marriage: 'It was very fast,' she says, and acknowledges that falling in love with Martin was also in some sense bound up with the depth of her mourning for her father. 'I feel like I would have died somehow if I hadn't met him at that time. I felt like I was going to die of grief. I remember waking up, on one particular night, where I felt like I was having a heart attack and I couldn't breathe… I lay on the floor of my apartment in London and I thought, "I'm not going to survive this." And he just picked me up and he was so loving and patient through all my grieving. He's really great in a crisis. He has incredible empathy when it comes to somebody's pain.'

Chris was only 25 when they got together: 'Too young. Men are very young at that age, and I was relying on him very heavily and I really expected him to keep being this grown man and pillar of strength – which he was and is – but it's also quite an unfair set of criteria to give to someone who's just 25 years old.'

Her evolved conscious uncoupling: 'It's painful, it's difficult, it might be easier to say, "I never want to see you again," but what good does that do anyone? We've made a lot of mistakes, and we've had good days and bad days, but I have to say, I'm proud of us for working through so much stuff together – and not blaming and shaming. Of course, there are times when I think it would have been better if we had stayed married, which is always what your children want. But we have been able to solidify this friendship, so that we're really close.'

Her early career success: 'A lot of good luck and a lot of hard work and a lot of being in the right place at the right time. But I burned myself out. I was doing three films a year, sometimes appearing in every single scene.

She claims she was self-made: 'My father was totally self-made. I grew up with the benefit of a great education and a beautiful house, but my father always said, "The day you leave, that's it. You're not getting anything," and he stuck to it. He was so hardcore about me making my own way.' This was a markedly different approach to many of her contemporaries at school in New York, who relied on family trust funds. 'But my father always said, "That would ruin your life." And it does give you such a good sense of your capabilities. I've earned everything myself, and I've never taken any money from anyone – my father really pounded that into me, so I got the message.'

Being criticized: 'Women really need to examine why they're so vitriolic to other women; why they want to twist words, why they want to read about someone else in a negative light and why that feels good to them… But I also know a huge tribe of women who are loving and supportive of other women, in ways that are completely transformative.'

Defining herself as a woman: 'I think we are a generation of women who are different in a lot of respects, and some of us want to be ambitious, and for it not to be a dirty word. We want to be feminine and soft, we want to be maternal, we want to be sexual, we want to be explorers – and we can be a combination of all of these archetypes. You can be powerful, but you can also be vulnerable.' Finally, she says, she has 'learnt the power of kindness and the importance of nonjudgemental ways of looking at others'.
Sigh… I kind of liked her in parts of this interview. I'm glad she's acknowledging that she moved too fast with Chris when they first got together and that he was really too young for all of it. But Gwyneth is still the same old Goop, you know? She doesn't really care about girl-on-girl drama, she just hates it when people criticize HER for crap she really says. Remember this? She really believes she works harder (doing one film a year IN WISCONSIN) than peasant mothers working 9-5 jobs. She really said that.
As for comments about "earning" everything herself… that's privilege, right there. While her dad might not have given her money, she certainly worked her family connections to the hilt. And while there's nothing wrong with being privileged and having Steven Spielberg as your godfather and your first employer, you should acknowledge that privilege so you don't look so out of touch.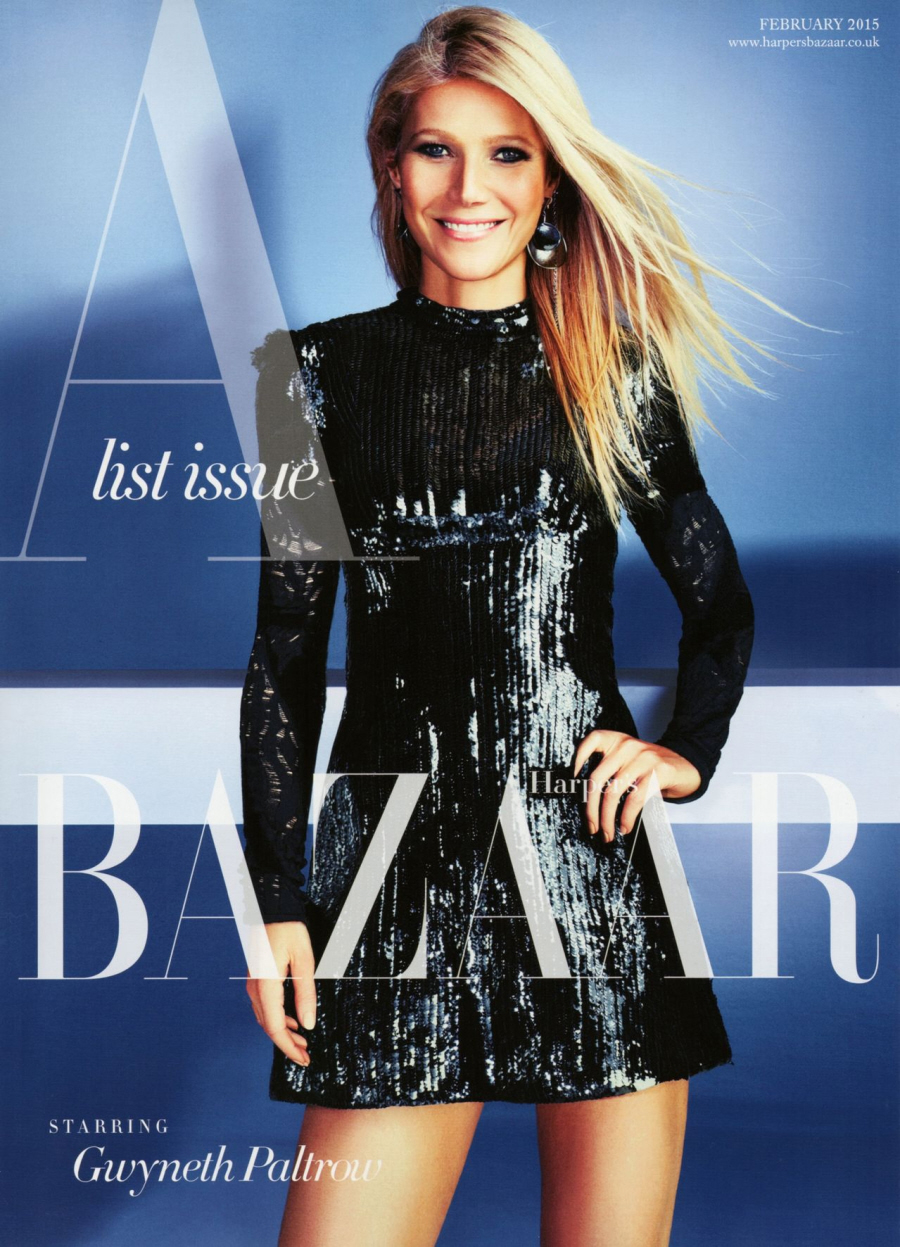 Photos courtesy of Harper's Bazaar UK.