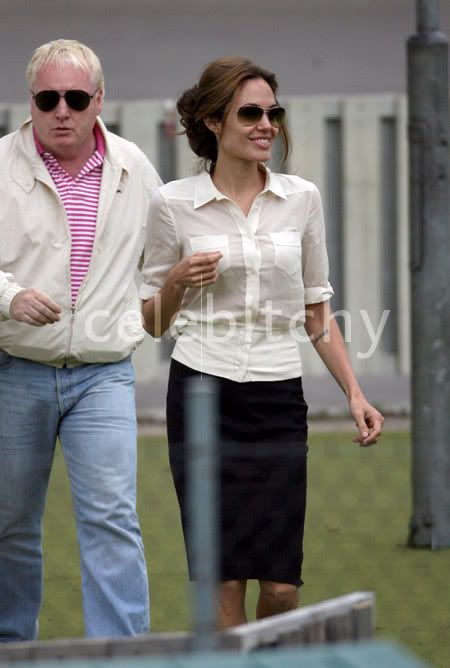 Life & Style says that Brad Pitt and Angelina Jolie plan to adopt another child from Africa and have one more biological child this year. This could be why Angelina made a public statement that she would take a year off working to spend time with her family – it's going to grow even more.
Brad and Angelina hope to add two children to the Jolie-Pitt clan within the next year – one through adoption, and the other via pregnancy, reports In Touch Weekly. The plan is to 'balance their family, with one black adopted child and one white natural born child. The report claims that the pair are ready to go and are not wasting any time. Brad,43, and Angelina have begun the process of adopting another boy – this time from Africa – once she has finished filming Wanted in June, insiders say.

They've discussed visiting an orphanage in Ethiopia, where Zahara was born, or Namibia, where they spent last spring and had Shiloh. "The idea of finding a child from Darfur refugee camp has also been mentioned," says a friend. They hope to bring home a child by the end of the summer.
If this report is true, it means that they'll have six kids. They've made no secret of the fact that they want a large family, with Angelina talking about balancing out the faces in her family, and Brad joking that they want a soccer team. Aren't there 11 players on a soccer team? They've got a while to go.
Brad and Angelina may be working on that new bio-baby already. They were seen kissing in the back of a car after the premiere of Oceans 13 at Cannes. Much ado was made over that little makeout session, with all sorts of speculation over whether it was "staged" or real. They were just at a big movie premiere and everyone was fussing over them. Of course they were feeling a little randy afterwards.
Brad is currently in Montreal filming, while Angelina remains in Prague. She was seen dropping off Maddox at school this morning. Angelina looked quite happy and was smiling while walking with her bodyguard, Mickey Brett. Thanks to INFDaily for this photo.