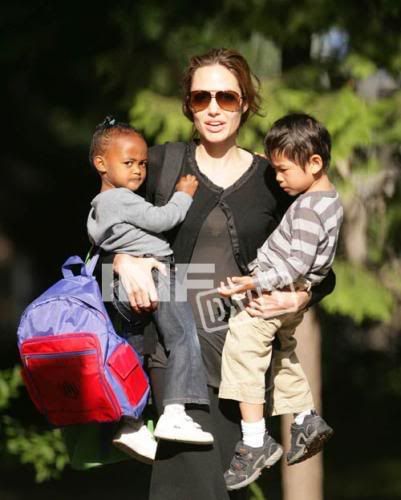 Brad and Angelina have said several times that they take turns watching the children to give each other a break. Despite the fact that they are said to have four nannies, one for each child, you often see them out with their children, you rarely if ever see a nanny and they seem to be very hands-on parents. Life & Style, which has featured fake cover stories of them splitting up several times in an attempt to move magazines, is now jumping on the fact that Brad and Angelina have been out photographed separately with their children. They do it so the kids don't sense the tension between them, Life & Style ridiculously suggests:
As photos surface of Brad Pitt, 43, picking up his children from school in Prague or Angelina Jolie taking her sons to an aquarium in France, one element is constant: Angie and Brad are never with each other while they're with their kids.

In fact, insiders reveal, Brad and Angie, 31, have made a conscious decision to alternate time with Maddox, Pax, Zahara and Shiloh so that they don't expose their children to the tension that the couple feel when they're together. "Brad and Angie have decided to take the parenting duties in turn, feeling the kids deserve to be spared the stress of their parents' fighting," says a friend close to Brad.

In our cover story this week, Life & Style explores Brad and Angelina's novel parenting arrangement — and again raises the question of whether the couple can sustain their relationship as they face the demands of raising four children and traveling the world to meet their professional obligations. Do you think Brad and Angie will make it?
The only way these two can escape constant speculation like this is if they stop getting so much publicity. With dual movies coming out, that's kind of impossible for them.
Angelina has an interview in the upcoming issue of Marie Claire this month, and she says a lot of cute things about her family, including the fact that Zahara tries to be manipulative and that she finds Brad sexiest when he's with the kids. I'll cover that shortly.
Thanks to InfDaily for the header photo of Angelina with Zahara and Pax. Used with permission.