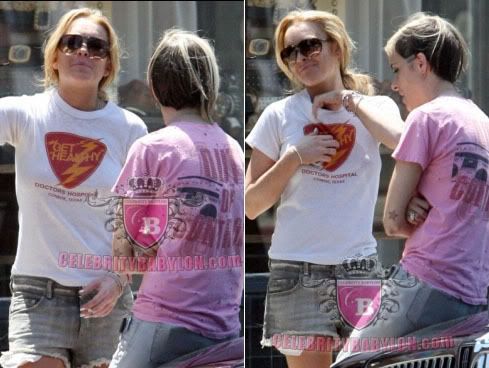 Lindsay Lohan's rumored gay lover, DJ Samantha Ronson, has been setting up her friend for the paparazzi in exchange for some cash, says Celebrity Babylon. The site has some exclusive photos of Lohan looking flirty with Ronson, and imply that Ronson tipped them off as to where she would be. It's not like Lohan would mind, she once said she would wonder why no one was interested if the paparazzi stopped tailing her, and she's gone out of her way to make her whereabouts known to them too.
What's more is that Ronson is said to have planted the coke in Lindsay's car after the accident, and to have deliberately left it there for cops to find. When Lohan asked her about it, Ronson didn't give her a straight answer:
Celebrity Babylon has learned that while her DJ pal Samantha Ronson, 29, looks like she's there to help her pal through thick and thin, she's really making a tidy profit on the side, shilling Lohan, 20, out to photographers eager to get her photo looking passed out and wasted. While an "out of it" Lohan thought she was just going home after a night out at Teddy's in Hollywood on May 27, Ronson made a side trip to a gas station. A source tells Celebrity Babylon, "The car was only down a quarter tank, and yet Samantha stopped for gas. She has a side deal with a photo agency and they paid her to make the pit stop!" If that wasn't shocking enough, sources say that it was Ronson who was holding the cocaine later found in Lindsay's car. "There were three of them crammed into the Mercedes sports car and Samantha was the one that had the cocaine with her. Lindsay later questioned her about leaving it in the car for the cops to find and Samantha blew her off." Ronson, who makes anywhere from $2,000 to $3,000 a night deejaying at clubs and private parties, has accumulated a substantial side income taking her pal in front of paparazzi cameras for money.

There is an EXCLUSIVE set of Celebrity Babylon photos (in this story photo viewer) of Ronson and Lohan chatting outside a restaurant after a wild night out. CB was accused of setting up the pix with Ronson, and we are going to plea the Fifth Amendment! 😉
[via ONTD]
We reported after Lohan's DUI that she was seen arguing outside her house with Ronson before she headed off for that fateful drunken ride. News outlets are saying that Ronson was pleading with Lohan to stop drinking and drugging that night. She told Lindsay to cool it, but she wouldn't listen.
If Ronson planted the drugs in Lindsay's car, they might not be friends anymore once Lilo is out of rehab. Then again, Lindsay doesn't seem to have high enough self esteem to dump someone who betrayed her. I bet she would have taken Calum Best back if he would have kept on having her.
Ronson is shown below at the Disney Couture Party with Nicole Richie. Pic from DListed via ONTD.
Header picture is from Celebrity Babylon, where you can find more exclusive pictures of Lohan.